Namosimalua Sprints towards Goals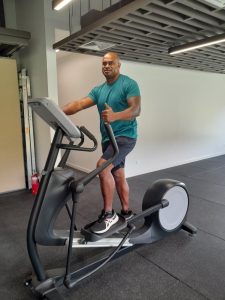 Growing up in a house that loved to watch sports and athletics fuelled Iliesa Namosimalua's passion for sports. From a young age, Namosimalua made the easy decision to pursue a career in the sports and fitness industry.
"Being a passionate athlete and representing Fiji in athletics fuelled my passion to excel in a career in this field," he shared.
"I was a Gold Medallist at the 2005 Pacific Mini Games in Palau, represented Fiji in the 2006 Commonwealth Games in Athletics and in 2007, I represented Fiji and was awarded the Pacific Games Medallist."
"So, the desire to contribute to Fiji athletics and sports was nurtured from early beginnings and was the driving force behind my success on the field."
Namosimalua hails from Naroi, Moala in Lau, and is the eldest of two siblings. His late father was a Military Officer with the Republic of Fiji Military Forces (RFMF) and his mother was a senior education officer.
Namosimalua considers his parents to be the biggest motivating factor in his life.
"My parents were my biggest inspiration. Godly values and spiritual growth were instilled in me from childhood. I admire their desire for spiritual growth and participation with preaching and teaching activities, despite working full-time and raising a family."
"This strong spiritual foundation assisted me in my life from being a student to my current professional career."
Education and Career
Namosimalua completed his primary education in Veiuto Primary School and attended secondary school at Suva Grammar High School.
He represented Suva Grammar High School during the Cokes Athletics and was influential in raking in medals for the team. In 2007 and 2008, Namosimalua and the likes of Niko Verekauta helped Suva Grammar win the Boys division title.
After completing high school studies, Namosimalua was selected to be part of the team that was sent overseas to train for the 2008 Beijing Olympics.
Despite being one of Fiji's 2008 Beijing Olympic medal prospects, he returned to Fiji to pursue a two-year Diploma of Teaching Course at the then Fiji College of Advanced Education (FCAE).
"This was not a hard choice to make, as I knew that FCAE [which is now part of the Fiji National University's (FNU), College of Humanities and Education (CHE)] had mandatory practical assessments," he shared.
"After graduating in 2009 with a Diploma in Education (Majoring in Physical Education and Art Craft), my first posting was to Natabua High School as the PEMAC teacher for 3 years."
"I later joined the Fiji National Sports Commission as the Sports Development Officer." "I then joined the Fiji National University as the Sports Coordinator at the Department of Student Services under the Office of the Registrar."
"More recently, I have taken on the added role of Gym Supervisor of FNU's Sports and Wellness Centre at Nasinu Campus."
"This has been the pinnacle of my professional experience. Not only am I an integral part of this great direction toward overseeing all aspects of the Fiji University Sports Associations programme at FNU, I work closely with individual athletes and teams to ensure that everyone participating have an enjoyable and rewarding experience."
Motivation
"My wife, Kelera Namosimalua and two daughters Miriama and Adi Lavenia are my inspiration to excel in life," he said proudly.
"I am currently pursuing my Bachelor of Education (Secondary) (Physical Education and Art and Craft) at FNU and I am grateful for the blended mode of learning that has allowed me to work and study at the same time."
Words of Wisdom
"Mohammed Ali once said 'I hated every minute of training but I said don't quit. Suffer now and live the rest of your life as a champion'," Namosimalua shared.
"I have always referred to his quote whenever struggles seemed endless and remind myself that not every day is the same."
"Being a working student at times was difficult, as I could have both assignments and work projects that were due at the same time. However, my determination and time management has enabled me to effectively balance my studies and work commitments."
Namosimalua's word of advice to all students is "whatever the mind conceives, you will achieve it. So always have a plan of what you envision yourself to be in the years to come and work towards that goal."
FNU Roadshows
The Fiji National University will also commence with its Enrolment Drive Roadshows this week to assist students with their application and enrolment needs for Semester 1, 2023 studies.
The first Roadshow will be conducted at the Nausori Bus Stand on 13-14 January.
Students, parents, guardians, and stakeholders can visit our Roadshow booths to obtain academic counselling, enquire about our programmes and entry requirements, submit their applications, and receive an Offer Letter if all requirements are met.
Click here for details on the Roadshow dates and venues.
For ease in admission and registration, FNU also has dedicated Enrolment Centres to serve new and continuing students at the Koronivia, Nasinu, Derrick, Ba, Natabua, Namaka and Labasa campuses. Students can visit these campuses to complete their application process.
For further information, students can visit our website at www.fnu.ac.fj, email the Academic Team via admission@fnu.ac.fj or Text (Toll-Free) 857 for Vodafone and Inkk users.