Halofaki excels at Studies and Sports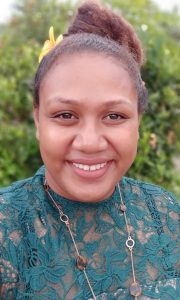 Working towards her academic aspirations whilst chasing a passion on the sports field instilled in Salote Halofaki the importance of perseverance, time management, consistency and hard work.
Determination has certainly paid off for Halofaki, as she graduated recently from the Fiji National University (FNU) with a Bachelor of Commerce in Accounting and Information System.
Offered by the University's College of Business, Hospitality and Tourism Studies (CBHTS), the course provides graduates with sound understanding of accounting principles, financial statements and analysis, management and cost accounting, budgetary control, tax accounting, law and accounting and auditing.
Graduates will also have the required knowledge in the areas of accounting standards and corporate reporting, planning and consulting, business information systems, accounting theory, research methods, business ethics and professional codes of conduct, and accounting and accountability of public sector and not-for-profit organisations.
On and off the field
For Halofaki, the desire to pursue a career in this field was equalled by her interest in playing rugby.
The former Dudley High School and Adi Cakobau School student has represented her school and various rugby clubs over the years in women's 7s and 15s rugby, touch rugby and rugby league. Halofaki was part of the Lautoka Maroons Women's Rugby team that were champions at the Skipper Cup challenge last year. The team were also Vanua Cup challenge winners in 2019.
Halofaki also represented the country as part of the Fijiana 15s team for the Oceania Cup championship in 2018 and believes if she could juggle both her interests, then so could others if they put their mind to it.
In the classroom, she managed to excel with the help of dedicated lecturers who were ready to assist and attend to each student's queries. She also found time to be part of FNU's first Student Council body in 2013.
"FNU provided me with the relevant information and skills set that I need to possess," she said. "I had a great learning experience at FNU and what I have gained from my studies is relatable to real-life experiences and my field of study."
"I am also grateful for the compulsory industrial attachment component as it prepared me for working life."
Family life
Halofaki is the youngest of four siblings and the only girl in her family. She is grateful to her parents for investing in their education.
"Without them, the four of us would never be university graduates," she shared. "I am also inspired by my parents as they have excelled in the finance sector and believe education is essential to a better life. They have always encouraged us to keep striving forward based on the foundation that they and the older generation have set."
"My strong faith in God has also allowed me to achieve all the goals I have set in life. With hard work, nothing is impossible."
Workforce experience
In 2019, Halofaki was a temporary attaché at the Fiji Revenue & Customs Service and assisted in the issuance of tax compliance and statement of tax accounts as requested by taxpayers. She was also responsible for preparing transfer journals, withdrawal of penalties and ledger reconciliation with mapping.
Halofaki also attended to customers over the counter and through phone calls and email correspondence. The attachment instilled in her the importance of exceptional customer services practices and the highest regard of care for information secrecy and confidentiality.
Late last year, Halofaki then worked as a Debt Collection Officer at the Sun (Fiji) News Pte Limited and was responsible for the collection of overdue debtors accounts for cash flow transactions and business operations.
She was also responsible for reconciling bank statements from all commercial banks as well as the company's reserve account every month.
Halofaki was then appointed Accounts Officer in March this year and was in charge of the preparation of payments for suppliers and contractors to ensure business continuity, implement and maintain effective and efficient debt collection, reconcile bank statements as well as achieve set targets.
Following her graduation in August, Halofaki began work in her current role as a Client Service Officer at Bula Outsourcing. Her role includes entering data given by the broker for specific clients and submitting report for all deals handled in a day, noting its applications process.
Her work requires Halofaki to communicate accurate information with due diligence and provide sensitive information to clients in a transparent and confidential manner.
"This is my first opportunity to work at an outsourcing business so it has been a learning experience," she said. "Given the nature of the business, I have been able to attain further skills in banking, marketing and management and learn how businesses benefit from information technology and innovation."
"The team I work with comprises of people of different backgrounds and we learn from each other and adapt to the requirements of our work."
Future goals
Halofaki plans to be an Auditor and venture into commercial agriculture as a form of added income. She also aims to become a better version of herself and assist those in need.
"I will also continue to advocate for the importance of education and highlight to students the various study opportunities available to them at FNU from short courses to TVET (technical and vocational education and training) and Higher Education (HE) programmes," she said.
"I will do my part in creating awareness on the value of attaining qualifications and how it can assist in your personal and professional advancement."
High school students and those interested in learning more about the programmes, facilities and application requirements at FNU can register and participate in the livestream sessions during the University's Virtual Outreach Activities (VOA) by emailing outreach@fnu.ac.fj or call the Outreach team on 931 7582.