Captain Komainaiqoro – The Ship Captain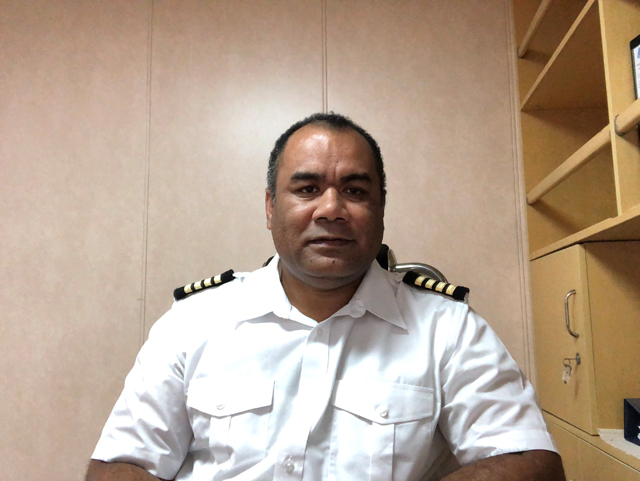 Growing up in the beautiful Koro Island, Captain Samisoni Komainaiqoro's love and appreciation for the sea was 'automatic' and he relied on his parents and elders to gain more knowledge about his surroundings. As Captain Komainaiqoro shared, the sea was a key source of food and catching a bounty daily was the norm for young teenagers. Going for a quick swim and playing touch rugby along the sandbanks was a favourite pass time.
It was here that Captain Komainaiqoro's love for the sea strengthened as he realised that it could be a pathway to something bigger.
"I knew I had to start looking for work after high school so that I could earn money and support my family. I loved the sea and saw it as a potential to mould my future."
Second eldest of eight siblings, Captain Komainaiqoro was born and raised in Nacamaki Village. After completing Year 10 on Koro Island, he moved to Suva to attend Lelean Memorial School.
Tertiary Education and Career
"After completing school I was looking for employment and while attending a family gathering, someone suggested that I check Patterson Brothers Shipping Company Limited. I joined the company on the vessel, MV Ovalau on 16 March 1996," he shared.
After a few months, Captain Komainaiqoro joined the Deck Apprenticeship programme at the Fiji Institute of Technology's (FIT) School of Maritime Studies, now known as the Fiji National University's (FNU) Fiji Maritime Academy (FMA) under the College of Engineering, Science and Technology (CEST).
He completed Stage One Deck Apprenticeship in December 1996 and returned to the vessel to finish the practical training. Stages Two and Three were served onboard ships where he was required to complete 12 assignments.
He continued to study and managed to complete Stages Four and Five as well. His overall excellent grades saw him graduate with a Gold Medal in 2000.
"I am grateful to Patterson Brothers for taking me in as one of their full sponsored Deck Apprentice."
In 2001, Captain Komainaiqoro was promoted to Chief Officer and served on that position for one year.
He then moved to Neptune Shipping Line (NSL) Auckland as a Third Officer for one year before being promoted to Second Officer.
Feeling the need to further his studies, Captain Komainaiqoro left full time employment in 2005 to undertake Advance Diploma in Nautical Science programme from the Australian Maritime College.
"After completing this programme I attained the Chief Officer's License which is issued by the Australian Maritime Safety Authority (AMSA)."
In 2006, he became a Chief Officer and served for three years. In 2008, Captain Komainaiqoro attained his Master's License after which he was promoted to Master – a position he currently holds.
In the past eleven years, Captain Komainaiqoro has been the Master of several vessels. He is currently the Master of MV Southern Pearl which is a container ship serving Pape'ete, French Polynesia from Auckland, New Zealand.
"I enjoy the challenges this role brings and the opportunity to travel the world and getting paid for it. I'm also thankful to have a job during the COVID19 pandemic, said Captain Komainaiqoro.
"Being responsible for the lives of 20 crew members and millions of dollars' worth of cargo as well as playing a role in transporting much-needed supplies around the Pacific is satisfying. I'm grateful to NPL for the opportunities they have been giving me over the years."
Captain Komainaiqoro credits his success to his family and his first employer.
"First and foremost my Heavenly Father for His protection over the years especially when I strayed from the straight and narrow path. Secondly, my wife, who was there from the very beginning when I had nothing to offer or provide for her. My parents and my late Uncle Tomasi Pekamu for my upbringing and support. Last but not least, to Emertt Pecham and to Patterson Brothers Shipping Company Limited for opening the door to an interesting and successful career."
Reminiscing his FNU days, he said, "I was living at Raiwaqa during Stage One and Three studies and I walked to and from school every day. Lunch was always a cup of tea and three pieces of scones which cost $0.90. We used to play touch rugby straight after lunch, the best way to lose weight and then would head straight back to the classroom for Morse code and Rules of the Road, the worse combination with the afternoon sea breeze," said Captain Komainaiqoro with a smile.
FIT to provide me with the knowledge and skills to pursue such a wonderful career. My lecturers were very supportive. We could go to them for help anytime and always knew that our questions would be answered."
Words of Wisdom
Captain Komainaiqoro's advice to students is to believe in themselves and accept wherever fate leads them to.
"You have a purpose in life, accept your destiny and be grateful to those who cross your path and help you."
His top three tips for graduates starting their career is to be humble and honest, seek experience before money and always work hard.
"Humility and honesty will take you places and treat others as you want to be treated. Seek to gain experience before money. The money will come at the right time. Always work hard and even harder when no one is looking."
About Neptune Pacific Line
NSL was renamed to Neptune Pacific Line (NPL) in 2009. NPL is part of The Wonderful Company, a US$4.6 billion international company headquartered in Los Angeles, CA. Its other companies include FIJI Water, Justin and Landmark Vineyards, Vintage Nurseries, Wonderful Citrus, Wonderful Pistachios and Almonds, Teleflora, POM Wonderful and Suterra.