Director's Message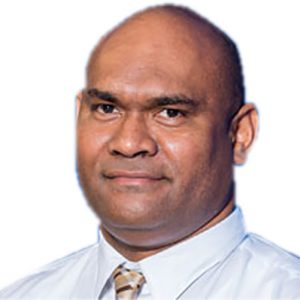 The Fiji National University's National Training and Productivity Centre (NTPC) is Fiji's premier institution for providing skills-based training and short courses in a range of technical and trade courses as well as entry-level programmes in hospitality, informational technology and management.
NTPC is divided into the following sections, each tasked to provide industry orientated programmes and short courses: Department of Automotive and Mechanical; Department of Information Technology; Department of Executive Management; Department of Construction; Department of Electrical and Electronic Engineering Department of Executive Management; Department of Tourism Hospitality Fashion Travel; Department of Community Based Non-Formal Education and Training; Department of Trade Test and Apprenticeship; Department of Quality Awards and Department of National Productivity & Industry Innovation.
NTPC is also at the forefront of providing Technical and Vocational Education and Training (TVET) programmes to the trade sectors in Fiji. The Department of Automotive and Mechanical, Department of Construction and the Department of Electrical and Electronic Engineering spearhead the provision of TVET courses. There is a wide range of programmes tailor-made to boost the overall efficiency and productivity of any organisation in Fiji's trade industries.
The training programmes offered by NTPC is ISO9001:2015 certified. This ensures that we always remain customer focused and continually improve our training packages and related services to meet and exceed customer requirements.
We have over 20 years of experience in delivering international franchised qualifications in Fiji. This allows our graduates to gain superior recognition locally, as well as in Australia and New Zealand.
Our technical programmes are 70% practical and 30% theory. Our students are current with Fiji's industrial practices. This is possible because our training put students into practical situations, through effective training simulators that enable them to train and be ready to work in the industry environment with very little supervision and assistance. Some simulators used in our short duration programmes are:
Digital device training
Training restaurant, kitchen, hotel room, online reservation system, and
Technical workshops
Our trainers are industry practitioners, and we have policies in place to ensure that the trainers are always up to date with the current industry practices and developments. We offer multi-skilled qualified trainers who can help students to achieve their goals. Our trainers can take the training to the participant's level of understanding even without the proper education qualification
NTPC strives to offer a unique experience of our training.  We can tailor-make the training courses to suit the industries specific requirements within our capacity. There are no enrolment fees and simple enrolment process with minimum document requirement, and we also cater for school dropouts and give them an opportunity for a better future. The design and delivery of our short courses lead to quick job opportunities. NTPC also provides flexible training to suit industry work schedules. 25% of our technical trainers have more than ten years of industrial experience, and 75% of our technical trainers have more than 20 years. NTPC has also provided training to people with special needs. Our programmes/courses are developed based on industry needs and demands and vetted by Industry Training Advisory Committee (ITAC).
Dr. Isimeli Tagicakiverata
Director – National Training and Productivity Centre