C-POND
The WHO Collaborating Centre for Obesity Prevention and Management is a collaborative research centre between the School of Medicine, College of Medicine, Nursing & Health Sciences, Fiji National University and Deakin University (WHO Collaborating Centre for Obesity Prevention), Melbourne, Australia which was established in 2009. Formerly, known as Centre for the Prevention of Obesity and Non-Communicable Diseases (C-POND) who received visibility and recognition by national and international authorities for its work on Non-Communicable Diseases.
The designation as WHO Collaborating Centre for Obesity Prevention and Management was officiated in 2019 by the Minister for Health and Medical Services, Dr. Ifereimi Waqanibete, who witnessed the recognition of the work of a centre that has been strong ally for the Ministry of Health and Medical Services helping to implement the mandated work and achieve its current goals.
C-POND is infact the institution in the Pacific Island Countries to receive WHO Collaborating Centre status that was a major achievement for the College of Medicine, Nursing & Health Sciences. WHO gains access to top institutions worldwide and the institutional capacity to support its work while C-POND will gain greater attention from the public and academic institutions for the health issues they work on.
WHO designated the C-POND as a WHO Collaborating Centre for Obesity Prevention and Management, to:
assist the WHO in supporting the prevention and management of NCDs,
assist the WHO in supporting countries in the Pacific to develop policies on healthy diets and physical activity; and
to conduct research on unhealthy diets and physical inactivity to support the implementation of evidence-based policies in line with WHO recommendations.
Collaborating Centre for Obesity Prevention and Management is situated at the Tamavua Campus in Suva, linking it closely with its teaching and training programs and supporting PhDs, Masters and post-graduate students, research projects and training programs.
VISION
Creating the evidence, knowledge exchange and research capacity needed to reverse the Non-Communicable Disease (NCD) and obesity crisis in the Pacific islands.
MISSION
To conduct solution-oriented research on obesity and NCDs. The focus is on finding the solutions to reduce the very high prevalence and burden of obesity and NCDs in the pacific.
To disseminate the research findings and translate them into policies and practice. The usual process of research dissemination through publications and conference presentations is accompanied by strong knowledge exchange linkages with government agencies, NGOs, private sector organizations, and communities to translate the research findings from C-POND and international studies into policies and practice in the pacific.
To build research capacity in obesity and NCD prevention. This includes the supervisor of Masters students and Doctoral students as well as training for research staff.
To conduct other research-related activities which further the aims of C-POND.
CHIPSR
Background
The Center for Health Information Policy & Systems Research (CHIPSR) was established in 2010, following the increase realization that Health Systems in the Pacific needed evidence based research to ensure the development of regional and national policies that addressed the long term sustainability of health systems, and the provision of equitable health services for the Pacific. The vision of CHIPSR was to be the most admired center of excellence in Health Systems and Health Policy in the Oceania region.
CHIPSR mandate is to perform research in human health and well-being for economically sustainable community and society and its focus is on health financing, health information, and health systems and health policy.
Purpose of CHIPSR Reference Group
CHIPSR Reference Group are intended to provide strategic direction and advice and nurture the development of CHIPSR. Reference Group is intended to be advisory and not managerial and is not expected to consider day to day management and procedural issues. It has no decision-making authority, but can make recommendations for the staff and management of the center to consider.
The purpose or role of the CHIPSR reference group are to:
Provide strategic advice and direction to the CHIPSR
Participate in strategic planning meetings for CHIPSR
Identify and notify CHIPSR abut collaborations and research opportunities and projects within the CHIPSR mandate.
Provide technical expertise when possible to CHIPSR in the form of advice, mentoring, reviewing of documents, technical working groups, etc.
Terms of membership of the CHIPSR Reference Group
Membership of the CHIPSR Reference Group carries no financial benefits, and membership is based on professional attributes of individuals, rather than their organizational affiliation or country of residence.
Reference group members are expected to be working within the Pacific Islands on health financing, health information, and health systems and health policy.
Be active in CHIPSR research
Have a track record of published academic research and research funding
Be willing to provide their expertise and advice on CHIPSR activities, without any expectation of remuneration or other benefit (such as inclusion in publications or research proposals)
Participate in at least one teleconference or face to face meeting of the Reference Group per year
The membership of the reference group is not automatically renewed. It will be reviewed annually at the first meeting of each year (to be held in the first quarter).
The Head of CHIPSR will review membership of the reference group prior to this meeting, to check members' compliance with the requirements. The membership of any person who no longer meets the above requirements will not be renewed. A person whose membership is withdrawn will be informed in writing by the current Reference Group chairperson and Head of CHIPSR. The letter will outline the grounds on which decision to withdraw membership were made.
Members may also withdraw at any time by indicating this in writing to the Reference Group chairperson and the Head of CHIPSR. There is no maximum timeframe for an individual's membership of the Reference Group providing they continue to meet the above expectations of members.
Meetings
A minimum of at least two Reference Group meetings will be held per year. Where feasible, one meeting should be held face-to-face, in collaboration with a regional event likely to be attended by many of the members.
The Reference Group Chairperson will be responsible for organization of the meeting in collaboration with the Head of CHIPSR, and for informing all members of the date and arrangements for the meeting. The Head of CHIPSR will disseminate an agenda and any related documents to all members prior to the meeting. The Reference Group Chairperson will set the agenda for a meeting in discussion with the Head of CHIPSR.
The secretary and Head of CHIPSR will produce minutes for review by the Chairperson. The Chairperson will then share them with the Reference Group members for any corrections before they are finalized. At the subsequent meeting, the minutes will be endorsed/ accepted.
As the group is not a decision making body, there is no requirement for a minimum quorum for any meeting to take place. However election of the Chair of the Reference Group will require at least 75% of the members to participate. Similarly decisions on new members and renewals of Reference Group members will require at least 50% of reference group members to participate.
Members of the Reference Group may make contributions and comment via face to face meetings, teleconference or via email. Comments and input may be sought at any time from the group, by the CHIPSR team.
Chairperson of the Reference Group
The Chairperson of the Reference Group will be elected each year, at the first meeting of the year, following the review of the members of the Reference Group. All members of the Reference Group (excluding CHIPSR staff) are eligible to make nominations for the chair and to vote for the Chairperson.
The incumbent Chairperson will first call for nominations for chairperson. If there is more than one nomination, then members will be asked to vote (one vote per member). They will email their vote to the CHIPSR secretary who will total and provide response to the reference group (anonymized). The nominee with the most votes will be chairperson for the year. In the case of a face to face meeting, paper-based voting will be used.
PacS-RHRC
The Pacific Sexual & Reproductive Health Research Centre (PacS-RHRC) represents a new and dynamic approach to the Sexual & Reproductive Health (SRH) research issues and challenges of the Pacific Island Countries. In keeping with the Pacific move towards integration of HIV & STI into the larger SRH agenda, PacS-RHRC, in the College of Medicine, Nursing & Health Sciences (CMNHS), Fiji National University, is dedicated to:
Conducting, facilitating, mentoring and teaching SRH research which will provide evidence-based information and knowledge to influence and support national and regional policies, programs and projects to promote healthier lives for Pacific Islands Countries & Territories (PICTs);
Developing and increasing research capacity of Pacific Islanders towards sound research that will inform the Pacific response to SRH;
Identifying through research, evolving best SRH practices for the PICTs which are country-specific, culture and gender-sensitive and sustainable for the Pacific's future generations.
PacS-RHRC will fulfill its roles to the best of its ability to CMNHS, FNU and the wider Pacific Islands in several ways:
Conduct, facilitate, provide technical support and teach SRH academic, behavioral surveillance, clinical, and operational research;
Develop and support SRH research capacity of Pacific Islanders;
Publish research information as articles in peer-reviewed journals;
Attract research funding and grants for SRH research independently or with collaborating partners;
Disseminate research findings widely through national, regional and international workshops, seminars, conferences and publications;
Develop and maintain partnership with disadvantaged and marginalized communities to provide evidence-based information and knowledge towards appropriate SRH policies and strategies for improved healthy reproductive lives;
Assist in the translation of research findings into relevant, sustainable outcomes for studied communities;
Be a repository of SRH research in the region by gathering, storing and disseminating SRH reports to interested individuals, partners and key stakeholders; and,
Develop and expand SRH Networks within and outside the Pacific region.
PacS-RHRC collaborating Partners
PacS-RHRC will conduct research and disseminate findings independently or work in partnership with collaborating such as academic, technical, donor, NGOs institutions, and other key stakeholders such as governments and special communities in the Pacific Islands Countries & Territories. PacS-RHRC currently enjoys the support and collaboration of a group of regional and international community, technical and academic institutions  such as the United Nations Population Fund (UNFPA) through its Western Pacific Office, Suva; International Planned Parenthood (IPPF) through its Pacific Office in Suva, the Secretariat of the Pacific Community (SPC) through its Public Health Program, based in Suva, Pacific AIDS Foundation (PIAF), the Oceania Society for Sexual Health & HIV Medicine (OSSHHM), and the Women's & Children's Health Knowledge Hub (Crossmap) a partnership between Burnet Institute's Centre for International Health, the Menzies School of Health Research in Darwin, and the Centre for International Child Health at the University of Melbourne. PacS-RHRC is keen to develop collaborating networks for the development and advancement of SRH research and capacity at CMNHS, FNU and the Pacific region.
PacS-RHRC Research Areas & Interests
PacS-RHRC is a Pacific regional organisation and will conduct research in the Pacific region on the following issues:
Knowing your STI and HIV epidemic
Family Planning
Safe motherhood (antenatal, perinatal & postnatal) issues & practices
Sexual practices of man, women and youths in the Pacific
Access & barriers to condoms and other contraceptives uptake
Sexual & reproductive health, rights, practices and the law
Health care workers as SRH service providers;
Sexual Violence and Violence Against Women and Children
CONTACT US:
Ms Avelina Rokoduru
Centre Coordinator
Email: avelina.rokoduru@fnu.ac.fj
Tel: (679) 3233 257 – Direct
For more information on what we do, access CMNHS Research online at www.fnu.ac.fj
CDRC
Communicable Disease Research Centre  (CDRC)
Background
In the midst of a global pandemic, the College of Medicine, Nursing and Health Sciences (CMNHS) has established a centre that targets communicable diseases.  The Communicable Disease Research Centre (CDRC) has been formed through collaboration between CMNHS and the Otago University, Global Health Institute (OGHI) with support from Mercy Hospital in Dunedin, New Zealand. The Centre will produce Pacific led world class research in communicable diseases for the Pacific region. It also aims to enhance the capacity for research training and support for student research specifically in Communicable Diseases. This includes advancing knowledge in the pathogenesis, treatment and prevention of communicable diseases in Pacific island countries. The CDRC presents an important ambition of the CMNHS to not only educate Pacific health workers, but to generate the information that guides health practices in the region.
The CDRC launched virtually on December 3, 2021, with the inauguration of its Reference Group members. The Centre presents an opportunity for the College to position itself as a regional Institution that identifies and addresses priority infectious diseases in the region, whilst also building research training, capacity and quality in coming years through collaborations with Ministries of Health, and organizations and institutes involved in infectious disease research.
Vision:
Pacific led world class infectious diseases research
Mission:
The Communicable Disease Research Centre (CDRC) will work in collaboration with partners to conduct research that addresses the most pressing infectious diseases problems of the Pacific region
Values:
Bula vinaka(wellbeing); Loma vata (harmony); Cakacaka vata (working together); Sautu (good fortune); Cakacaka vaka dodonu (ethical practice); Doudou (boldness);  Uasivi (excellence)
Strategic Goals 2021-2022:
Establish Foundations at Fiji National University (FNU)
Establish research and stakeholder collaborations
Build research capacity with collaborators
Propose, conduct and publish research projects in communicable disease
Pacific Health Observatory
About PHO
The Pacific Health Observatory(PHO) is an initiative of the Fiji Institute of Pacific Health Research(FIPHR) which aims to support Pacific countries through the dissemination and translation of health research.
The PHO also serve as an online data repository for health research data and routinely collected health data from the Pacific. The establishment of the PHO was supported by the Australian Government as part of the response to COVID-19.
PHO currently based at the Fiji Institute of Pacific Health Research, College of Medicine, Nursing and Health Science.
Mission
The mission of the PHO is to improve the health of Pacific islanders and reduce inequalities through the provision of relevant, objective and high-quality health intelligence to support decision making and actions for health.
The objectives of the PHO are to:
Provide an expanding knowledge base to inform health decisions in the region. This will primarily be through a repository for data and information that can be used to inform decisions for health in the region.
Provide relevant and high-quality health intelligence to ensure that decisions made regarding health in the region are based on the best possible information and will deliver the best possible outcomes for Pacific populations.
Strengthen the use of existing health data in the region to inform decision making and integrate data from a wide range of sectors.
Promote accessibility to health information and intelligence for both health workers and policy makers in the region.
Advocate for addressing health inequalities and unmet health needs in the region.
Functions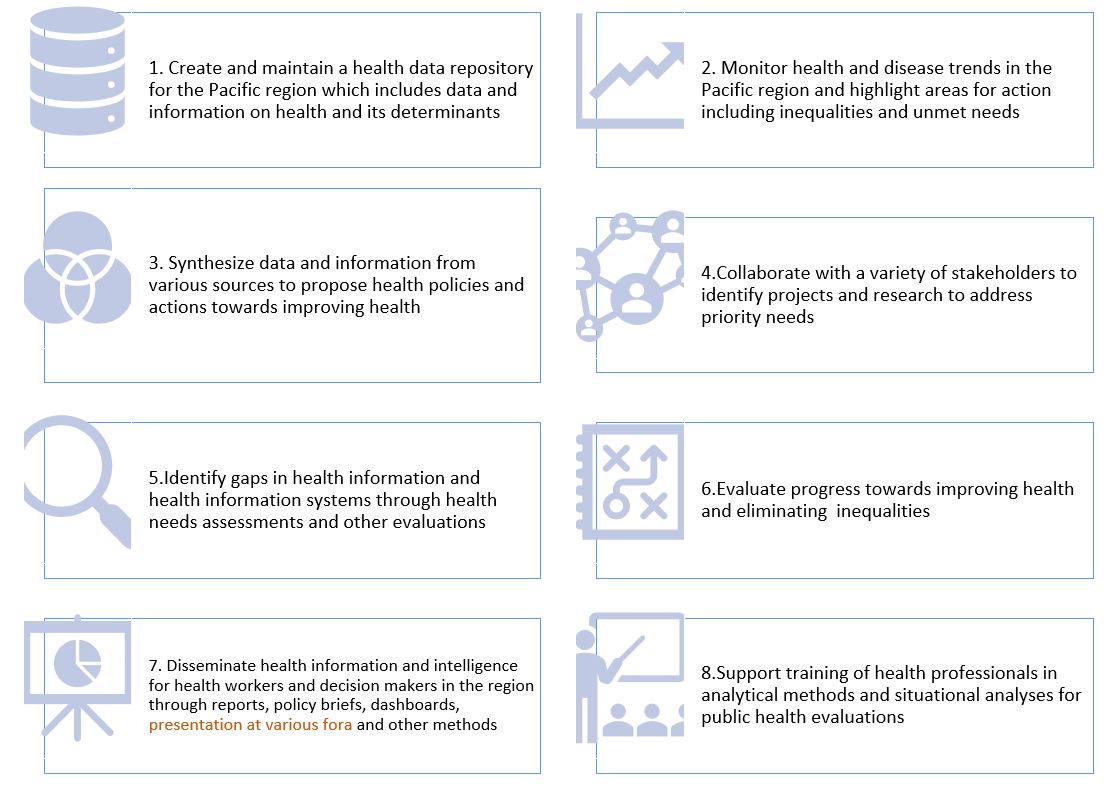 Benefits of PHO
The PHO will present numerous benefits to the staff and students of the College of Medicine, Nursing and Health Sciences at the Fiji National University. Some of the key benefits are as follows:
Strengthen and support the translation of research outputs into teaching and curriculum development within the college
Provide evidence base Pacific related health information for staff and student anticipating to conduct research in the future
Strengthen research capability of staff and students
Support primary and secondary research conducted by staff and students
Support staff and student in publishing their research into Pacific related health Journal or any other Journal.
Support staff and student in translating research findings into policy and practise to improve health service deliveries in their own settings.
Provide field placement to students
Current Research
Data Repository
FNU-CMNHS FIPHR Research Repository is a collection of the Fiji National University's College of Medicine Nursing and Health Science's intellectual or research output.
The FNU-CMNHS FIPHR Research Repository is currently for CMNHS academic, comparable professional, technical, and research support staff; CMNHS students enrolled at the University (especially Higher Degree by Research (HDR) candidates); and CMNHS adjunct appointments to share the research and scholarly outputs of the College of Medicine, Nursing and Health Sciences written by the CMNHS researchers or joint collaboration with other research institutions and university.
Data Repository Link: https://repository.fnu.ac.fj/
Video 1: Finding the Data Repository Page
Video 2: Functions of the Repository
Video 3: Depositing Articles and Thesis
Any correspondence concerning this specific repository should be sent to eprint-cmnhs@fnu.ac.fj.
Contact Details
Meet the CDRC Staff