Working student preservers and attains success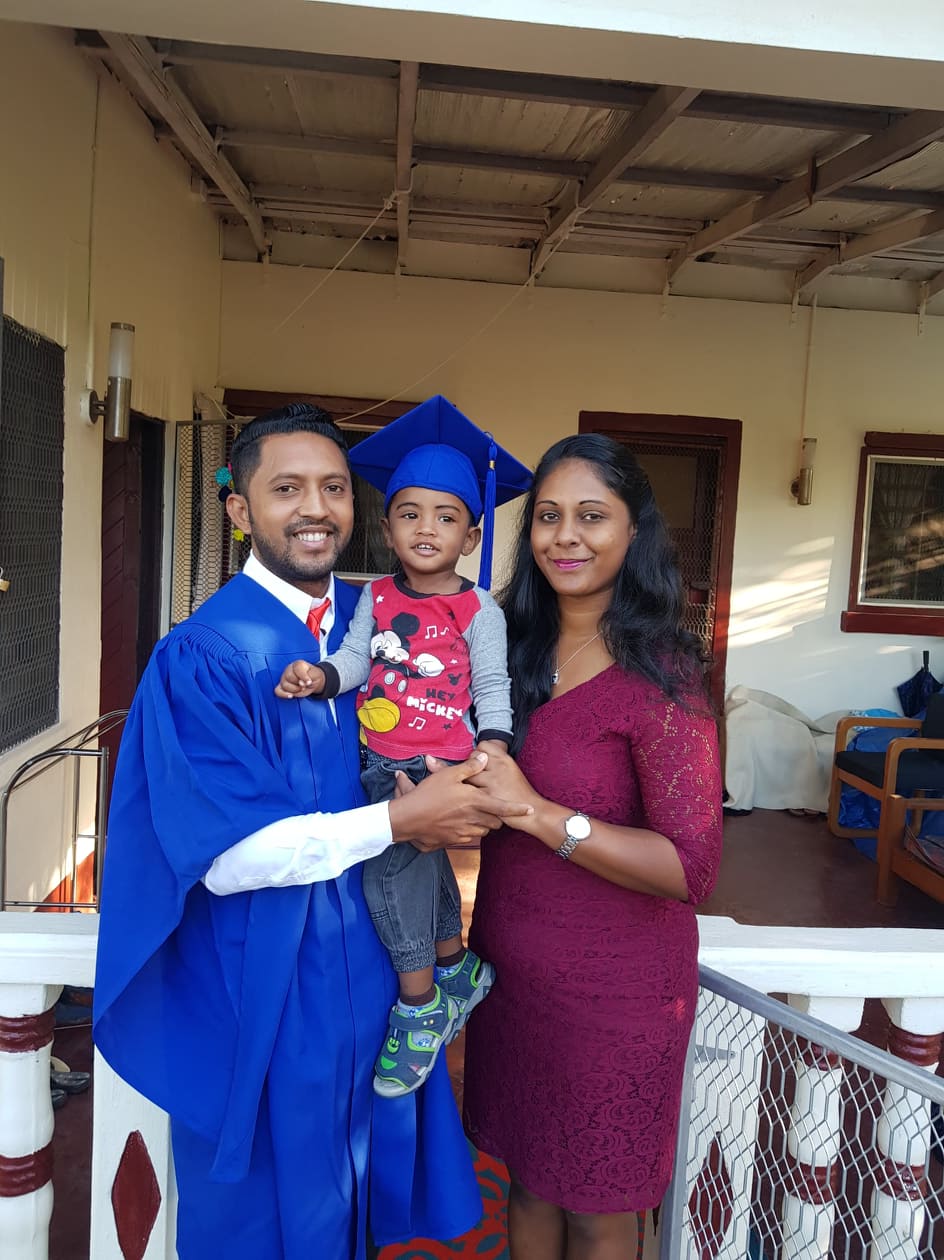 Being a full time student while working full-time is no easy feat. However, with perseverance and determination all is possible. Nafitalai Vuli is an example of what a person can achieve despite difficulties – if they set their mind firmly on their goal. 
As a young boy, he was always fascinated with computers. Seeing him clicking away on his father's computer was a common sight.  Vuli would spend a considerable amount of time in the computer labs in school as well. This interest led him to want a career as an Information Technology (IT) Technician.
Born and raised in Nausori, Vuli is the eldest of three siblings.   He has two younger brothers.
Vuli attended Classes One to Six from Suva Methodist Primary School, Class Seven at Dudley Intermediate School and completed his primary education at Krishna Vedic Primary School in Nausori. He attained his secondary education at Vunimono High School from 2003 to 2007.
In high school, he took up Computing as one of his subjects and began work on his plans to becoming an IT Technician.
Unfortunately things didn't work out as he had hoped. He realised that due to financial constraints, he would have to fund his own education. Thus, after completing Form Seven, he joined the workforce to raise funds for his education.
School and Work Journey
Vuli joined Pacific Pipelines & Roadcare Equip Limited in the Sales and Administration team in 2008 on a full time position and started to save money to enroll in university courses in IT. After working for one year his interests changed. The timetable for the IT courses were also not convenient for his time, thus, he decided to pursue a different field.
The following year, in 2009, he enrolled as a part-time student at Fiji Institute of Technology (FIT) in the Bachelor of Commerce programme majoring in Management and Public Administration.
"Being a working student was difficult. I found it very challenging juggling work and studies and I had to pay for it myself too so it was even harder," said Vuli.
He was not able to afford Semester Two fees straight after Semester One, therefore, he decided to work and save money and resume studies later.
"I decided to take a longer break and go back to studies when I was financially ready," he said.
Again, things did not go as planned for Vuli.
"Once I was in the workforce fulltime, I found it hard to get the motivation to go back to studies," he added.
In 2014, he left Pacific Pipelines & Roadcare Equip Limited and joined Digicel Fiji Limited as an Inventory Officer for the Pacific Group.
His new job involved organising logistic services for both import and export from overseas and local vendors, organising repair and return items to Huawei Incorporation Pty Ltd for all telecom hardware and tracking record for receiving and return of items after repair, maintaining inventory control of Sky Pacific equipment and conducting monthly audit for reconciliation with installation report, providing reports on inventory of stock, providing assistance to Sky Pacific and Unwired customers, maintaining record of receipts as well as issuance of items that are going out of the warehouse to ensure proper record management. 
His job took up most of his time. 
Completing his Studies
In 2016, newly married, Vuli decided to go back to school with a lot of encouragement and support from his wife. By this time, FIT had merged with other colleges to form Fiji National University (FNU). Vuli had to enrol into a new programme; Bachelors of Commerce programme majoring in Management and Human Resources Management and Industrial Relations.
He enrolled as a full time student and continued working full time.
Vuli says that it was challenging to juggle work, studies and personal life however, his Lecturers were very supportive and assisted him a lot.
"I am very grateful to my Lecturers who were always supportive and provided continuous support over the years," he said.
Vuli achieved his aim and graduated with a Bachelor of Commerce in Management and Human Resource Management and Industrial Relations from the Fiji National University (FNU) during the May 2019 Graduations.
Personal Life and Words of Wisdom
Vuli dedicates all his achievements to his wife whom he proposed and got married to in early 2016 while he was working and collecting money for his studies.  According to Vuli, this was the best decision he had made.
"All the credit for my achievement goes to my wife, Archana. She has been my strength and my guiding light," said Vuli.
They have a son who is 18 months old. "My world comprises of my wife and my son. Everything I do is for them," Vuli added.
 "This is the best decision I had made. My life started changing for the better. I am very lucky that I had Archana. Once we got married, she influenced me to go back to school," he said.
 His advice to students is to never give up on education and keep working hard to achieve what they want in life. "Never give up on education. Even if you are facing financial constraints, it is not the end of the world. If you set your mind to it, you can achieve it. You will need to work hard and have the right support. With the right influence, your hard work, perseverance and dedication you will succeed in your endeavors," said Vuli.