Wiremen Lata's electrifying life journey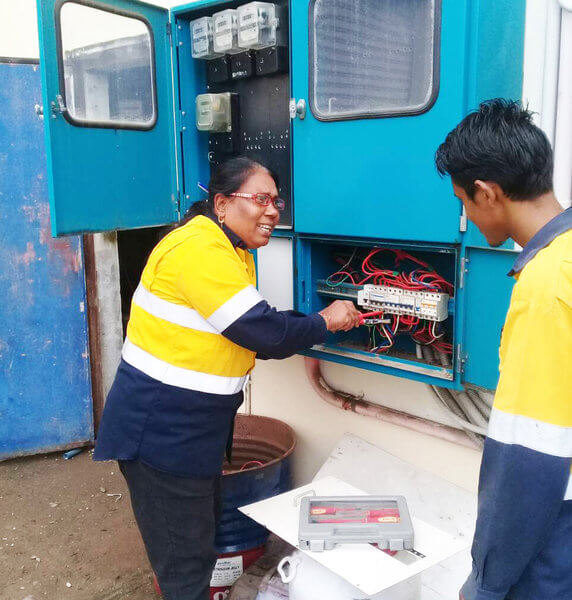 Growing up in Navau, a small rural farming and fishing community located along the Kings Highway between Lautoka and Ba, young Roshni Lata did not think that she will grow up to become an electrician and then open up her own electrical retail and contracting company.
Life for the soft spoken, friendly Roshni Lata has not been easy but she did not let these obstacles deter her from growing and achieving her goals.
Lata was born in Tavua and while she was a small girl her family had moved to Navau, Ba where she has lived ever since.
She lived with her parents and an elder brother. Growing up, they had financial difficulties as her brother was the only person working in the family.
Lata attended Sarava Sanatan Primary School 1976 to 1983 and Ba Sanatan College from 1984 to 1987. She completed most of her high school education through scholarships awarded by the school.
Career
Lata was different from other girls. During her childhood days, she was always fascinated by the workings of cars and was interested to pursue something in the mechanical field. But this was something she was unable to follow through as it was seen as 'not fit for females' by her family.
Given that she did not have much option after completing Form 6 (Year 12), Lata attended a Typing School in Ba and successfully attained certificates in Stenography.  She managed to secure employment with a company in Ba where she worked with the accounts team.
After sometime Lata quit as she still wanted to find a profession in trade. 
As luck would have it, Lata's uncle, who was an Electrician, came to reside at their place as he had landed a contract in Lautoka. After much convincing, Lata was allowed to travel with her uncle to Lautoka to assist him.
After a few days she found the work very interesting and decided to work full time with her uncle.
"I was really excited to work with my uncle. I felt that this was my break," said Lata.
"I gained a lot of experience. It was tough but I managed to hang on. This attachment opened my eyes and certainly strengthen my goal to become an electrician," she added.
Lata worked for her uncle for one year.
"My uncle was fairly impressed with the knowledge I had gained and then encouraged me to get formal education. So I explored my options and then decided to join the Fiji National Training Council's (FNTC) (now, FNU's National Training and Productivity Centre) Apprenticeship programme," Lata said.
Lata joined Toroca Electrical Works in Lautoka and she managed to completed Stage 1 and Stage 2 in Electrical Engineering from 1989 to 1990.
In 1991, she joined Suncourt Hardware Fiji Limited in their electrical section. She continued her education and attained Stage 3 in Electrical Engineering.
She sat for the Wiremen's License test in 1995 through Energy Fiji Limited (formerly known as the Fiji Electricity Authority) which enabled her to be a licensed electrician.
"It was not easy to juggle work, school and personal life but as my career progressed I pushed myself to study more," said Lata.
"My aim was to get my license and it wasn't easy. But I'm proud that in the end I was able to achieve that. I was also the first female to have set for that test and passed."
Personal Life
Lata got married in 1992 while she was still working for Suncourt Hardware. She resigned a year later to take care of her newly born baby girl.
After receiving the Wiremen's License in 1995 she joined Vinod Patel and Company Limited in Ba and was later transferred to Lautoka, where she worked till 2001.
Her life took an unfortunate turn in late November 1999 when her mother passed away. Then in February 2000 Lata lost her husband.
Fate would still challenge her will power, as Lata then lost her father in July and then her house was destroyed in a fire in November of the same year.
"It was a very difficult moment for me. I had lost all hope as I lost my parents and my husband and then our house was burnt down. I was a tragedy," said an emotional Lata.
"I was shattered as all of them were my support. I was left with my daughter. And I knew I had to re-build my life again. It was not easy. I knew I had to be strong and have faith."
"I had been through so much, I told myself that nothing can break me down now," she added.
It was with this thought that she decided she needed to start her own business. This was the only way Lata knew she would be able to meet her expenses and raise her daughter.
With her life savings and assistance from a few friends, Lata managed to obtain some electrical equipment on credit and started Roshni's Electrical Services in Lautoka on 23rd May 2001.
"I knew that the best way to get back on my feet was to become my own boss. So I took a chance and started my company. I knew a few people and they assisted me. A lot of people knew my work and they came to me with small contracts and before I knew it my company was flourishing," said Lata.
Lata's daughter, Swastika Shivani has also followed her mother's footsteps and pursued Certificate in Electrical Engineering from the National Training and Productivity Centre (NTPC). Swastika is currently working with her mother.
Life Lessons
Lata recalls a message from her high school principal, Parmod Chand Maharaj who said, "Never waste time and never think of any work as menial work."  Lata said this message has guided her throughout her life and hopes that it will do the same for others.
She encourages more women to take up trade studies as it provides high employment prospects and its rewarding.
Lata said every dream starts with self-confidence and discipline.