Vuranovo chases passion in tourism and teaching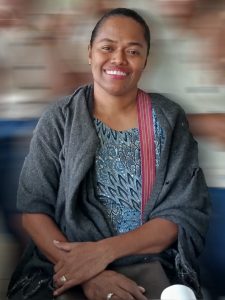 For Siteri Tinai Camaicolo Vuranovo, education was a continuous endeavour that allowed her to pursue studies and career aspirations in more than one field of work.
Growing up in Natokowaqa, Lautoka, Vuranovo was surrounded by those working in the hospitality sector at hotels and tourism companies in the Western Division.
This prompted her to pursue qualifications that would enable her to be employed by the industry. Vuranovo's kind, carefree and welcoming personality was also well-suited to her career plans.
After completing her pre-tertiary education at Lautoka Fijian Primary School, Ba Provincial Secondary School and Assemblies of God High School in Suva, Vuranovo enrolled at the Fiji Institute of Technology (FIT), which is now part of the Fiji National University (FNU).
Tourism and Hospitality
"I was excited to begin studies in this field and the first course I completed in 2002 was the Certificate in Dining Room Service programme. A year later I completed the Certificate in Hospitality Operation course and in 2004 I graduated from the Certificate in Hospitality Accounting programme," Vuranovo shared.
"Student life, particularly tertiary life, was an eyeopening experience for me as we are introduced to a different way of learning and teaching compared to our primary and secondary education." "I was surrounded by many other like-minded peers who were eager to learn the skills we needed to become successful in life. The first-hand practical learning approach of the courses made it easy for us to understand and apply our knowledge in the working environment."
Vuranovo recalled her practical classes at the Tiri Restaurant and Bar at Nasese Campus and the experience of wearing the chef uniform when in the kitchen. "We were also hired to cater at five-star hotels and other business and corporate events and this made us develop not just our professional skills, but also our soft skills such as time management, customer service, communication, diligence and teamwork."
Following her tourism and hospitality studies, Vuranovo was then employed at various organisations such as the Golden Dragon Nightclub, Union Club Suva Homemaker and the Raffles Gateway Hotel in Nadi. "I was able to apply and develop my skills, from office work, to front office operations, serving in the restaurant, mixing drinks at the bar, proper book-keeping and accounts work, basic chef duties in the kitchen and housekeeping work."
Teaching
In 2010, Vuranovo decided to pursue her passion for teaching. She enrolled in the Diploma in Secondary Education (English and Social Science) course at FNU's College of Humanities and Education (CHE) and graduated a year later. Her first teaching post was to Wainimala Secondary School in a reliving post for the first term of 2012.
She then completed the remaining two terms at Napuka Secondary School. Since then, Vuranovo has been teaching at Saint John's College on Ovalau island, Lomaiviti. "I have been in the teaching field for a decade now and this has certainly provided me with adequate knowledge and soft skills on how to effectively teach students from various communities and backgrounds," she said.
"Being a teacher really is a humble profession and although it is challenging at times, it is also satisfying to know that you have a significant role in a child's growth and development."
"There are times when I have also had to deal with students and their circumstances within and outside of the classroom setting to ensure their education were not hindered and this highlights the importance we place on the education of our young minds and future leaders."
Throughout her teaching career, Vuranovo has taught Year 9, 10 and 11 English classes, Year 9 and 10 Social Science, Year 9 Vosa Vaka-Viti (iTaukei language), and Year 9 and 10 Art and Craft classes.
Vuranovo recently completed a Train the Trainers course on how to conduct mock elections that were organised by the Fiji Elections Office for Year 10 Social Science teachers. She said this would enable her to better relay this topic to her students.
She is also the Year 11 Coordinator and is in charge of collecting and recording worksheets and assessments and marking papers for English, Social Science and Vosa Vaka-Viti. She has also performed in the role of Manager for the Saint John's College Under-17 Netball Team and as a sporting official during the Ovalau-Lomaiviti Zone Meet.
Vuranovo was proud to add that during school activities such as clean up campaigns, her form has been awarded certificates, in recognition of their community work. In addition to her responsibilities, Vuranovo currently assists the Ministry of Health and Medical Services staff on the island in their COVID-19 vaccination campaign for children aged 15 to 17.
Motivation
Throughout her career in both the tourism and teaching sector, Vuranovo has sourced her motivation to succeed from her late parents, Ana Liwa Camaicolo and Nemani Camaicolo Savai.
"I grew up around circumstances where my late father would fall sick regularly and my late mother would return from work and then make jam, sew clothes and do other work to earn extra income and support our family," she shared.
"These struggles have strengthened the determination in me to create better opportunities for my parents and now for my own family."
"Through God's grace, I have been able to achieve anything I set out to do."
Words of Wisdom
Vuranovo's simple advice to others was to honour their parents and take on any opportunity to study to the best of their abilities.
"Grab every chance you have to study and create better conditions for you and your family.
Always keep in mind that every choice you make has an outcome that is either good or bad," she added.
Vuranovo, who also credits her four children and family for their support, is currently undertaking further studies at FNU in the Bachelor of Education (English and Geography) course.