Village boy overcomes struggles to become a Dentist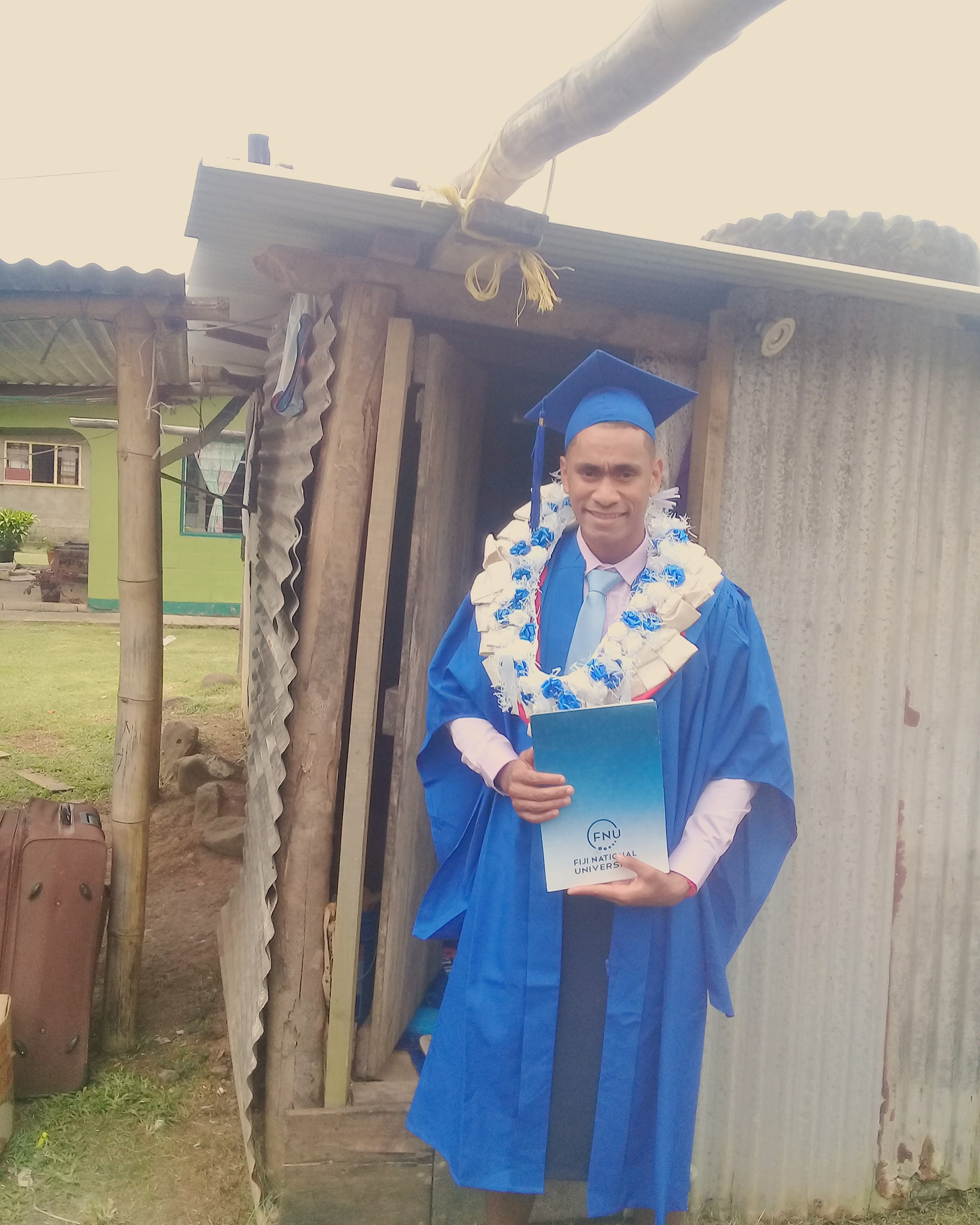 Despite the difficulties Ifereimi Naiviqa was growing up with, he was determined to achieve the "Dr" title one day. His aim was to become a Dentist. Facing numerous hurdles along the way, he came out victorious when he graduated with a Bachelor of Dental Surgery in December 2018.
His father was a labourer and cane cutter while his mother used to look after the family. She would collect goods from the sea and sell it at the market. Naiviqa was born and raised in Veivatuloa village in the province of Namosi. He has two brothers and two sisters.
Coming from a poor background, Naiviqa knew achieving his dream would be very difficult but he was determined to make it happen.
"I knew I had to work very hard. I had to achieve excellent marks so that I could get a scholarship to pursue further education," he said.
He attended Veivatuloa Village School from 1999 to 2006.
"I vividly remember my primary school days in the village, when I used to share the uniform with my two older brothers; torn shirt, dirty sulu, walking bare feet, using a plastic bag as a school bag, no pocket money, no decent lunch just plain tea & cassava but at the end of the day, it was worth it," he said.
He then moved to the Central Division in Viti Levu to attain his secondary education leaving the village life behind to pursue his dreams. He stayed with the Mata Family in Nadonumai, in Lami.
"Despite living in such a community, I was never discouraged or influenced to join the wrong path. I had set my priorities right. I had struggled a lot and seen my family struggle too. I was determined to make it all good for me and my family. I wanted to make them proud," said Naiviqa.
His high school days presented him with many challenges as well.
"I only had one pair of uniform and sandal that lasted me till Form 5. Since my parents were both in the village I didn't want to pester them all the time about my bus fare therefore I came up with one alternative which was selling "Bonbon" in school and it did work. The little money from selling Bonbon was well utilised on bus fare, lunch money, school fees and a little compensation to my parents when they needed it," he added.
He attended Suva Grammar School from 2007 to 2011. His Form Seven marks did not meet the Minimum Entry Requirement for the Bachelor of Dental Surgery programme at the Fiji National University's (FNU) College of Medicine, Nursing and Health Sciences (CMNHS), therefore, he decided to repeat Form Seven. This time round he attended Lautoka Central College.
When he applied for the Bachelor of Dental Surgery programme the second time in 2012, he was accepted into the programme.
He began his journey in 2013 as a hostel student.
"I was happy that I had achieved my first goal which was to get admission into the medical school," he said.
His journey was exciting as well as challenging.
"My journey at Fiji National University was fun but challenging. Studies were tough. I failed Year Two but I could not give up. I had started something and there was no turning back. I had to finish, so I repeated," said Naiviqa.
Sharing his secrets to success he said, "My three secrets to success are trust God all the time, honour your parents and work hard."
His advice to young people is to not take things for granted.
"I want to challenge all the young people not to take things for granted and be content with what life has offered you. Chase your dreams and never give up for I am a living testimony that everything is possible through hard work. Remember that where there is a will, there is a way," said Naiviqa.
Naiviqa is currently based at the Navua Hospital as part of the dental team and hopes that his story will inspire young people to work hard and achieve their dreams.