Vakawaletabua specialises in Environmental Science field
Seeing first-hand the gradual impact of climate change on her district land of Wailevu, Cakaudrove in Vanua Levu instilled in Sereseini Dikalouniwai Vakawaletabua the urge to learn and contribute to solutions on the dire issue.
Vakawaletabua also observed the negative effects of some development in her area during childhood. This reinforced her desire to study in the field of Environmental Science.
After completing her pre-tertiary education at Wailevu East District School and Savusavu Secondary School, Vakawaletabua began the journey towards her childhood goal and enrolled in the Fiji National University's (FNU) Advanced Diploma in Environmental Science course.
She studied at the College of Engineering, Science and Technology's (CEST) Nabua Campus and proudly recalls the University's role in shaping her career.
"I was glad to be working towards my ambition. I am grateful for my study at FNU, which also helped me understand and overcome some of the challenges I faced," she said.
"My experience at FNU not only helped build my professional foundation in the environmental field, it also introduced me to the different mindfulness and acceptance-based environment approaches, which eventually led me to pursue further training in becoming a mindful environmentalist."
"At FNU, I learnt to be a more effective communicator and to present my ideas clearly and succinctly. The University also contributed to my ability as a behaviour officer, especially when dealing with landowners and different stakeholders."
After completing her Diploma in 2011, Vakawaletabua received a scholarship to pursue her study in Bachelor in Environmental Science from Auckland University of Technology in New Zealand. She successfully completed the course online and attended the graduation ceremony in Auckland in 2013.
She then completed a Postgraduate Certificate in Ridge to Reef Sustainable Development at James Cook University in Australia through another scholarship and completed this in 2019. This was also undertaken through online mode after Vakawaletabua attended the Orientation Week in person, which was the only time she met her classmates and lecturers face-to-face.
Following this, her sponsors extended her scholarship period for another two years. She then enrolled for online classes in the University's Postgraduate Diploma in Ridge to Reef Sustainable Development and will graduate next year at James Cook University, Townsville in Australia.
In the same year, Vakawaletabua decided to return to FNU and gain qualifications in the Postgraduate Diploma in Environmental Conservation and Climate Ch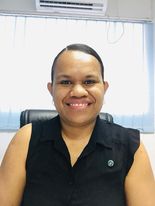 ange course.
This meant Vakawaletabua was balancing her work and family life alongside her courses at both James Cook University and FNU.
"I was doing one unit for my postgraduate course at James Cook University and two units for my FNU course," she said. "I was able to do this all successfully through commitment and perseverance. I strictly managed my time and ensured that both my work and school obligations were not affected."
She graduated from FNU in 2020 and is currently the Project Manager Safeguards at the Water Authority of Fiji (WAF).
Through the Special Projects Unit, Vakawaletabua oversees the Safeguard aspects of one of WAF's largest projects, which is the Rewa River Water Supply Scheme Project.
Vakawaletabua is responsible for ensuring that this major project is aligned to the Government of Fiji's Acts and Regulations, and as well to the ADB Safeguard policy. Her role includes enforcing of safeguards implementation and monitoring the safeguards of the project, which includes Gender mainstreaming activities, Land Acquisition, OHS, Environmental Safeguard and Resettlement Plan for the Urban Water Supply and Wastewater Management Investment Programme.
"I enjoy doing public consultations to the villages and communities, doing negotiations & meeting with landowners and going out to the field and conducting environment and occupational health and safety (OHS) inspections," she said.
Vakawaletabua is no stranger to the organisation, as she joined WAF as an Attaché at its Environment Management Unit in August 2013.
From 2014-2016, she was a Project Environment Officer at WAF's Environment Management Unit and assisted with scientific research and investigations as required, prepared forms for proposed developments with the Department of Environment, assisted in compiling environmental reports and undertook environmental assessments and other required field work.
She then undertook the role of Environment Officer for the ADB projects with the organisation's Special Projects Unit, to provide Environment Safeguards for the ADB-funded projects such as the Rewa River Water Supply Scheme Project and the Waste Water Projects.
She was then promoted to Project Manager Environment from November 2017 until the appointment to her current role in March last year.
Vakawaletabua credits her success to her very own family, especially her parents, husband and three children. "They are the backbone of my success and will always inspire me," she said with a smile.
Reflecting on her future goals, Vakawaletabua said she plans to continue to learn and expand her knowledge, and one day open her environment consultancy firm.
"To accomplish great things in life, you have to be open to taking risks. That way, you will achieve more than what you could have ever imagined," she said encouragingly.