TVET studies offer endless opportunities – Goundar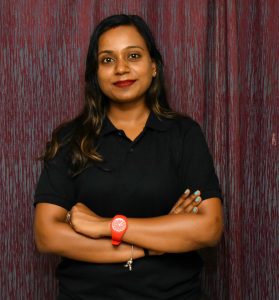 When Merlyn Goundar started her education as a Technical and Vocational Education and Training (TVET) student at the Fiji National University (FNU), she did this with a burning desire to achieve more.
According to the FNU alumnus, her skills in TVET programme became the foundation of a promising professional career.
"I had always been interested to pursue a career in the science field. During FNU's Open Day some years back, I saw the different options that were available for science students, and I found myself interested in the Industrial Lab Technology programme," said Goundar.
"Studying at FNU's College of Engineering, Science and Technology (CEST) has helped me gain a qualification to move up the ladder in my career," highlighted the FNU graduate.
Education and Career
Born and raised in Rakiraki, Goundar is the youngest in her family. She attended Penang Sangam Primary School and progressed to Penang Sangam High School. She enrolled in the Diploma in Industrial Laboratory Technology programme at the FNU's College of Engineering, Science and Technology (CEST) in 2009.
Reminiscing her University days, she said, "I have good memories of my student life. Many of the fellow students from the same group became close friends when we spent our time together doing assignments, tutorials, and spending most of our leisure times at the cafeteria and the Samabula campus foyer."
Goundar graduated in April 2011 and started working for the Sugar Research Institute of Fiji as a Technical Assistant.
"As part of my role, I got involved in an African, Caribbean and Pacific (ACP) States project whereby I received an opportunity to travel to Mauritius to study further about analytical chemistry. This was sponsored by the European Union."
In 2012, she was promoted to the role of Senior Technical Assistant at the Sugar Research Institute of Fiji. Her role was to set up laboratory equipment and conduct tests and experiments, record and analyse data, present results to senior research staff and research and write papers, reports and reviews.
While working, she simultaneously completed a Bachelor of Environmental Science programme from FNU and graduated in 2017. In the same year, Goundar joined Nabou Green Energy as the Quality Assurance Officer.
"My role was to plan, prioritize, assign, supervise and review the work of staff involved in water quality sampling, and maintaining boiler water quality standards, supervising professional staff in biomass plant quality program development, evaluation and assessment of program effectiveness and environmental compliance, and required record-keeping and reporting activities as well as ensuring biomass power plant operations and policies comply with Fiji environmental laws, regulations and guidelines and with company policies and procedures."
She also enrolled in the Master in Renewable Energy and Management programme at the University of Fiji. Two years later in 2019, she joined the Fiji Sugar Corporation as the Shift Chemist at the Rarawai Mill in Ba, which is her current position.
As a Shift Chemist, she is responsible for the production house ensuring the accurate collection of samples, laboratory analysis, recording and reporting of all relevant process data, including the interpretation and translation of that data into useful information.
"I lead and manage the factory Quality Management System (QMS) and ensure compliance with standardized laboratory methods, procedures and equipment in accordance with company policies. I also coordinate and execute training of factory employees in the areas of product quality, process chemistry, and environmental, sanitation, safety and food safety policies and procedures as well as discuss plant evaluation with plant management; make appropriate recommendations and set timetables for improvement and corrections."
She graduated with a Master in Renewable Energy and Management degree last year.
Words of Wisdom
Goundar's advice to current and future students of FNU is to make the most of the time while still studying.
"FNU is a great place to learn. The lecturers are very friendly and flexible. You can always approach them for assistance. You will also feel comfortable at FNU and will be able to adapt to the change from high school to tertiary life fairly quickly."
Giving her top three tips for graduates starting in their career, she said, "always apply the knowledge from the classroom in the field, take advantage of any research opportunities that you may come across and always be familiar with the surroundings so that it is easier to adapt."
She is currently a part-time student in the Executive Masters in Business Administration programme at FNU.