The Ship Captain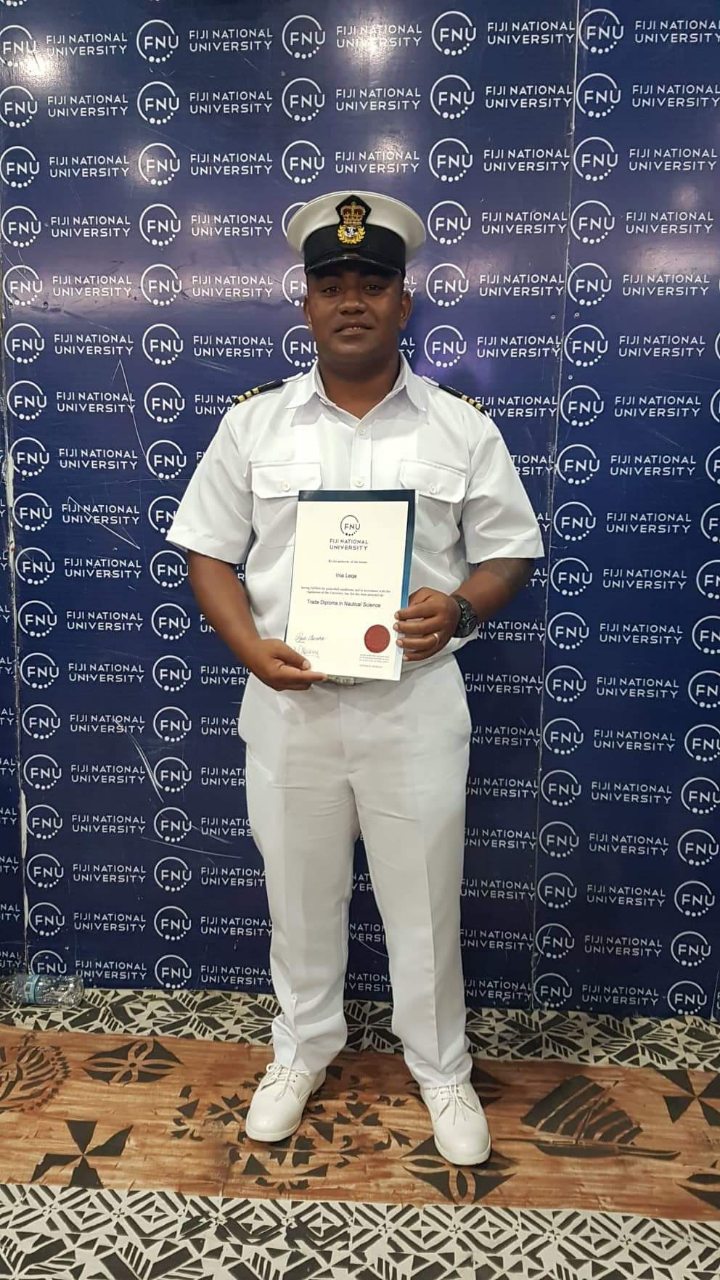 As a child, Inia Leqa would keep a lookout for ships coming into his village of Nayau in Lau.  The young lad was fascinated with sailing, and he would eagerly wait for ships to come in, dreaming that he would be working on one in the future. 
Leqa is now the captain of a ship sailing Fiji waters and transporting Pine – the green gold of Fiji. 
"This is something I always wanted to do. I enjoy it a lot as I work with people from different cultures. I get to learn about their culture as well as the different languages they speak. My work requires me to be on board for three weeks, and then I have a week off. So I spend a lot of time with my colleagues who have become like family," he said.
Youngest of three siblings, Leqa was born in Suva and moved to Nayau Village at a very young age to live with his relatives when his parents separated.  He stayed there until he completed Class 6 after which he moved to Viti Levu to complete the remainder of his education. 
Leqa completed his Form 5 education, and in a bid to pursue his relationship with the sea, he joined Patterson Shipping as a Deckhand in 1999. He worked there till 2002, and he realised that if he wanted to sail the seas, then he needed to obtain some relevant qualifications. 
Maritime qualifications are only offered by Fiji National University (FNU) in Fiji, and Leqa became aware of the Apprenticeship programme at the Fiji Maritime School (FMA), which was then under the Fiji Institute of Technology (FIT), now College of Engineering, Science and Technology (CEST). He joined and completed the one-year theory part of Class 5 Master in 2002.  He spent the next year completing the practical part of his qualification at Patterson Shipping.
Keen to upgrade his skills, Leqa continued his studies at FMA. He eventually completed all 5 stages required to obtain a Trade Diploma in Nautical Science and graduated in 2019. 
Leqa continued pursuing his Trade Diploma alongside a full-time job. 
His career progressed in a positive direction towards his goal as he patiently completed each stage of the five stages of the Trade Diploma programme.  His career took him from Patterson Shipping to Venue Shipping to Solander Fishing Company to Pacific Marine and Civil Solutions to Genesi Shipping Company where he landed his dream job of being a ship's captain. 
The journey to obtaining his Trade Diploma was not always smooth.  Leqa suffered a setback when he was close to completing the final stage (Stage 5) which would allow him to attain a Trade Diploma in Nautical Science.
"Unfortunately, the results for one of my units was not favourable, so I was not able to graduate. I did not lose hope. However, I could not repeat in the following year. I had to go back to work so I could support my family," he said.
Speaking about his job, Leqa said that he enjoys it a lot.
 "We transport pine from Nabouwalu in Bua to Lautoka, Malau and Savusavu."
In 2018, Leqa went back to complete the Trade Diploma programme. He graduated with a Trade Diploma in Nautical Science in May 2019.
"I am thankful for the support that my wife, my late mother and my father have given me. With their encouragement, I have managed to graduate finally," he said.
Leqa's advice to students is to work hard and never give up.   "Work hard. Don't let your friends influence you. If you have a plan, try to make it work. Believe in yourself and you will succeed," he said.