The Roaming Technician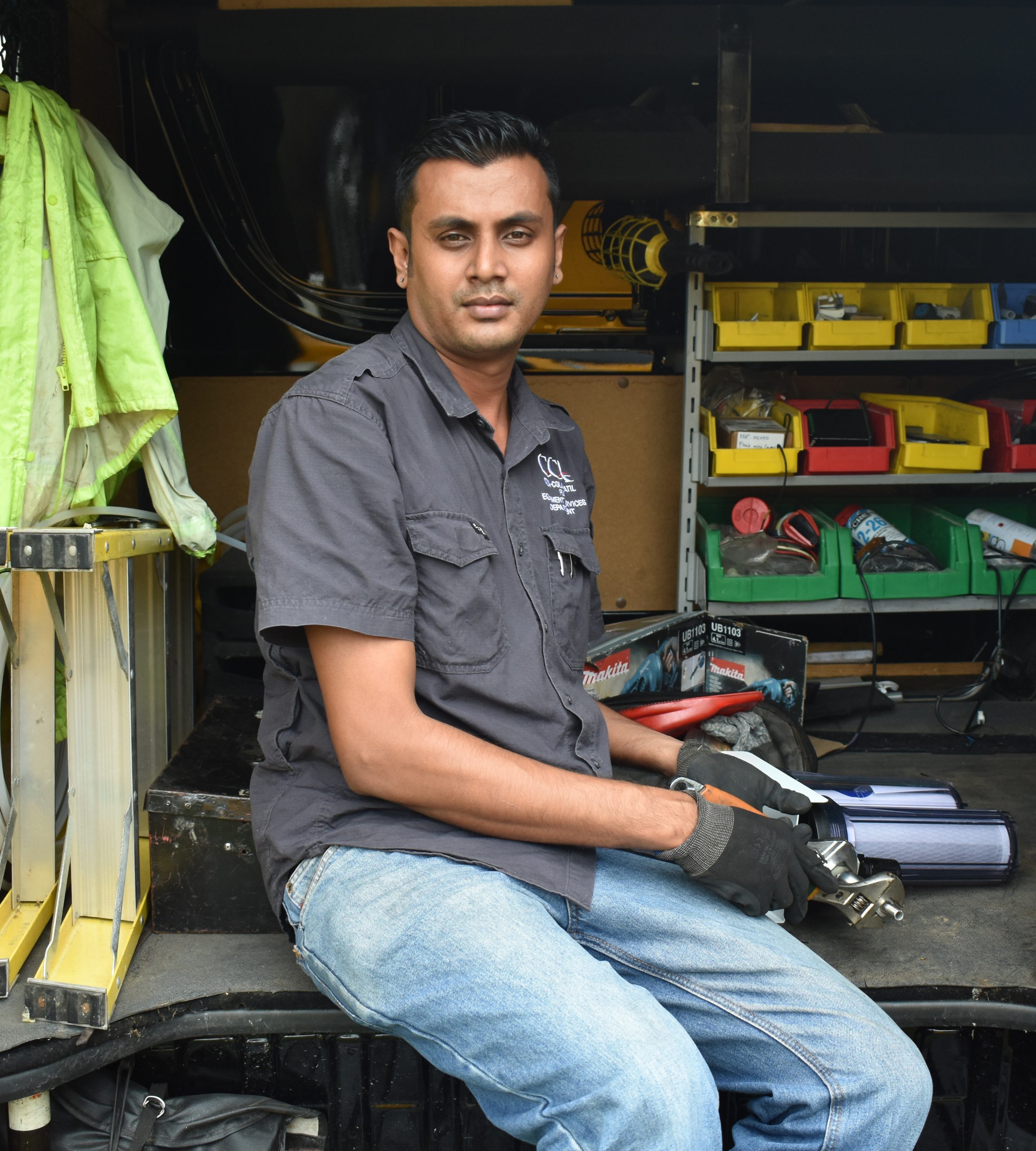 As a young lad, Shalvin Chand had very little interest in being behind a desk all day long.  Though he couldn't avoid that in school, he always thought of pursuing a career that would allow him to be more hands-on rather than completing large amounts of paperwork.
"I did not like to write and always hoped that I wouldn't have to do a lot of paperwork. I liked to do things with my hands, be more practical," he said.
Although he knew what kind of work he wanted to do, he still was not sure which field to choose.
"I am grateful to my careers teacher's recommendation who suggested exploring the Air Conditioning and Refrigeration field.  It was an upcoming trade so I decided to pursue further studies in the field," he said.
Today, he has the job he always wanted.  He works as a Senior Refrigeration Technician, a post that also serves as a Roaming Technician – a position that allows him to be in the field, and doesn't have much paperwork. 
Early Life and Career
Chand attained his primary education from Khalsa Primary School from 1995 to 2002. He then attended Khalsa College from 2003 to 2004. Their family then moved to Suva and he continued his secondary education at Bhawanai Dayal Arya College from 2005 to 2006.
Chand decided to study until Form Six only as he did not need Form Seven for the field of study he had chosen.
He enrolled in the Trade Certificate in Air Conditioning and Refrigeration programme at the Fiji Institute of Technology (FIT), now FNU's College of Engineering, Science and Technology (CEST) in 2007.
"I chose FIT because it was cheaper and it offered what I needed," he said.
This was a two and a half year programme which included six months of workplace attachment.
"The workplace attachment is a requirement for graduation so we have to do it. But this is really good. It allows us to apply what we learn in the classroom and learn from it. This is FNU's competitive advantage," said Chand.
He completed his workplace attachment at Econ Refrigeration in Suva.
Chand graduated in 2009 and started working for Airmate Services as a Senior Refrigeration Technician in 2010. He worked on this post for three years before moving to Narhari Electrical Company Limited in 2013 as the Head of the Refrigeration and Air Conditioning Department.
In 2017, he got an opportunity and joined Coca-Cola Amatil Fiji Limited as the Senior Refrigeration Technician, a position he currently serves. This job required him to be a Roaming Technician. This meant that he would not be confined to an office space. He is expected to attend to faults or issues faced by the company's vendors at the vendor's vicinity.
"I love my job. I receive work orders on my phone from an administrator and then attend to the issue. I normally work alone and fix the issue on site if possible. The other option is to repair the units in the van. I am given a technical vehicle which is fully equipped like a workshop, therefore I am able to repair refrigeration units in the van," said Chand.
Words of Wisdom
"My father passed away when I was very young. I have had to work part-time from a very early age and realised that I needed to work hard and get educated if I wanted to earn a decent living," said Chand.
He worked hard in school to ensure that he passes his exams while balancing work and school.
"I knew that hard work and dedication is essential to move forward in life so I worked very hard to ensure I succeeded with my goals," he said.
"From my experiences, I would advise everyone to have goals, be determined and work hard to achieve those goals," said Chand.
Chand lives in Suva with his mother.