Striving for excellence – agriculture graduate continues education in India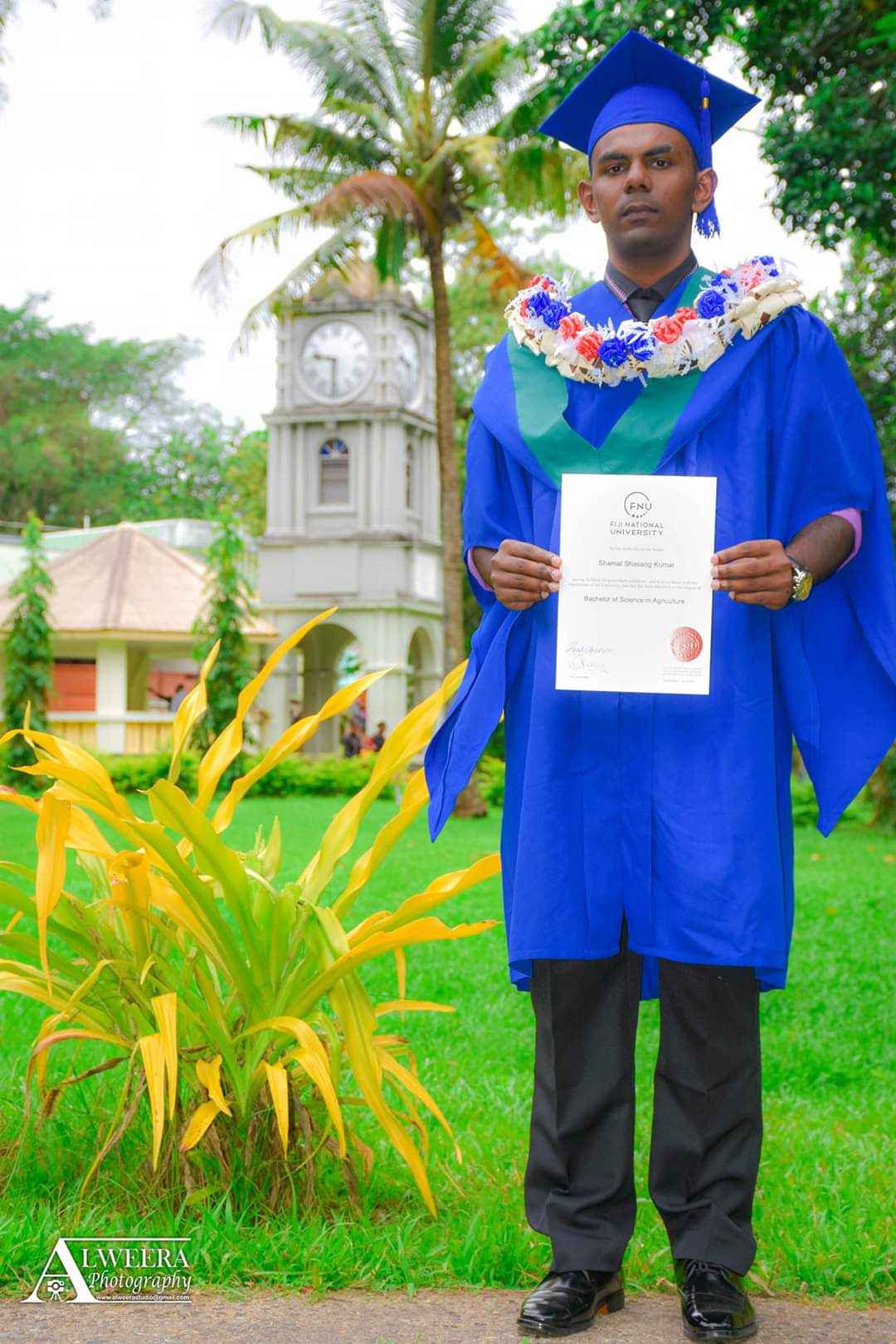 Born and raised on a farm, it came as no surprise that Shamal Kumar developed his interest and passion for agriculture at an early age. Kumar said life on the farm was always exciting and he quickly developed a fondness for the outdoors.
He says he loved waking up early in the morning and accompanying his grandfather to the farm where he learnt a lot from.
"Agriculture is important not only for the supply of food but also for the providing raw materials for other industries such as textiles, sugar, vegetable oil and so on. For a lot of people, agriculture is not only an occupation but also a way of life."
Kumar completed Year 13 at Sigatoka Andhra Sangam College before enrolling for the programme Bachelor of Science in Agriculture at the Fiji National University's College of Agriculture, Fisheries and Forestry (CAFF) in Koronivia.
"I chose FNU as it offers an excellent blend of theoretical and practical learning experience that guided me to put into practice what I learnt in the classroom. The affordable fee structure was also an added advantage."
Joining FNU was also the first time for Kumar to be away from home. Making new acquaintances, adjusting to the new environment and travelling made Kumar's experience at FNU memorable.
"At FNU, I had a great time studying among different groups of people coming from various backgrounds. I have many good memories from FNU- CAFF Family. During my study period, I got to know about my field of interest. Many of my colleagues became close friends; as a family, we spent countless pleasant moments with each other."
Kumar was an active student, he participated in many student activities and served as the Secretary for the CAFF Students' Association.
He undertook his industrial attachment at the Sigatoka Research Station before graduating in 2019.
The desire to further his education and specialise in one field remained strong and Kumar applied to pursue Masters in Agriculture (Soil Science and Agricultural Chemistry) at Sher-E-Kashmir University of Agricultural Sciences and Technology of Kashmir (SKUAST-K) in India under the Indian Government Scholarship. He hopes to complete studies later this year.
"I was lucky to get a scholarship. My Master's Research is on Soil Organic Carbon as Affected by Different Land Use Types. I am learning a lot and hope to apply my learnings when I return home."
He has published a few Review Articles entitled – Mitigation of Climate Change through Approached Agriculture– Soil Carbon Sequestration, three Popular Magazine Articles – Boosting Agricultural Production– Beneficial Bio fertilizers, written two book chapters entitled – Soil Fertility and Plant Nutrition (Current Research in Soil Fertility Volume 4) and Beneficial Biofertilizers a Way towards Sustainable (Latest Trends in Agriculture Sciences Volume 2) which is in process of publication.
Kumar credits his success to his parents and grandparents.
"My mum always guided me in my school work and dad encouraged me to study hard and to be independent. I also acknowledge my lecturers' support and guidance at FNU and SKUAST-K which has encouraged me to strive for excellence. My friends have also been a great source of encouragement during my journey."
Kumar's advice to current and future FNU students is to set high personal and academic standards and live up to them, have a fixed goal that you would like to achieve in your life and hard work is the key to success.
Sharing his top three tips for graduates, "focus on long term goals, look for a job which will open doors for you. See the value of each position not only in monetary terms but also as an investment of your time and a chance to grow and develop skills. Believe in yourself, set priorities and stick to them."