Sauliga – Shoeshine boy to Successful Alumni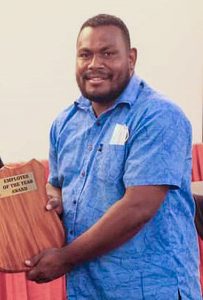 Life was never a bed of roses for Semi Tekivili Sauliga. As the second youngest of five siblings, Sauliga grew up witnessing his mother struggle to provide for her family and vowed to one day provide for his family and repay his mother's sacrifices.
Fuelled by this silent promise, Sauliga left his village of Kedra, Dogotuki in Macuata, Vanua Levu in 2009 on his first trip to Suva to complete his final year of high school at John Wesley College. "It was hard leaving my mother, but I knew I had to do this for my family," he shared.
"As little as we had, my mother would still ensure we had good meals, received primary education and shared whatever we had with others." "I was and will always be motivated by her saying – Luvequ, qai nanuma nai vakarau ni veisusu ko tuberi kina. (My son, always remember your humble beginnings.)
Early struggles
A year after high school, Sauliga began seeking employment to be financially independent and found himself in the heart of Suva City as a shoeshine and wheelbarrow boy.
"I had to do something to survive, and this was a choice I had," he shared. "Being a wheelbarrow boy is a humble but honest job and I would spend days helping farmers transport their produce from the carriers and other transport to the market to sell."
"The more trips you have, the more money you get. I did this for two years before I found employment as a security guard."
Education
Sauliga was not deterred by the little he earned and decided to enrol at the Fiji National University in 2011.
His passion for the environment and childhood memories of seeing natural resources and habitats destroyed due to lack of planning and consultation influenced Sauliga to enrol in the Higher Education Diploma in Environmental Science course at FNU. The course is offered by FNU's College of Engineering, Science and Technology (CEST) at the Derrick Campus in Suva.
"I chose FNU because it offers entry pathways at different levels, which meant that people could still achieve their university goals by enrolling in a course and gradually upskilling themselves," he said.
"You can enrol at Certificate level and progress through to trade and diploma courses and then to degree and postgraduate programmes. This was important to me because despite my current life situation at the time, I was determined to achieve the promise I made as a young boy."
"The teaching I received then at FNU was what I would describe as simple yet professional and effective. Simple in the sense that I was able to easily understand the concepts and theoretical work being taught by the lecturers and apply these to practical scenarios."
"Although I entered university as a very shy and quiet person, the lecturers, classmates and campus life helped boost my confidence."
Sauliga said he was also grateful for the student finance scheme implemented at the time, as it helped pay his tuition fees. Through the initiative, he often worked at the Registrar's Office at Nasinu Campus during his free time.
"FNU supported me in many ways. It helped me achieve my study goals, built my character, supported me financially, made me resilient and increased my level of critical thinking."
Career
After graduating with his higher education diploma, Sauliga worked as an Environment Consultancy Assistant. He was also a commercial farmer and seafood vendor. In 2014, he returned to FNU to upskill his qualifications and undertook the Bachelor of Science (Environmental Science) programme.
He balanced studies with his work life and family commitments as a father. During this time, he worked as a Quality Assurance Specialist with Pacific Batteries, a Community Liaison Officer with the Mamanuca Environment Society and an Environmental Officer at the Water Authority of Fiji.
In 2016, Sauliga started work in his current role as a Conservation Officer with the iTaukei Affairs Board. He is responsible for coordinating and overseeing the development of natural resources in the province of Naitasiri.
"My role also includes building community capacity development so that they are informed and knowledgeable on sustainable development," Sauliga explained.
"I also integrate traditional and scientific approaches of building community resilience towards climate change and enforce compliance to regulations such as the Environment Management Act 2005 through consultation and collaboration with investors."
Never one to shy away from challenges, Sauliga decided to study during a pandemic and enrolled in FNU's Postgraduate Diploma in Environmental Science and Management course in 2020.
He completed the programme last year and proudly received his graduation certificate earlier this month.
Motivation
"My mother, Meresiana Baleivanua, has always been my primary source of inspiration and my wife Salome has been the most supportive companion," Sauliga said.
"I would also like to acknowledge my three children and family and friends who have assisted and motivated me throughout my studies at FNU and now in my career."
Sauliga said being committed and having faith and good time management skills were lessons he wished to impart to current and prospective students of FNU.
"Even if you think that no one else cares or is supportive of your goals, all you need is to believe in yourself and you will be amazed at what you can accomplish," he said.
Application for Semester 1, 2022
Meanwhile, students completing or have completed Year 12 or 13 have the opportunity to undergo Semester 1, 2022 studies in any Certificate III, Certificate IV and Diploma level TVET course at FNU through the 5,000 TSLS placements.
Students eligible for TSLS-funded studies must have successfully completed Year 12 with a minimum mark of 200/400 or completed Level I and II studies from the Technical College of Fiji or equivalent.
For enquiries, students can visit our website on www.fnu.ac.fj or contact the Academic Team via admission@fnu.ac.fj or call 9555760 or Text (Toll-Free) 857 for Vodafone and Inkk users.
In addition, students, parents and guardians can visit our FNU KONA Express Booths this Saturday, 12 March from 9am to 3pm at Tappoo City, Suva, Shop & Save Supermarket in Navua and Sugar City Mall, Lautoka for application requirements and academic counseling and queries.
Our Roadshow teams will also be at Korovou Town, the Wishing Well at Sigatoka Town, in Tavua Town and at the Rakiraki Old Market from 9am to 3pm from this Thursday until Saturday (10-12 March).