Satendra shares studio experience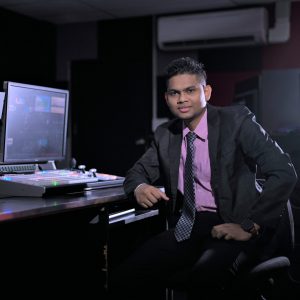 As a creative person, Shahil Sajnish Satendra gets to enjoy being in a profession that enables him to lead and create engaging, interactive, informative and entertaining content for people to enjoy.
With an eye for detail, Satendra has worked in the film and production field for six years and is grateful he was able to receive the necessary qualifications aligned to his interests from the Fiji National University (FNU).
Education
Satendra attended Rishikul Primary School and Rishikul Sanatan College before enrolling in the Certificate IV in Film and Television Production at FNU's College of Humanities and Education (CHE). "I was grateful that a friend recommended this course after hearing about my interest in this field," Satendra said.
"After quick research, I enrolled in the programme and had a very rewarding tertiary experience at FNU."
"I created a lot of networks during my studies and had the opportunity to be part of various international production houses that filmed in Fiji. This was part of my attachment to gain first-hand industry experience."
"As a student, one of my highlights was having the opportunity to direct and interview with the then Vice-Chancellor of FNU, Professor Nigel Healey. This enabled my colleagues and me to put into practice our theoretical work regarding film and television production."
Offered at FNU's Nasinu Campus in Suva, the Certificate course provides students with basic and secondary knowledge of Direction & Production, Editing & Sound Design, Cinematography, Script and Screenplay Writing, Entrepreneurship and Communication and Entrepreneurship and Ethics.
Satendra also has prior qualifications from the University of the South Pacific.
Career
Following his graduation from FNU in 2018, Satendra began work at the Fiji Television Limited as a Promo Producer. He has also worked as a Graphic Artist and Creative Director at Fiji TV.
"During my time at Fiji TV, I did the entire animation and graphics work for the Fiji Sports Awards in 2018," he said.
"I was also responsible for all the graphics work during the 2018 General Elections." In 2019, Satendra joined the Fijian Broadcasting Corporation (FBC) as a Production Assistant.
His skills, knowledge and experience have enabled Satendra to progress in his career at FBC to being a Video Editor, Promo Producer and now as a Studio Director.
"My current job requires me to direct all the local production shows and live news segments. I was part of FBS's first-ever live morning news segment on TV at 6:15 am," he said.
"I am also involved in other aspects of work such as editing and shooting."
"During my checking of news stories, I have to make sure the stories are edited properly, confirm the names of talents (people) in the stories, be mindful of the audio levels and make sure all shots are taken in accordance with FBC's standards and requirements."
Satendra said he would also assign crew members to certain roles for news, such as sound person, playout person, graphics, assistants and those responsible for auto cue.
"I also ensure that everyone is in the studio on time and all the necessary checks are done at least one hour before going live."
It is clear that Satendra is passionate about his work. Without hesitation, he also credits his success to his mother and sister, who he said have both supported and helped him overcome the challenges he has faced in life. He one day hopes to own a multimedia company and share his knowledge with others.
Words of Wisdom
Satendra shared that three simple yet effective approaches to starting out and progressing in one's career is to "ask plenty of questions if you're unclear, be focused and achieve objectives and to always have a positive mindset". "Work hard and follow your dreams," he added.
"Even if others try and discourage or persuade you to follow a direct career path, be firm in following your own interests and turn it into a qualification or means through which you would earn an income from to support yourselves and your families."
Satendra said FNU had also instilled in him the confidence he needed in his professional and personal life.
"Being confident in your knowledge and experience will allow you to progress in life."
Study at FNU
Students completing or have completed Year 12 or 13 have the opportunity to undergo Semester 1, 2022 studies in the Diploma in Land Surveying or any other TVET course at FNU through the 5,000 Tertiary Scholarships and Loans Service (TSLS) placements.
Offered through the University's TVET Pasifika, these courses are Certificate III, Certificate IV and Diploma level qualifications.
Students eligible for TSLS-funded studies must have successfully completed Year 12 with a minimum mark of 200/400 or completed Level I and II studies from the Technical College of Fiji or equivalent.
Applications for Semester 1, 2022 studies at FNU are now open. Students can visit our website on www.fnu.ac.fj to learn more about our programmes and submit an online application.