Ratumaimuri upskills in the Environment Science field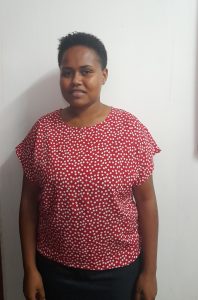 Temalesi Ratumaimuri is one of the many proud students who graduated from the Fiji National University (FNU) this year despite the challenges brought on by the second wave of the COVID-19 pandemic.
As a mother-of-three balancing her family and academic life, receiving her certificate of qualification was a moment of celebration for Ratumaimuri and her family.
Education
With a previous qualification in a Bachelor of Science (Environment Science) from FNU's College of Engineering, Science and Technology (CEST), Ratumaimuri decided to enrol in the Post Graduate Diploma in Environmental Science and Management course in Semester 2 last year.
From Solovola, Ravitaki in Kadavu, Ratumaimuri said completing her postgraduate qualifications in two semesters and graduating in August this year was due to the effective time management skills she employed.
"FNU was really the best place for me to study as it was easy to interact with my peers as well as the lecturers," she said.
"I choose this field as I am passionate about caring for the environment, which is only right given the vital role it provides to us in the way of food, shelter, clothing and protection," she said.
"There is an urgent need to conserve our natural resources sustainably so that future generations can also have a taste of a greener and a more resourceful environment."
"So, my studies at FNU was all about balance and time management. I am thankful to also have empathetic lecturers who understood the times when I need to focus more on my children, such as when they were sick."
"I was given the support needed to still complete my assignment and prepare for my final examinations."
Reflecting on her experience undertaking her degree, Ratumaimuri said she would travel from Lautoka to Suva weekly to complete her final six units.
"I was based at Natabua in Lautoka and every Friday after my lectures I would travel to Suva in time for my babysitter to depart for the weekend," she said.
"I would then return to Lautoka on Sunday evening or early Monday morning and got to campus in time for my morning lecture."
"I believe this shows my dedication and passion for this field. I am also motivated by the prospect of providing a secure future for my children."
Ratumaimuri said although she missed carrying out fieldwork due to the pandemic restrictions, she was grateful that learning technologies were available to help her complete her units online.
"Through Zoom and other software, we were able to still attend our lectures and tutorials and complete the course successfully," she said with a smile.
"Through this programme, I am now more knowledgeable in Climate Change Impact and Adaptation in the South Pacific, Remote Sensing Geospatial Techniques, Research Methodologies, Hydrology, Ridge to Reef and Mangrove Ecosystems."
Career
Ratumaimuri is currently the Research Assistant Profiler at the Tailevu Dairy Farmers Cooperative Association Limited. She previously volunteered as the Country Coordinator for Fiji of the COY16 organisation, the youth equivalent of COP26.
She has also served a short-term internship at the Wildlife Conservation Society Fiji and was Project Officer for the Uto ni Yalo Trust.
She has also volunteered at World Wildlife Fund for Nature (WWF Pacific).
Ratumaimuri hopes to become an established Environmental Impact Assessment (EIA) Consultant and help indigenous Fijians with their land and development needs.
Words of Wisdom
Ratumaimuri encouraged youths to pursue their academic ambitions despite the challenges they would face during their academic journey.
"Nothing is impossible if you have the will to accomplish a goal," she shared.
"Always have goals that you can work towards and that feeling when you finally achieve it will give you a true sense of accomplishment."
"This will also be a reflection of all your hard work and sacrifices, the late nights and early morning studies, and the perseverance and determination you have."
"If you put God first in everything you do, all else will fall into place."
 Study at FNU
Prospective students interested in undertaking courses at FNU can Apply Now for Semester 1, 2022 studies.
FNU offers a wide range of Higher Education (HE) and Technical and Vocational Education and Training (TVET) programmes for prospective students to choose from.
Admission for Semester 1, Quarter 1 and Trimester 1, 2022 is currently underway and interested students can apply via the Admission Application portal on the FNU website. Click on https://www.fnu.ac.fj/study/apply/ to apply.
Prospective students can also text on 857 or email on admission@fnu.ac.fj if they face difficulties completing the process online or need further admission information.