Rasalasea graduates from FNU for a second time after upgrading his teaching qualification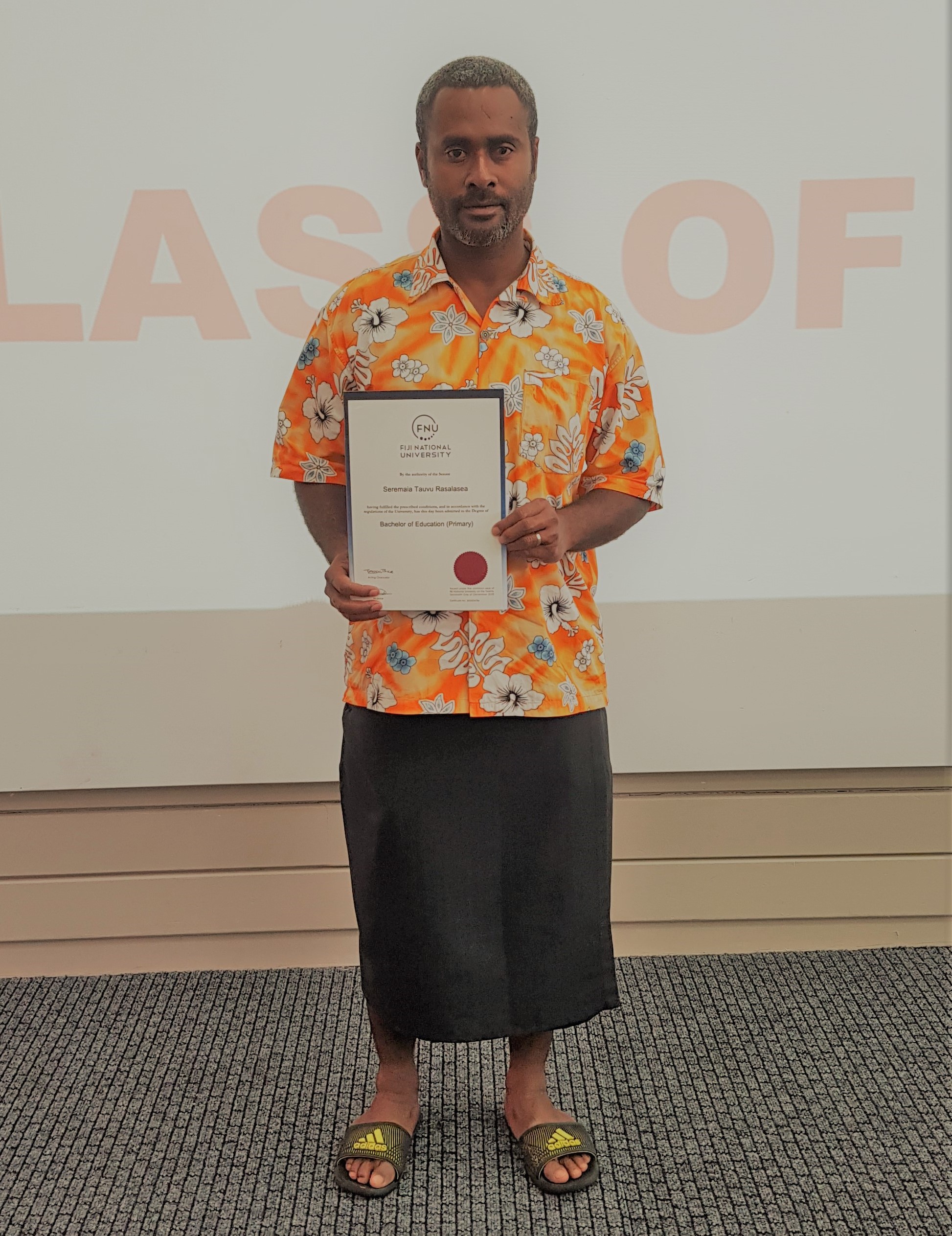 Walking into a lecture room over a decade after his first graduation, Fiji National University alumnus, Seremaia Rasalasea, a teacher by profession was surprisingly nervous. He had enrolled in the Bachelor of Education (Primary) programme at the FNU's College of Humanities and Education (CHE) in 2017 as an in-service student.
"I have been teaching for the last 16 years so I have spent most of my time in a classroom but I was still nervous. This time I would be on the other side of the table. I was in awe of the developments that had been made at the university (FNU)."
Rasalasea was born and raised in Suva with four siblings. He finished his high school education at Ratu Sukuna Memorial School in Suva.
Following which he enrolled in the Certificate in Primary Teaching programme at the Lautoka Teachers College (LTC), now known as FNU's College of Humanities and Education at the Natabua Campus in 2002.
"I always wanted to be a teacher. Seeing the way my teachers were teaching, my interest swayed towards that field. I recognised the importance of a teacher in a student's life."
Rasalasea completed the programme and graduated in 2003.
His first posting was at Saivou District School, Rakiraki as an Assistant Teacher in 2004.
"I was very excited for my first job. This is where my career would begin and I knew the journey would be a long, challenging yet fulfilling one. LTC had prepped us well for this day."
After one year he was transferred to Nasele District School as an Assistant Teacher again.
In 2006, he was promoted to an Executive Teacher at the same school.
He served at the school for six years before being transferred to Ratu Nacagilevu Memorial School in 2014.
"I liked the change in environment and I liked moving every once in a while. I find the change refreshing."
Two years later, he was again transferred to another school. This time to Nailagobokala Primary School in Wainimala, where he currently teaches.
"The life of a teacher is such. We can be transferred any time. But if you learn to enjoy the journey, you will have fun. Each time you get the opportunity to work in a different environment and meet many people of different backgrounds. You also get to learn a lot."
"I have been teaching for the past 16 years and I can say one thing; there is never a dull moment. Every day you learn something new and you get satisfaction knowing you are shaping the futures of hundreds of children who are our future."
Speaking about his experiences in FNU, Rasalasea said, "FNU provides a very flexible learning environment and you also feel very comfortable there. The lecturers are very supportive and as in-service students we sometimes need extra attention which they were able to provide."
Rasalasea's advice to graduates starting out in their careers is to be patient and work hard to be successful.
"You need to work hard to achieve your dreams. Sometimes it may take longer than you anticipate but never let it dishearten you. Have patience and continue working hard and you will achieve what you plan to."
Rasalasea is married with two daughters and lives in Wainimala.