Rakula champions in-flight wellness at Fiji Airways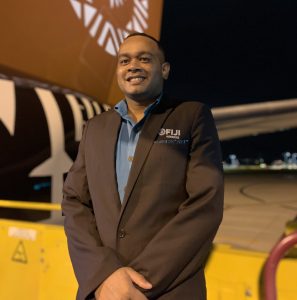 The COVID-19 pandemic has redefined the way people live, work, learn and play. As we adapt to living in a 'new normal' world, new forms of roles and responsibilities have emerged that prioritises the health and safety of families and communities.
For Tevita Mikaele Rakula, this means he is responsible for the well-being of a specific set of people – passengers and staff onboard the Fiji Airways flights he is rostered on.
Education
Rakula, from Nawi in Cakaudrove, spent his childhood growing up in Taveuni and said observing public health workers as a young boy developed his passion to work as a health inspector. "
Compared to clinical medicine, I was motivated to study and work more in the preventative field of healthcare," he said. "I was pleased when I learnt that the Fiji National University (FNU) offered the Bachelor of Environmental Health at its College of Medicine, Nursing and Health Sciences' (CMNHS)."
"My upbringing was not an easy one but I am grateful I was able to overcome them and successfully complete my degree." He said FNU provided the necessary skills and knowledge he needed to become an environmental health advocate amongst his networks.
"In 2018, I participated in the Hibiscus Festival as a King contestant and used this platform as a way to highlight the importance of what I had learnt at FNU."
"FNU also made me multi-skilled. I'm also thankful for the highly qualified lectures that impart knowledge and skills that empowered us to work with confidence when out in the field."
Rakula also participated in various initiatives that have enriched his learning experience.
"In addition to the Hibiscus Festival, I was a facilitator for the United Nations Conference on Trade and Development, attended the Association of Commonwealth Universities, did my attachment with various town councils in the Central Division, volunteered for various community health initiatives and managed community awareness and educational talks."
Career
After graduating with his degree in 2020, Rakula immediately started work as a WASH (Water, Sanitation and Hygiene) Officer and eyes and Ears Technician at Project HEAVEN Trust.
"In this role, I conducted WASH education and awareness in rural communities, provided advice and counselling, assessed children for neglect and abuse and refer cases to the relevant authorities."
Last year, Rakula began work in his current role as a Customer Wellness Champion at Fiji Airways.
"I am responsible for the wellbeing of all passengers and staff onboard a flight and ensure that all COVID-safe protocols are followed," he explained.
"This role was introduced by the national airline as part of its Travel Ready programme to promote safe travelling as international borders slowly opened up after months of lockdown and restrictions."
"It is an added incentive that I can still work in my field of interest and travel around the world while doing so."
Upon reflection, Rakula was quick to credit his grandparents for his success, saying they were his main source of encouragement due to their words of motivation.
Current goals
Despite his current work schedule, Rakula still finds time to assist new FNU graduates in drafting their job application letters and curriculum vitae.
"I want to give back to the University and its students. This is just a small way in which I can contribute," he said.
"I also intend to complete my Postgraduate Diploma in Environmental Health (Disaster Management) and be a lecturer at FNU in the coming years.
Words of Wisdom
"The great thing about learning is that no one can take it away from you," Rakula shared thoughtfully.
"Therefore, it is very important that you pursue studies to the level that you wish to, to make yourself and your families proud." He added that graduates should consider employment as a journey of self-discovery.
"When working, you are still growing and learning about yourself, what you're good at, what you dislike and what you need to improve on," he said.
"Use this to your advantage as you develop personally and professionally."
Rakula said students and workers alike should always strive to be "principled, proactive and productive."
Alumni Connect
Graduates of FNU and its former institutions can register to be part of the exclusive Alumni Connect portal and remain connected to their fellow classmates and the University.
Registered alumni can receive news and updates on key University activities, read alumni success and feature articles, scholarship and upskilling opportunities, networking events and professional development and training seminars.
To register, please visit https://www.fnu.ac.fj/alumni/.