Naidu enjoys working in the finance sector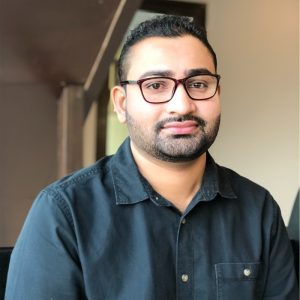 Vikash Anand Naidu is a passionate Accountant. Despite facing challenges, Naidu said perseverance, sacrifice and family support guided him to where he is today.
The Nadi man believes 'dreaming big' provides the impetus for people to achieve their career aspirations and become successful.
The former Nadi Sangam SKM College student said his passion for the subject prompted him to enrol in the Bachelor of Commerce programme at the Fiji National University (FNU).
Naidu undertook his degree with a major in Accounting and Management. He studied at the University's College of Business, Hospitality and Tourism Studies (CBHTS) at Namaka Campus.
"I enrolled at FNU immediately after completing Year 13 studies. I knew FNU was the best choice for me as the compulsory industrial attachment component enabled me to gain valuable hands-on experience," he said.
"It was a fulfilling journey during my three years of study. Graduating in 2016 was a proud moment for me and my family."
"FNU also deserves the credit of my success for laying the foundation of my career."
From a farming background, Naidu expressed gratitude to his parents and sibling.
"My parents have always been supportive and that is an important part of succeeding in life," he reflected.
"My elder brother in Australia, who is a software developer, also has a major influence in my life."
Naidu shared that although he had to adapt to the university learning environment, newfound university friends helped him transition smoothly into tertiary studies.
After graduation, he joined RC Manubhai Limited as an Audit Officer responsible for preparing reports based on audits conducted, handling accounts receivable, accounts payable, payroll and inventory and reviewing internal control procedures.
He then joined Mamanuca Express Limited as a Senior Accounts Officer and promoted to Accounts manager from November 2016 until December 2017.
Naidu is currently employed as the Senior Accounts Manager at JKS Holdings Limited.
"I manage the entire Finance Department. It is a busy department but I'm happy as I'm able to balance my work and personal life," he shared.
"My colleagues are great to work with and I still learn new things every day. As a team, I work with my staff to achieve the goals of the company."
Naidu's responsibilities also include providing sound financial management and overseeing the Company's purchasing function, contribute at the management level to financial and corporate policies and implementing control and reporting systems.
He is also involved in forming relevant economic strategies for the company, preparing all company cash flows and providing accurate and proper financial reporting on time.
In addition to his senior role, Naidu is pursuing a Masters in Professional Accounting from Griffith University in Australia and hopes to become a Chartered Accountant and member of CPA Australia.
His advice to current and future FNU students is to identify goals and work towards them.
"Aim to gain valuable experience and expertise, which will make you a treasured asset at any organisation," Naidu said.
"Work hard and you will be able to achieve all your aspirations."
Year 12 and Year 13 students, as well as those who wish to reskill or upskill their qualifications, can register for FNU's upcoming Virtual Open Week (VOW) by visiting the FNU website on www.fnu.ac.fj
Interested participants will learn more about our programmes and entry requirements, flexible fee payment options and utilise the live interactive chat and Zoom sessions to have their queries answered.