Mentors guide Asgar to achieve career success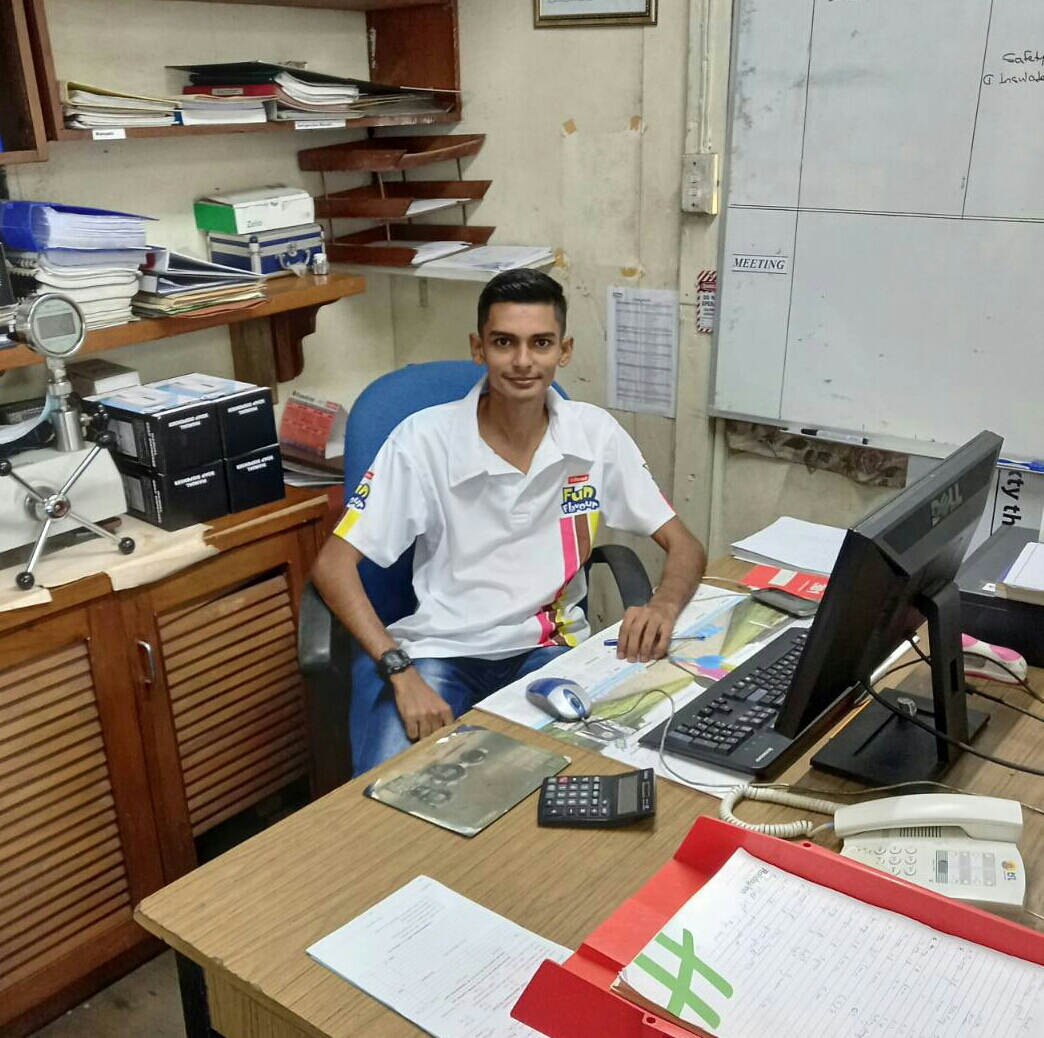 Rizwan Ali Asgar always found mathematics and physics intriguing. So much so that he wanted to pursue a career that incorporated both subjects. That dream led him to the Fiji National University (FNU) to pursue tertiary education and the start of a rewarding journey.
"I was good in maths and physics and wanted to take up a double major programme with those subjects when my teacher Shameel Hussein introduced me to engineering and advised me to look into the different engineering fields. Learning about engineering changed my life," recounted Asgar.
He took his teacher's advice and decided to work towards a career in engineering.
Asgar was born and raised in Rakiraki with two younger siblings. He attained his primary education at Rakiraki Muslim Primary School and his secondary education at Penang Sangam High School.
Tertiary Education and Career
After completing year 13, he moved to Suva to pursue a Bachelor of Engineering (Electronic and Instrumentation) at FNU's College of Engineering, Science and Technology (CEST) at the Derrick Campus.
"I saw a lot of students taking up Civil, Electrical and Mechanical Engineering but not many were taking Electronics. I was told that it was a bit difficult and quite challenging. Because I love challenges, I decided to take up electronics and instrumentation."
Reminiscing his student days, Asgar said, "Studying at FNU was fun. I met many people over the years who became good friends. I also learnt many important life lessons as a student. I believe tertiary life is where you grow most as a person."
While at FNU, Asgar actively participated in many student activities. He was the treasurer of the Derrick Students Association in 2017, President of the Derrick Students Association in 2018 as well as a Council Member representing the FNU Students Association in the same year. In addition, he was also a Tertiary Scholarship and Loan Board (TSLB) Ambassador for the TSLB students at the Derrick Campus.
Asgar undertook the industrial attachment component of his programme at the Land Transport Authority (LTA) in 2019 for six months. After completing that, he was able to secure a full-time job as a Service Engineer for Fuji Xerox.
"My job was included installing new printers, attending to printer break down service calls and fixing it, updating the firmware of printers and calibration of colour, troubleshooting of boards and refurbing of old machines. Because I was working full time, I took fewer courses in my final year."
Asgar completed his studies and graduated in March 2020.
In the same year, Asgar received an employment opportunity as a Service Engineer from CAS Scales (Fiji) Limited. He snapped up this opportunity. His role was to repair, calibrate and service various types of scales, weighbridges and instruments, help customers understand the working aspect of the product and attend to customer complaints.
A couple of months later, he joined Fiji Dairy Limited as a Maintenance Planner & Coordinator.
"My role at Fiji Dairy included planning work for the maintenance team, carrying out and planning for preventative maintenance work, preparing monthly breakdown report and carrying out thorough and critical checks on all plants and equipment. I also prepared the checklist of new machinery and drawing up the Standard Operating Procedures (SOP) for our operations."
Asgar credits his success to his parents and teachers from his primary and secondary schools as well as his lecturers from university.
"My parents have always been there for me and are my main inspiration. I am also grateful to all my teachers throughout my life as without them I would never be where I am today. My principal at Penang Sangam High School Ravi Chand inspired me a lot and believed that I could achieve my goals and I did. I also had some of the best lecturers at FNU who were excellent mentors."
Words of Wisdom
Asgar's advice to students is to believe in themselves and know that nothing is impossible.
"Set goals for yourself and work hard to achieve them. Be humble and do not look down on anyone.
Giving his top three tips to graduates starting in their career, he said "take advantage of every opportunity you get in life, keep on learning new things and always ask for assistance if you are stuck or don't know something."