Living the Physio Life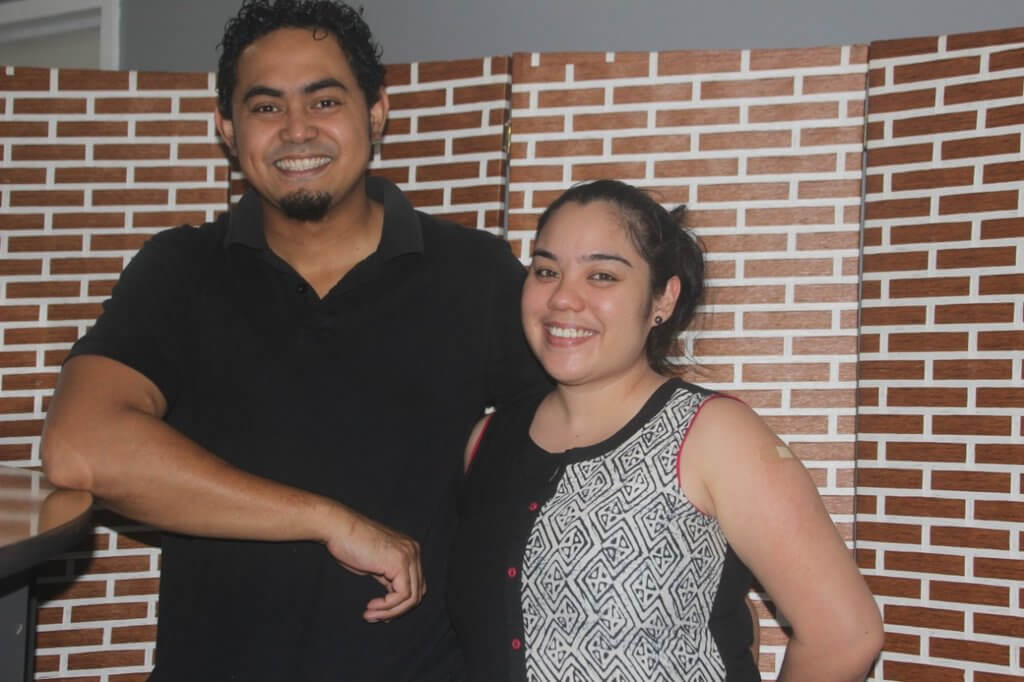 Their passion for sports and assisting people with sporting injuries rehabilitate provided a perfected platform for the husband and wife team Apao and Letitia Erasito to start a successful physiotherapy clinic in Suva.
Growing up the duo admit starting up a business was far from their minds, but it was something that they keenly explored after graduating from the Fiji National University's College of Medicine, Nursing and Health Sciences with Bachelors in Physiotherapy in 2012.
Apao, born and raised in Suva attended Marist Brothers Primary and High School. After successfully completing Year 13, he applied to study the Bachelor of Medicine and Bachelor of Surgery (MBBS) program at the Fiji School of Medicine (FSM).
Unfortunately he was not successful but this failed to dampen his enthusiasm. Apao tried again the following year and he also put in additional applications for Bachelor of Dental Surgery and Diploma in Physiotherapy.
"I thought that I should expand my options and hope that I will get accepted into one of the three programmes I had applied for," said Apao with a grin.
To his surprise, Apao received a confirmation from FSM to study Diploma in Physiotherapy.
"I was over the moon that day when I received my acceptance. It was indeed a great moment for my family and I and from then on I just worked my way up the ladder," Apao said.
Letitia on the other hand is from Lautoka and attended Drasa Avenue Primary School and Lautoka Central College.
She was actively involved in sports during school days and one day while playing Hockey at school she injured herself. This incident she described as no accident as it made her realize what she wanted to become when she grew older.
"While playing hockey in school I injured myself. It was painful as I had strained my foot. So a friend of mine suggested that I visit the physiotherapist at the Lautoka Hospital. I was a bit reluctant but went any way," said Letitia.
"At the time I had no idea what exactly the physiotherapists did. After my visit I was intrigued by the work done by the physiotherapist and decided then that I also wanted to become like them. So after completing my studies I applied and was accepted for placement at the Fiji School of Medicine."
Tertiary Life
Apao admits he didn't know much what to expect when he started with the Diploma of Physiotherapy programme. He said by mid of the first semester he was able to settle-in well into the programme and was always looking at ways to put into practice his learning's. So he became the go to guy for the sports team at FSM.
"It was a lot of fun. I was really enthusiastic and would always hang around the sports teams at the School to help my team mates," said Apao.
"I really gained a lot of experience that way. I was always part of the physiotherapy team and assisted our team when they participated during the inter-tertiary games."
Apao and Letitia met while at FSM and given their common interests developed a friendship.
"FSM days were the best," said Letitia.
"The facilities at FSM were great and we had good quality education. We had very good lecturers and we had fun learning. The classes were small and so each student was able to receive more attention from the lecturers," they shared.
Apao graduated with a Diploma in Physiotherapy in 2008 while Letitia graduated in 2009.
In 2010, when FNU was formed the College of Medicine, Nursing and Health Sciences (CMNHS) started offering Bachelors in Physiotherapy. Both Apao and Letitia enrolled into this programme and graduated with Bachelors in Physiotherapy in 2012.
Work Life
After completing his Diploma, Apao was employed by the Fiji Rugby Union as the team Physiotherapist. He was attached with the national rugby team and during the months there were no test matches Apao volunteered at the Colonial War Memorial Hospital (CWMH).
After two years at FRU, Apao joined the Suva Physio Centre.
"My main aim was to learn more and get more experienced, that is the reason I switched jobs. It was a good experience as I really learnt a lot working there," he said.
Letitia, on the other hand after graduation joined CWMH as a volunteer in 2010. After volunteering for two years, she too joined the Suva Physio Centre and worked alongside Apao.
Their friendship further blossomed and they tied the knot in 2014. After working for a further two years, the couple decided to open their own practice.
"It was not an easy decision as you have to look at the pros and cons," said Apao.
"We had strong support from our family and friends and we decided to give it a go. So far things have been quite good and we hope things will stay this way. It's a lot of hard work and you have to put in a lot of hours. But we are happy as we support each other," said Letitia.
The couple now operate the Pasefika Physiotherapy Pte Ltd located at 11 Bureta Street, Samabula. The clinic is usually fully booked and on average seeing about 16 patients daily.
The clinic is open from 8am to 8pm on weekdays and 8am to 2pm in the weekends.
Family Life, Interests and Advice
Apao and Letitia value their family time which is one of the main reasons of opening their own clinic.
"It allows us to be flexible. We work a lot, however, if a family commitment comes up, we close. For example, both the receptionists are my nieces. One of them was getting married and the wedding was over a weekday, so we re-scheduled all our appointments and closed operations on that day," said Apao.
While both Apao and Letitia have a hectic work life, they do take time out for each other to pursue their interests.
Apao takes interest in sports medicine. He also likes to watch sports, listen to music and he loves food. He also is a pet lover and has four dogs.
Letitia loves the outdoors, travel, listening to music and reading.
Their advice to students is to enjoy their experience in school, have lots of fun and also plan their careers earlier.
Apao said that when life in tertiary institutions gets tough due to academic workload and when students start missing their families, they should always have good friends to support them during those moments. He said it's always good to relax and spoil ones-self with a treat such as movie or dinner to help in maintaining the focus.
"We will only be young once in our lives, so it's important to have fun but at the same time you have to be focused on what you want to be in life. It's important to set your career goals earlier and pursue that dream as you grow," said Apao.
Letitia's advice to people aspiring to be physios is to take it up and never look back. She believes that it's a career that will open up a lot of opportunities in life.
"Its hard work so you need to be sure you want to be a physio. Once you have made up your mind you need to follow your passion and never give up. At times it may get difficult but if you love helping others you will make it in the end," said Letitia.