Learning and growing from life challenges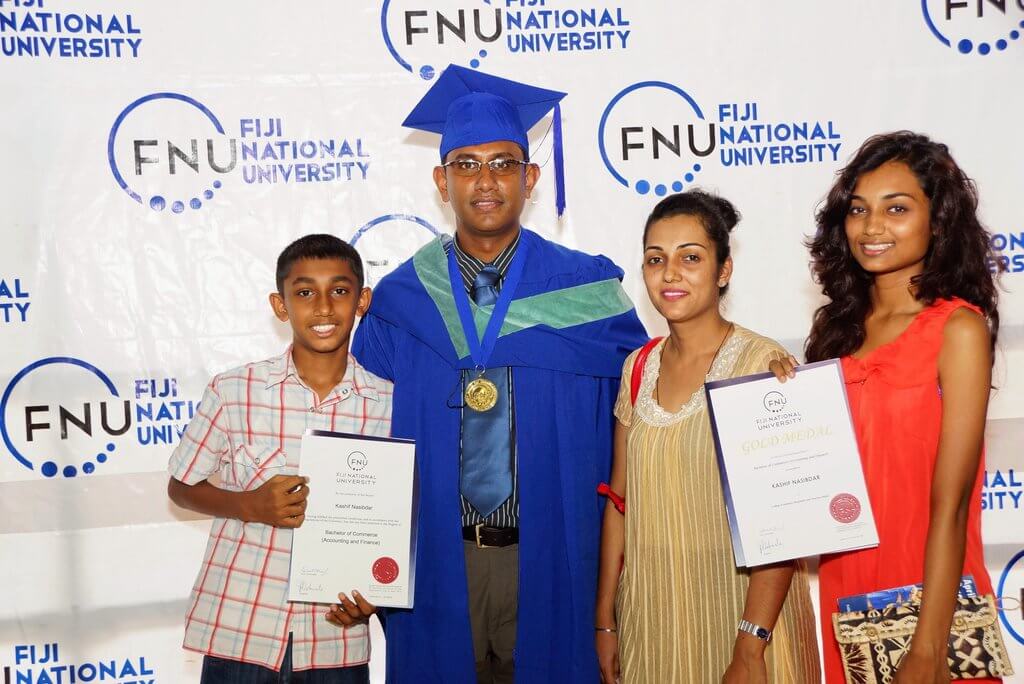 Self-belief and hard work are two virtues that 42-year-old Kashif Nasibdar holds dear to his heart and applies religiously in his daily life.
Nasibdar is no stranger to the Fiji National University (FNU) having spent a fair bit of his life here as a working student. He is very proud to be a top achiever having being awarded a Gold Medal after graduating with a Bachelor of Commerce degree majoring in Accounting & Finance in 2013. This programme is now available as part of the National Toppers Scheme (NTS).    
Unlike most students Nasibdar's tertiary education journey began after spending some time in the workforce. His first enrolment was in the Diploma in Accounting programme in 2004. By this time, Nasibdar had completed employment with four different companies and had significant work experience. 
Nasibdar was born and raised in Suva and is the eldest of two siblings. He attended Samabula Primary School from 1982 to 1989 and attained secondary school education at Mahatma Gandhi Memorial High School from 1990 to 1994.
Responsibility and leadership arrived earlier than expected for Nasibdar due to the demise of his father. It became the youngster's responsibility to shoulder his family's obligation.
"It was not an easy task. I knew I had to fill in my father's shoes being the eldest in my family. I saw it as a challenge and with support from my family I set off on this journey," said Nasibdar.
Tertiary Education and Career
Currently, Nasibdar works as the Senior Team Administrator – Finance at the New Zealand High Commission in Fiji. He has been employed at the High Commission for just over a decade and finds it rewarding.
"I love my job. I have been here for 12 years and I must say the High Commission is a very good employer and has contributed immensely towards my development. I get to learn a lot and I have developed both personally and professionally."
Looking back, Nasibdar said due to the difficult situation he was placed in while growing up, he had to forego his dream of pursuing tertiary education after high school.
"With the responsibility placed on me and the unaffordable cost of education, I decided to seek employment. My first employment was a part time job at a printing press," said Nasibdar with a grin.
After two years, he had an opportunity to work for Vishnu Prasad and Company, a Chartered Accounting firm. This was an opportunity he was not going to miss, as his late father always encouraged him pursue a career in the Accounting field.
Although the job was of an Office Boy, it was one step closer towards fulfilling his father's wishes. After a few months he was given the opportunity to work with the accounting team and later on at some point also assisted the Auditor in his work.
"My main aim was to learn as much as I could. I knew I had a foot in the door and just needed to pick up as much as I could about the profession," said Nasibdar.
After spending fruitful two years at the Accounting firm, he moved on to work for United Apparel. He spent a further two years there before joining Natural Foods Fiji Limited (NFFL). Unlike his previous job this was a more demanding role as he was the only person responsible for the company accounts.
While in employment, Nasibdar always knew he needed to attain proper qualification. He turned to FNU after his two and a half year stint at NFFL.
"Without FNU I would not be where I am today," he added.
Seeking further education
"Once I attended a job interview and was told that I had all the necessary experience and knew the work, however, the most junior staff they had was a Diploma Graduate and therefore, they could not offer me the job because I lacked proper qualification. This is when I decided that I will pursue further education," said Nasibdar.
After much research, Nasibdar concluded that the Training and Productivity Authority of Fiji (TPAF), now the FNU's National Training and Productivity Centre was the best option to pursue his education.
"Fees was affordable and the course outline was very practical and therefore, suitable for my needs," said Nasibdar.
He started the Diploma in Accounting programme in 2004 as a part-time student and completed it in 2006.  While studying he started working for DHL Express (Fiji) Limited and served there for two years, enhancing his knowledge and experience on the way.  In 2006, he applied for the Finance Officer role at the New Zealand High Commission and was called for an interview. It was at this point in time that he realised the importance of his studies at TPAF.
"I realised that the modules I was studying at TPAF were teaching me exactly what the interviewers were looking for. The course outline at TPAF was very practical and because of this reason, I must say that TPAF and FNU is an institution that I would highly recommend," said Nasibdar.
He was offered the job a few days later. Nasibdar started off as the Finance Officer, which was later restructured to Team Administrator – Finance. In recognition of his experience and expertise at the High Commission, he was promoted to Senior Team Administrator- Finance in 2017.
He later decided to further his education and completed a Post Graduate Diploma in Accounting from FNU's College of Business, Hospitality and Tourism Studies this year.
Nasibdar believes that his commitment to his work, combined with his Bachelor of Commerce degree and a Post Graduate Diploma in Accounting are leading him towards achieving his late father's dream and setting an example for his children to follow.
Family life, Interests and Advice
Nasibdar is married and has one daughter and a son. He prioritises spending time with his family during his spare time and is also an avid soccer player.
"My late father is my biggest inspiration. I have always followed his teachings to the best of my ability and tried to achieve the best in life. It is important to have a supportive family to enable you to achieve your goals. I'm blessed to have a loving and supportive family," he said.
In the next five years Nasibdar plans to attain a Masters in Accounting through FNU. His advice to current and future students of FNU is to remain dedicated and follow their passion.
"We choose and make our own destination, so we should make the most of the opportunities that come our way to ensure there is no room for regrets," said Nasibdar.
"As students make the most of the time you have while in university. If you are productive you will certainly excel in your studies."
 "Whatever you do, do it with your heart. Work hard to achieve your goals and keep learning as there is no end to education."