Kumar highlights proactive and principled work ethic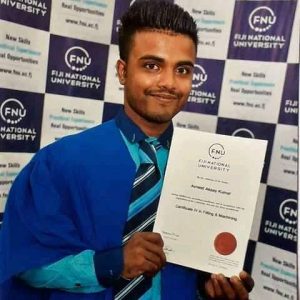 Avneet Akshay Kumar believes work ethics founded on hard work, integrity, teamwork and diligence will aid a person's personal and professional development.
An alumnus of the Fiji National University (FNU), Kumar said employment was an evolving process of learning and growing in the workforce.
Upbringing
Revealing his optimistic and determined nature, Kumar recalled how his upbringing was the motivation behind his academic journey at FNU.
"My mother is my greatest inspiration, as she faced a lot of adversity in life," he said.
"She raised four children as a single mother and worked hard to provide for us. She hardly complained and what I will always admire is her enthusiasm for life and ability to adapt to any situation."
"I am extremely grateful for being her child and I cannot thank her enough for everything."
"Maybe, by following her example in both my personal and professional life, I can try to repay her for everything. At least, that's what I aspire to do."
Education
Originally from Labasa, Kumar attended Korowiri Tovata Primary School, Bulileka Primary School and Bulileka Sanatan College before deciding on pursuing tertiary studies to be able to support his family.
With this in mind, he decided to enrol in the Certificate IV in Fitting and Machining course at FNU's College of Engineering, Science and Technology (CEST) in 2014.
"I decided to pursue this course because many of today's workforce and industries deal with machines, whether big or small."
"So the need for specialists in this field is needed. Since I loved working with machines and its functionality, I decided this was the suitable choice for me."
"After deciding what to study, I knew that I would enrol at FNU because it also provided compulsory industrial attachments that I knew I would benefit from."
He added that studying at FNU was both "ambitious and fun" and said the learning environment motivated him to excel whilst still enjoying the campus life activities with his peers.
"I made friends and we made studying fun so that we wouldn't miss out on our group assignments and other course activities."
"I did not regret my decision to study at FNU as I had the resources, workshops and material to help me understand everything I had learnt. This was shown during my exams, when I was able to attain A+, A, and B+ grades. I am glad that I have achieved what I strived for."
"The TVET (technical and vocational education and training) course equipped me for the workforce through the industry-relevant learning and teaching I was provided with at FNU."
Career
Following his graduation, Kumar worked as a Fitter at Compressed Air and Pneumatic Systems in Nabua and was mainly responsible for the maintenance and servicing of compressors.
He currently works as a Fitter Machinist at Carpenters Motors and his responsibilities include assembly and maintenance of compressors and hoist, maintenance of fitters craft, and assembling and fitting parts to heavy machinery and industrial equipment.
Kumar's role also covers the installation, maintenance and repairs of a range of heavy machinery and industrial tools consisting of mechanical and hydraulic components.
Sharing advice
When asked to share his advice with other graduates, and current students, Kumar said being positive, principled, proactive and productive would make them stand out in any workplace.
"Our purpose is to grow as humans and discover our passions. Hence, we must always be willing to learn and own up to our mistakes."
"I hold in high regard those who are honest about their mistakes because they are also a learning experience for us and contributes to our successes."
TVET studies
High school students in Year 12 and 13 interested in studying the Certificate IV in Fitting and Machining course or other Certificate III, Certificate IV and Trade Diploma level programmes at FNU can now apply and study through the 5,000 Tertiary Scholarships and Loans Service (TSLS) placements.
Students eligible for TSLS-funded studies must have successfully completed Year 12 with a minimum mark of 200/400 or completed Level 1 and II studies from the Technical College of Fiji.
For further information, prospective students visit the TVET Pasifika webpage on https://www.fnu.ac.fj/tvetpasifika/ or register and participate in livestream sessions during the University's Virtual Outreach Activities (VOA) by emailing outreach@fnu.ac.fj