From Fitter Machinist to Operations Manager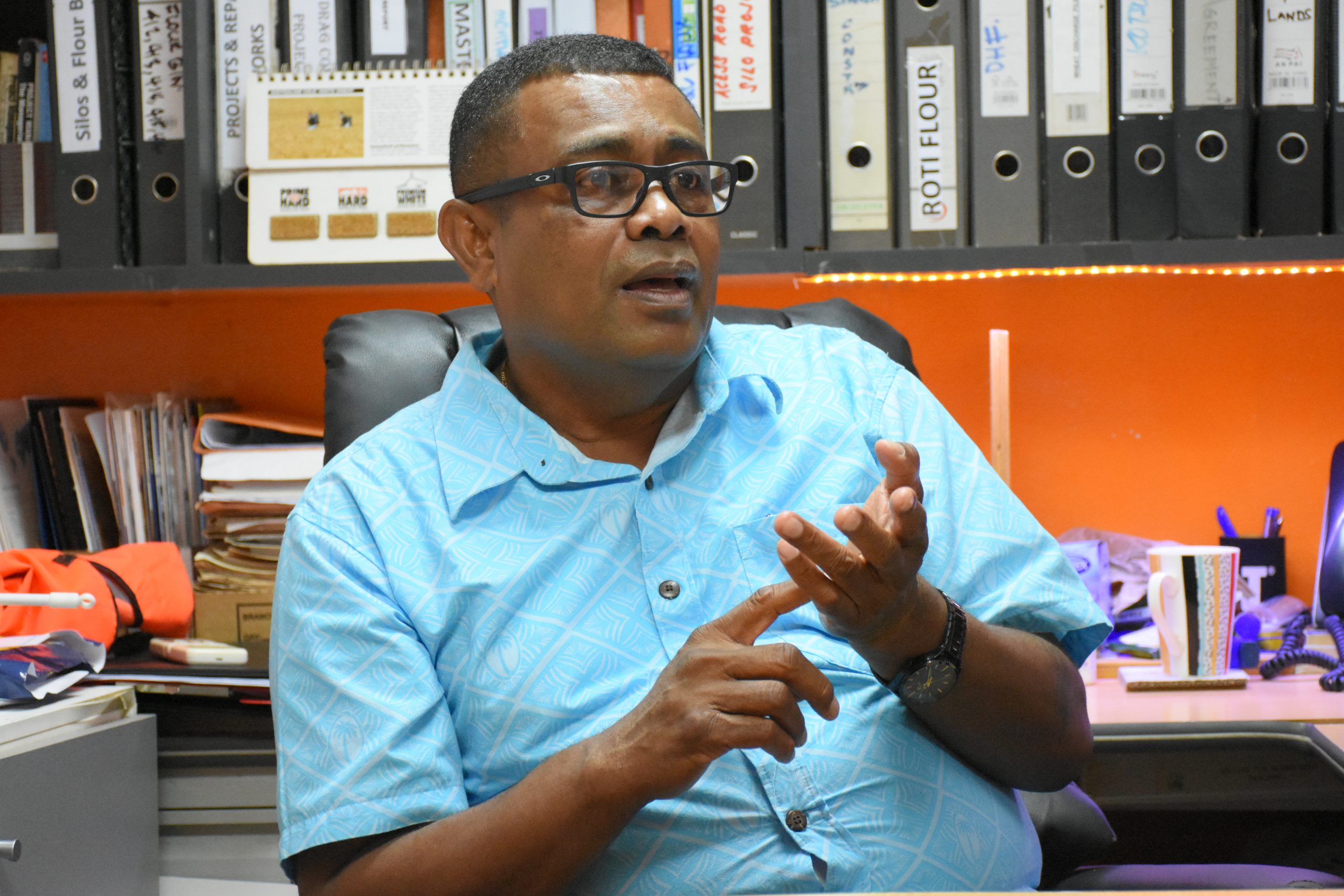 From humble beginnings as a youngster employed as a Fitter Machinist, Jimi Taniela today is the head of one of Fiji's oldest and largest food production company the Flour Mills of Fiji Foods Limited.
The jovial senior manager joined FMF in October 1994 and has served in various departments within the organisation. Taniela's current role involves overseeing the operations of FMF from procuring prime Australian wheat, ensuring its proper storage and maintaining high-quality milling consistency. Being part of the senior management team, Taniela provides guidance and leadership to staff, assists in creating policies, business strategies and planning. He works closely with FMF stakeholders, handles budgets, ensures targets and day-to-day operations are met by his team.
The FMF production line provides Flour to households, bakeries and hotels in Fiji and to the whole of the Pacific region.  Apart from this, Taniela manages the Pea Industries and Rice Company of Fiji and also assists with other tasks for the FMF Group which requires his expertise.
Tertiary Life and Career
Taniela was born in Suva and is the eldest of two other siblings.
After attending high school at the Cathedral Secondary School, he joined the Fiji National Training Council, currently known as the Fiji National University's (FNU) National Training and Productivity Centre (NTPC). He completed the National Trade Test Certificate for Tradesman Class lll Fitting and Machining in 1986 with the Latter-Day Saint Technical College.
In 1987, he then enrolled in Trade Certificate in Fitting and Machining at the Fiji Institute of Technology (FIT) which is now part of the FNU's College of Engineering Science and Technology (CEST).
"FIT in those days taught everything. If you are enrolled in Fitting and Machining it did not mean you will only learn that but also other fields such as mechanical, electrical, communications and so on," he said.
"One thing that remains the same between FIT and FNU now is that it is affordable and has a wide course offering with quality faculty/lecturers," he added.
One of his fondest memories is walking around with his friends looking for an apprenticeship job.
"I remember very well there were three of us who had studied together since high school. We walked around Walu Bay Industrial area that day and walked into Industrial & Marine Engineering Ltd (IMEL). The company had only two slots and my friends were lucky and were recruited immediately. But my friends helped me get a job placement later," he shared.
He managed to secure a position with Carlton Brewery Limited (CBL) as an apprentice and worked there till he graduated from FIT in 1988.
"I was very lucky. Carlton Brewery was looking for an apprentice and they hired me immediately. No interview needed," said Taniela with a smile.
From here he worked briefly for British American Tobacco and Rewa Dairy Limited before being offered permanent employment at Lees Trading Limited as a Fitter Machinist and Welder and gradually progressed to a leading hand.
"Lees was offering a very good wage rate in those days, $2.80/hr. which was fairly good so I was really happy," he said.
In 1994, Taniela departed Lees to join FMF Food Limited as a Fitter Machinist and Welder. In 1998, he was promoted to Factory Manager of the Biscuit Company where he served for four years before moving to Atlantic and Pacific Packaging Co Ltd, a subsidiary of FMF Foods Limited as the Manager.
In 2016, he was promoted to his current position as the Operations Manager, overlooking the entire operations of Flour Mills of Fiji.
"When I came in for an interview with FMF, I was seated in the very office I am in today. Except I was in the visitor chair and the interview was being conducted by the General Manager, Anuj Patel," he said.
Over the years, he has done various short courses in Fiji and abroad and has also graduated with an Advance Diploma in Quality Management with TAFE Australia and FNTC in 2005 which was funded by my employer FMF Foods Ltd.
In 2013, he completed a Master in Business Administration (MBA) from the University of the South Pacific (USP). He had also pursued a Post-Graduate Diploma in Advanced Analytical Skills and Post-Graduate Certificate in Financial Administration from USP.
Taniela boldly said, "A Man with Dreams NEEDS a Woman with a Vision". Taniela is married to Lavenia Taniela and they have four children and two grandsons. My eldest daughter is a graduate of USP and works as an Immigration Officer with the Department of Immigration and my only son is following my footstep, working as an Engineering Supervisor with Atlantic and Pacific Packaging Co Ltd: AtPack a subsidiary of FMF Foods Ltd and a graduate of FNU in Mechanical Engineering while my two young daughters are currently attending USP and Mahatma Gandhi Memorial School.
Words of Wisdom
Giving his advice to students Taniela said, work hard, stay focused to make it happen. "Life was difficult when I was young. There was not much guidance and we were not handed the silver spoon. Today's children, however, have much more offered to them and they should make the most of it. Parents also have an important role to play. They need to guide, mentor and encourage their children. Whatever career path a child chooses, as parents we should support them, ensure they attain their life goals."
About FMF
Founded by Mr Hari Punja in 1973 as Flour Mills of Fiji, FMF Foods Limited, today is a Group of Company, headquartered in Suva, comprising six manufacturing facilities, each specializing in its operations with a vision "To be the Most Admired Company in the Region". FMF is the parent company to its six manufacturing companies; Flour Mills Biscuit Company of Fiji Limited, Snax Limited, Pea Industries Limited, Rice Company Fiji Limited, Atlantic Pacific Packaging Limited. FMF Foods Limited employs over 1000 people and is one of the few companies listed on the South Pacific Stock Exchange.
Source: FMF LinkedIn Page