From Diploma to Masters, the Journey of Sonam Chand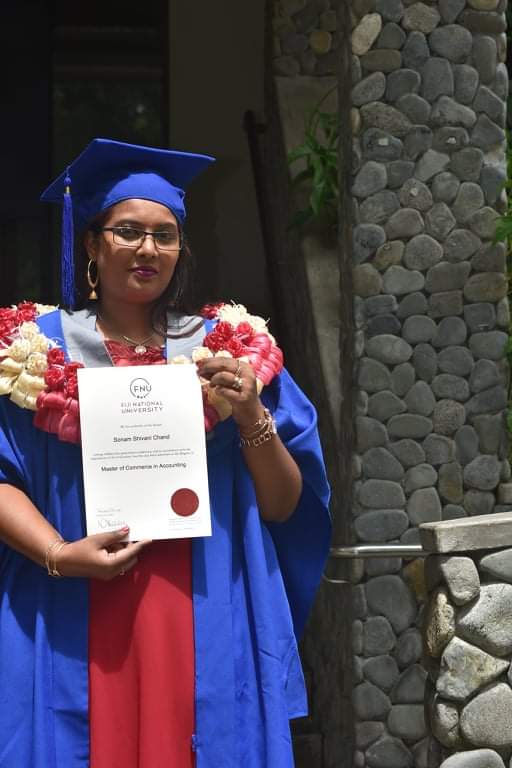 Born and bred on a farm, Sonam Chand is well-aware of the struggles people endure daily. The struggles strengthen her desire to be successful in life. Chand turned her focus on education to realise her dreams. Today, she works as an Administrator (Asset & Facilities) for Fiji National University (FNU). This success didn't come quite easy for her.
She embarked on her journey to further education in 2006 at the Fiji Institute of Technology (FIT), now known as the FNU's College of Business, Hospitality and Tourism Studies (CBHTS).
Chand enrolled in the Diploma in Business Accounting programme. She says that her student days were full of challenges.
"Being a private student, fees were a major concern. I had to help my parents on their farm during breaks and after class," said Chand.
"Another challenge was the daily routine of travelling from Sawani, Nausori to Suva. To make it to school on time (8 am) I had to depart home at sharp 6 am. If we had afternoon classes, then my mother would wait for me at the and we would walk back home together."
After completing her Diploma in 2007, Chand was employed as an Accounts Clerk at Shop N Save Supermarket in Suva. She continued her education, pursuing an Advance Certificate in IT at the Institute of Technology, Australia to hone her computer skills. After completing this course Chand enrolled at FNU to study Bachelor in Commerce (double major in Accounting and Finance).
Whilst studying, she received the opportunity to take up an attachment with FNU and eventually did a short stint as a Temporary Office Assistant. Upon expiry of her temporary contract, Chand took up the role of a Data Entry Clerk with ANZ Pacific Operations before moving back to FNU as a Clerical Assistant in the Finance section.
Her career path took her away from FNU and she then worked for Digicel Fiji Limited as a Credit & Collection Executive before moving to RCL Services Pte Limited as a Call Centre Agent.
It was during this stage that she decided to do her Post Graduate Diploma in Accounting from FNU in 2016. In August, the following year she was offered a Relieving Facilities Officer role with the Operation & Facilities section in FNU after which she took the acting role of Asset Management Office. During this stint, she enrolled in the Master in Commerce Accounting program with FNU in 2018.
She continued her role of Clerical Assistant till the end of January 2020 and then moved into her current role as an Administrator (Asset & Facilities) where she looks after the University's assets as well as conducting space audits and handling of disposal of fixed assets.
Reminiscing her student days, she said, "one of my biggest achievements as a student was the ability to gain experience to be bold and more vocal. FNU has allowed me to develop personally and professionally which is one of the reasons I am successful today."
She credits her success to her mum, who encouraged her dad to allow Chand to start a Diploma in Business Accounting from FIT.
Chand's journey is still not fully complete. She wishes to attain a CPA qualification and dreams of one day becoming a successful entrepreneur.
An established professional in her own right, Chand's success is based on three tips that she feels are important for graduates starting in their career. These are honesty, responsibility and integrity.
Giving her advice to current and future students of FNU, Chand said, "Everything happens as time changes. When an opportunity arises to study, make use of it and make your parents proud."