Food and Nutrition Advocate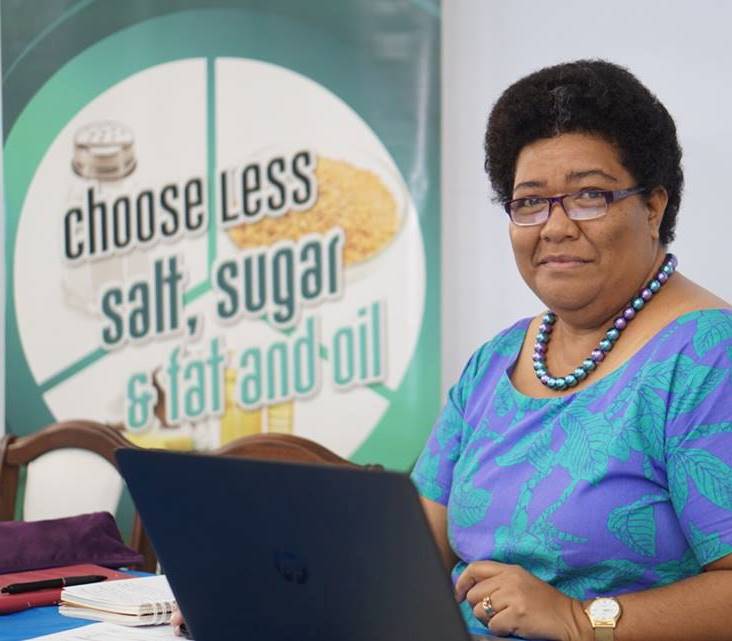 Growing up in the shadows of health and agriculture professionals, the present Manager Food and Nutrition Security of Fiji's National Food and Nutrition Centre (NFNC), Ms Ateca Kama, was raised to be health conscious. She had decided very early in her life that she wanted to be a nutritionist.
"While growing up, home was a haven for talanoa around human and animal health matters. So the desire to contribute to overall health outcomes be it in human health or animal health, was nurtured from early beginnings," she said.
Kama hails from Deuba Village and is the youngest of four siblings. Her father was a Veterinary Officer for the Ministry of Agriculture and her mother is a retired nurse. Kama considers her parents to be her biggest inspiration in her life.
"My parents were my biggest inspiration. Godly values and spiritual involvement were instilled from early childhood. I admire their keenness and desire for spiritual gems and participation with preaching and teaching activities, while on full time employment and raising a family. That strong spiritual foundation assisted with having a more balanced outlook in life, dwelling on the more important things and not on material things," she added.
Education and Career
Given that both her parents were civil servants, they were transferred to new places often. As such, Kama has attended numerous primary and secondary schools around Fiji.
She completed her New Zealand University Entrance from Nadroga Navosa High School in 1987.
Her journey to becoming a health personnel began in 1990 when she enrolled at the Fiji School of Medicine, now College of Medicine, Nursing and Health Sciences (CMNHS) in the Diploma in Dietetics and Public Health Nutrition program. She completed this program and graduated in 1991.
She then served as a Junior Dietitian in a few subdivisions around Fiji for eight years. While in this role, she continued to attain further studies and later graduated with a Postgraduate Diploma in Public Health in 2002.
She was then promoted to a Divisional Dietitian at Central Eastern Health Services in 2000. At this stage she started pursuing Masters in Public Health from the Fiji School of Medicine a qualification with which she graduated in 2011.
Later, she became the Senior Nutritionist in 2008 at the National Food and Nutrition Centre. After serving at this post for some time she was promoted to the position of Manager Food and Nutrition Security at National Food and Nutrition Centre (NFNC) in 2012, a post which she currently serves.
Kama is married to Isikeli, and have two daughters, Tadra and Taufa.
National Food and Nutrition Centre (NFNC)
The NFNC was started in 1982 by the Government of Fiji under the Ministry of Health and Social Services. It is the focal point for the Ministry of Health and Medical Services and the Government to prioritise food and nutrition security, addressing the food and nutrition security policy environment, and changing dietary and consumption patterns.
The NFNC develops the Fiji Policy on Food and Nutrition Security and the Fiji Plan of Action for Food and Nutrition Security, and coordinates the implementation of the same across relevant government ministries, civil society organisations, faith based organisations, non-government organisations, academic institutions, and with international and regional agencies.
Kama says that nutrition plays a critical role in combating NCDs and is the basis of optimal quality of life.
 "Good nutrition provides sustenance to meeting recommended daily requirements, and in the right type and amount; will contribute to better overall health outcomes. The daily consumption of the right food at the right time, coupled with physical activity, will go a long way to managing NCDs effectively. Proper nutrition is one of the most cost-effective measures to prevent and manage NCDs," she said.
To embrace the digital age where any information can be accessed, NFNC has developed the My Kana App with the Centre of Flexible Learning at The University of the South Pacific. The My Kana App is a user-friendly mobile app for grassroots Fijians to take ownership of their own health by helping them track their dietary intake on a daily basis. The daily tracking is a positive health-seeking behaviour as it will help our populations change to a healthier diet, using locally available fresh food.
Kama's advice to the general public is to know and follow the ten Food and Health Guidelines which is available at all health care facilities.  One can always consult the NFNC or the Dietitian for further clarity," she said.
"Nutrition is important for preventing and managing non – communicable diseases (NCDs)," says Kama. "The NCD rate is increasing rapidly in Fiji and has become a national crisis," she added. As such, she emphasises that people need to know and learn about nutrition and apply it to their lives to help prevent the onset of NCDs.