Dr Murthy shares his teaching & learning journey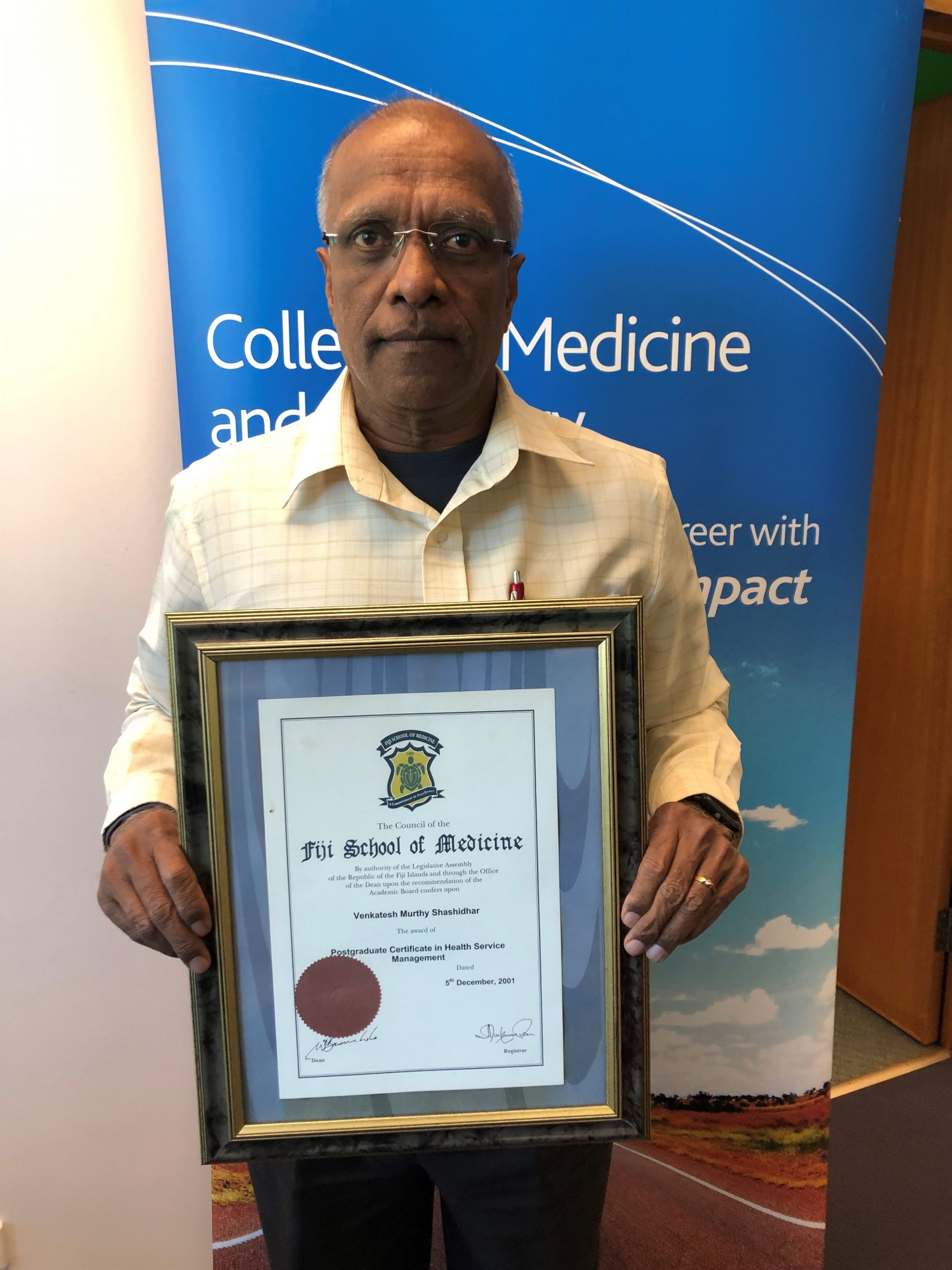 Learning, travelling and teaching has been a passion for Dr Shashidhar Venkatesh Murthy. His quest has taken him on a journey from his homeland India, to Saudi Arabia, Fiji and now to Australia.
Between 2000 and 2005, Dr Murthy was a familiar face at the Fiji School of Medicine (FSM) which is now under the Fiji National University's (FNU) College of Medicine, Nursing and Health Sciences (CMNHS). During this period he served as the Associate Professor and Head of Pathology.
While employed at FNU, Dr Murthy took up studies in Post Graduate Certificate in Health Service Management programme.
"I liked the FNU programme outline and content and felt it would provide me with the essential skills and knowledge I needed for leadership roles."
"Looking back, I can say that FNU has developed so much over the years with new programmes and structures and has improved its infrastructure as well."
Humble beginnings
Born and raised in India, Dr Murthy, completed his education in India from various institutions. He attained a Bachelor in Bio-Science (B.Sc) in 1978 from Bangalore University, a Bachelor in Medicine and Bachelor in Surgery (M.B.,B.S) in 1984 from Gulbarga University, a Masters in Anatomic Pathology in 1988 from Mangalore University and a Diploma in Computer Applications in 1989 from Manipal Institute.
"While I was pursuing my master's degree, I had already started working as an Anatomic Pathology trainee and Pathology tutor at Department of Pathology, Kasturba Medical College and Hospital in Manipal, India. Once I graduated, I was promoted to Lecturer in Pathology and eventually an Assistant Professor of Pathology in 1991."
Dr Murthy then worked as a Specialist Pathologist, Consultant in Hematology and Laboratory Manager at the Ministry of Health Dammam Chest Hospital & Regional Laboratory in Dammam, Saudi Arabia from 1991 to 2000.
Pacific life
"In 1999, I applied to work at FSM and was selected. So, I came to Fiji in 2000 and started working here. The place was different, the language and culture were different. It was a different environment altogether, however, I liked the change in scenery and looked forward to working in Fiji."
In addition to attaining the Post Graduate Certificate in Health Service Management from FNU, he also attained a Graduate Certificate in Tertiary Teaching from the University of the South Pacific (USP) in 2002.
"Some of my key achievements were solving several departmental procedures, setting up a pathology lab and pathology museum, I also started the Pacific Pathology Online forum which is an online discussion forum between Fiji and overseas (Netherlands, Switzerland, USA & Australia) experts to solve complex cases."
After serving for almost five years in FNU, he moved to James Cook University (JCU), Australia to work as the Senior Lecturer and Head of Pathology at JCU's School of Medicine. In 2007, he was promoted to Associate Professor – a position he currently holds.
"Currently I teach Pathology to undergraduate medical students, Dental students and Allied Health students. I have developed several educational and digital pathology tools for teaching. I have developed unique Diploma and Postgraduate and Masters Pathology courses and have been teaching using online teaching tools since 2013."
Dr Murthy is also an Adjunct Professor of Pathology and a Post Graduate Research Fellow in Medical Education at the Manipal Medical College (Manipal Campus), India. He has also been an Adjunct Professor at FNU.
He has also acquired a Master's in Business Administration (Educational Leadership) (MBA) from JCU.
Connected with community
Dr Murthy currently resides in Australia with his family and plays an active role in the Hindu community as well.
"I like to give back to the community and I do that through my role as the Director of the Hindu temple here, being the past president of the Hindu community, and I also volunteer at Meals on Wheels."
Sharing his advice to students, Dr Murthy said, "Plan your time and resources well. If you fail to plan, you should prepare to fail."