Dr. Ali's Journey from Primary Education to Tertiary Teaching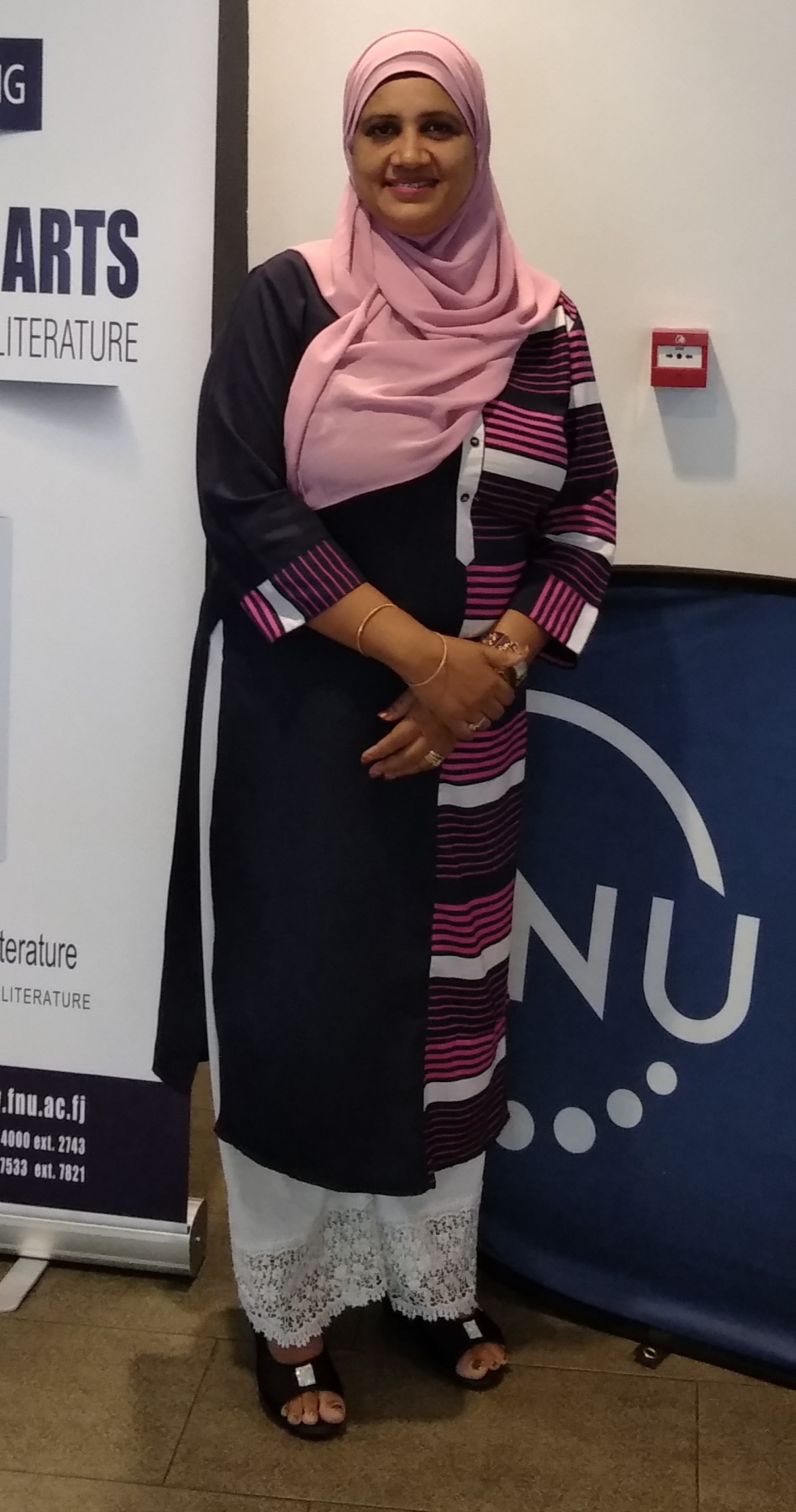 Growing up, Dr Sofia Ali always envisioned herself working in the medical field. However, a strong influence from her parents saw Dr Ali pursue studies to become a teacher. Looking back, the academic said it was a choice she has 'never regretted'.
"My parents wanted me to stay closer to home, so they advised me to accept the PSC scholarship and pursue my studies at LTC and become a primary school teacher."
She is currently a Lecturer at the Fiji National University's (FNU), College of Humanities and Education (CHE) based at the School of Education. She teaches Undergraduate and Post Graduate courses in Primary Education.
Dr. Ali was born and raised in Ba with two younger brothers. She attended Wailailai Sanatan School and Varavu Muslim Primary School to attain her primary education and Kamil Muslim College to gain her secondary education.
After high school, she enrolled in the Certificate in Primary Teaching programme at the Lautoka Teachers College (LTC), now known as the Fiji National University's (FNU) College of Humanities and Education (CHE) in Natabua, Lautoka.
"I had to stay in a hostel, but I opted to stay at my relative's place in Natabua and it was the first time I stayed away from home and on my own. It was an exciting journey. I remember how we used to do handwritten assignments and were expected to make creative cover pages."
Dr. Ali completed the programme and graduated in 1990. Her first posting was at Wairabetia Muslim Primary School in Lautoka in 1991 as an Assistant Teacher.
"My first experience was fascinating, as well as challenging. As I was given an exam class, the students had to sit for the Fiji Intermediate Examination in class 6. I had to produce a 100% pass rate, which was told on the first day of the staff meeting. I had to deliver my best and use all my skills and strategies learned at LTC in my classroom."
Dr. Ali taught here for five years and within that time frame, she had taught years three, four, seven and eight. She then took a transfer closer to home due to family commitments, thus, taught at Tuvu Primary School in Lautoka from January 1997.
Serving for more than a decade, Dr. Ali was promoted to Executive Teacher position in 2008 when she was transferred to Drasa Muslim Primary School in Lautoka.
During her seventeen years of teaching, Dr. Ali continued her education and completed a Bachelor of Education (Primary) in 2007 and Post Graduate Diploma in Education in 2008 from the University of the South Pacific (USP).
She then enrolled in the Master of Education programme at USP in 2008. In 2008, she applied for a Lecturer position at LTC and was selected.
"It was a bold move for me and one I am glad I made. My family was very supportive and always encouraged me to pursue further education and strive for more."
Dr. Ali joined LTC as a Lecturer in July 2008. Her position changed to Lecturer ll when LTC merged to form FNU in 2010. In January 2015, she was promoted to Lecturer I – Primary Education, her current position. She is also the current Acting Head of School of Education.
Dr. Ali is looking forward to being an associate professor in years to come.
"I am glad my parents had chosen this path for me. I enjoy my job and I find it satisfying. I am also grateful for LTC for building a strong foundation for me to build a career path."
Sharing her advice to new teachers, she said, "First and foremost, you must genuinely love the children. Curriculum, lesson plans, paperwork and tests are all important and necessary, but the real difference is made in that personal connection."
Her top three tips for FNU's current and future students are to get organized, set high standards and expectations, and aim to be a reflective practitioner.
Dr. Ali has recently completed her Ph.D. in Education and published seven papers from Mangalore University, India through the ICCR scholarship.