Double celebration – couple graduate with a Postgraduate Diploma in Education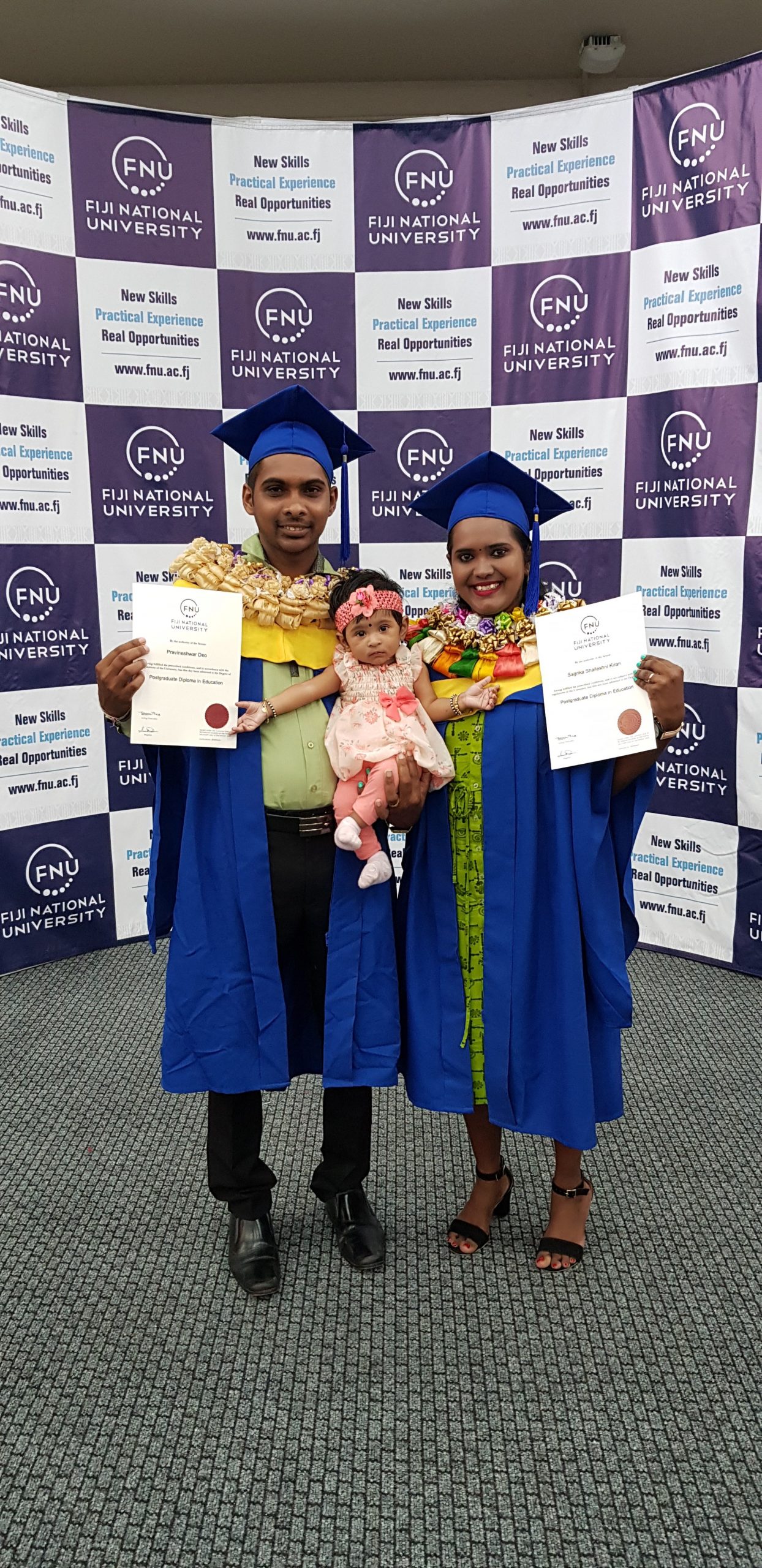 Husband and wife duo Pravineshwar and Sagrika Deo were elated to graduate together with a Postgraduate Diploma in Education from the Fiji National University's (FNU), College of Humanities and Education (CHE).
The two were part of the hundreds of graduates from the Class 2020 that collected their certificates in Suva last month.
Pravineshwar was born and raised in Dreketi, Vanua Levu, with four siblings in a farming community. He had always dreamed of being a teacher.
"I would always admire my teachers and decided early on that I wanted to be one as well. I would imagine myself teaching one day," shared Pravineshwar.
Sagrika, on the other hand, was born and raised in Nausori and is an only child. Her father passed away while her mother was five months pregnant.
"My mother raised me as a single parent, and I know that was difficult, but she worked very hard to provide for me. I respect her a lot. It was my mother's dream for me to be a teacher, and I wished to fulfil her wishes; thus, becoming a teacher became my dream too," she shared.
Tertiary Life and Career
After completing year 13 in Labasa Sangam College, Pravineshwar moved to Lautoka to study Higher Education Diploma in Education (Primary) at FNU's Natabua Campus in 2013.
"Leaving home was difficult, but I knew that I needed to take this journey to fulfil my dreams," said Pravineshwar.
"I made new friends, which made it easier for me to adjust and not miss my family too much. Looking back, I would say I enjoyed my days at FNU, especially as an undergraduate student. It has also made me very independent."
He graduated in 2015 and was posted to Rishikul Primary School as an Assistant Teacher. Since then, he has been teaching at the same school.
"I started teaching Year Four at Rishikul Primary School. After two years, I was given Year Six, and most likely that will continue this year too," said Pravineshwar.
While teaching, he continued his education as an in-service student and graduated with a Bachelor of Education (Primary) from FNU in 2018.
"I am proud to be where I am today. I come from a low-income family, and growing up, I learned to value education from a very young age and its role in alleviating poverty. I would cut sugarcane and work on our farm during the breaks. I must say that even though we were poor, my parents worked very hard to provide for us. For this, I am forever grateful."
Sagrika completed high school at Rishikul Sanatan College, after which she moved to Lautoka to pursue further studies at FNU Natabua Campus. She enrolled in the Bachelor of Education (Primary) programme in 2013.
"Being an only child, I was close to my mother, and leaving her for my studies was very hard for me. I made friends quickly and was able to adjust with regular contact with my mother," said Sagrika.
She graduated in 2017 and started teaching at Rishikul Primary School.
"I was given Year Four to teach, and after a year, I started teaching Year Seven."
"I enjoyed my time at FNU. It was a good learning environment, and the lecturers were amazing with an abundance of teaching experience and a wealth of knowledge to share with their students. They were also very supportive and always there to assist when we needed."
Sagrika and Pravineshwar met at FNU and became friends. Their friendship bloomed, and they got married in 2017 while both of them were teaching at Rishikul Primary School.
After getting married, the couple enrolled in the Postgraduate Diploma in Education programme at FNU as in-service students and graduated together in January 2021.
"FNU has provided us with a foundation to build our careers. FNU's Education programmes are excellent as both Lautoka Teachers College (LTC), and Fiji College of Advanced Education (FCAE) were known to be teacher producing institutions," the couple shared.
In addition to acknowledging their parents, both of them thanked their lecturer and mentor, Satish Chand.
Family life, Interests and Advice
Pravineshwar and Sagrika live in Suva with their six-month-old daughter. Pravineshwar loves to play soccer in his free time while Sagrika spends her free time reading.
"My husband plays soccer occasionally while I like to read; however, since we had our daughter, we are mostly spending all of our free time with her," shared Sagrika.
Their advice to current and future students is to study hard but try to enjoy student life.
"Your education is a pathway to your career. Study hard, focus on your goals. At the same time, remember that student life comes only once; therefore, you must enjoy as well and create memories that will last you a lifetime," said Sagrika.
Pravineshwar's advice to future teachers is to be humble.
"As teachers, you need to be very humble and friendly. Students look up to you to provide them with the best education possible and mould them into good individuals. They should be able to talk to you and not be afraid of you," said Pravineshwar.