Devi upskills in Education at FNU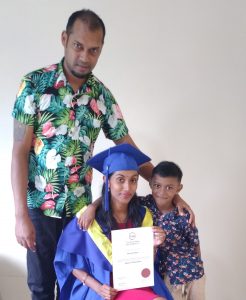 Yeshnita Devi began her tertiary studies at the Fiji National University (FNU) in a technical and vocational education and training (TVET) course 12 years ago. Last year, she graduated from FNU for the fourth time with a Masters in her field of study.
Growing up on her family farm in Labasa, Devi knew from a young age that she wanted to be an agent of change in the lives of young children. After realising the positive influence and role teachers played in her learning journey, Devi knew she also wanted to follow the same career path.
After completing her primary education at Vunicuicui Sanatan Dharam Primary School in Labasa, Devi undertook high school studies at Holy Family Secondary School and Labasa College.
Education
In 2009, Devi received a PSC scholarship to undertake the Diploma in Primary Education at the Lautoka Teachers College (LTC), which would later merge with other national tertiary institutions the following year to form FNU.
"I was so happy to receive the scholarship as I knew this meant I would be one step closer to my dreams," Devi said.
"FNU has contributed tremendously to my student and graduate experience due to the qualified and friendly staff, the support services, campus life and the connections I established during my studies."
Devi was also proud to point out the fact that she has gradually upskilled her qualifications at FNU over the years.
"I knew I would always choose FNU as the institution where I would continuously add to my skills and knowledge base through the courses I undertook at the university."
"I have great memories of hostel life when I was studying at the (now) Natabua Campus," Devi fondly recalls.
In 2014, four years after graduating with her Diploma, Devi enrolled as an in-service student at the Labasa Campus to undertake the Bachelor of Education (Primary) course.
Despite the pandemic, Devi showed that nothing would hinder her determination to continue learning as she graduated from FNU in 2020 with a Postgraduate Diploma in Education.
Last year, she added one more certificate of qualification to her belt when she completed the Master of Education programme.
"There is always something new to learn, even if you have been in the same industry for years," Devi explained.
"Being a teacher means we always have to be aware and utilise the latest learning requirements, trends, mindsets and methodologies and curricula used.  I believe that my academic qualifications have enhanced my ability to achieve my professional objectives."
"I love sharing ideas and knowledge and watching my students become inspired and resilient learners has given me a sense of accomplishment."
"Just as I am, I also want my students to be life-long learners."
Career
In her 12 years of teaching, Devi has taught at three primary schools in her hometown, Seaqaqa Primary School, Vunicuicui Sanatan Dharam Primary School and Uluibau District School.
"I enjoy being employed by the Ministry of Education, Heritage and Arts and being able to impart knowledge to our future leaders," Devi shared.
"I believe that when you educate children, you are educating families, communities and nations."
"I am fortunate also that I was able to continue learning whilst being a teacher."
Motivation
Devi said she was able to achieve all that she could with the support of her husband, parents and in-laws.
"My partner and family have always supported my ambitions. This is why I was able to balance my work commitments as a teacher and in-service teacher and family obligations as a wife, mother and daughter."
"Although I did face challenges along the way, this support combined with the skilled and empathetic lecturers at FNU made everything feasible."
Words of Wisdom
In addition to this, Devi shared that time management and understanding the priority of each of her assigned tasks during studies and at work was an important work ethic that she encouraged everyone to practice.
"Be organised. It sounds so simple but is very effective when you look back on your work and realise you can complete your tasks in time," she said.
"Manage your work and ensure that you also make time for breaks and leisure activities to relieve stress."
"Be confident enough in yourself to work independently but equally open-minded as a team player."
Devi encouraged everyone to set realistic and achievable goals and work towards them.
Alumni Connect
Graduates of FNU and its former institutions can register to be part of the exclusive Alumni Connect portal and remain connected to their classmates and the University.
Registered alumni can receive news and updates on key University activities, read alumni success and feature articles, scholarship and upskilling opportunities, networking events and professional development and training seminars.
To register, click here.