Contributing to Tuna Conservation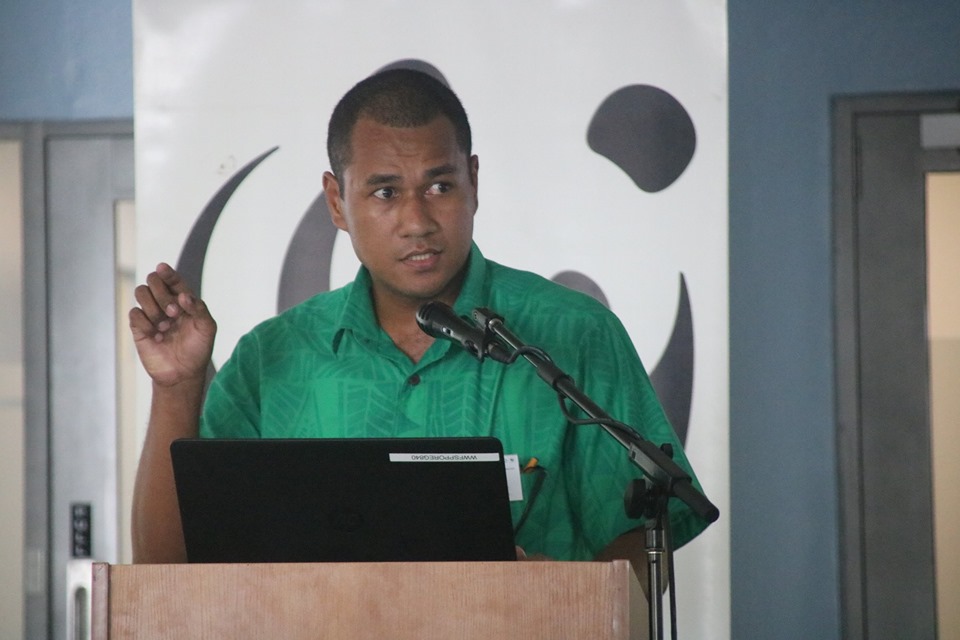 As a teenager, Adriu Iene's initial career plan was to work in the health sector. However, as years passed by, he developed an interest in looking after the environment and realised that he could pursue a career where both his interests can be combined. 
After completing Form Six at Assemblies of God High School, Iene enrolled in the Foundation Programme at the Fiji Institute of Technology (FIT). He completed this in a year and enrolled in the Certificate of Environmental Health at the then Fiji School of Medicine (FSM), now College of Medicine, Nursing and Health Sciences (CMNHS) in 2008.
"The student life at FSM was great. It wasn't an easy year for me though, as I had to stay with my relatives in Suva, but the conducive learning environment combined with great medical students around made my one-year journey at FSM a memorable one," he said.
Iene graduated in 2009 and joined the Ministry of Health and Medical Services' Food Unit/ Fiji Competent Authority for Fishery Products in Suva as a Project Officer.
He worked there for almost two years until December 2011 before joining Sealand Processor Fiji Limited (formerly known as Celtrock Holdings Limited) as the Quality Control (QC) Officer.
"My role as the QC officer for CHL was to ensure that fish processing was conducted according to the company HACCP management system, USFDA and Fiji's Food Safety Regulation 2009 to produce safe and quality fish for the local and overseas market," said Iene.
After working at CHL for another year, Iene enrolled into the Bachelor of Fisheries programme at the Fiji National University's (FNU) College of Agriculture, Fisheries and Forestry (CAFF) in 2013 as a full-time student.
"By then, I had over three years of work experience working in the fisheries sector, so I decided to gain a formal qualification in that field. With FNU having the relevant programme that suited my needs, I enrolled in the Bachelor of Fisheries programme," he added.
Speaking about his student life at CAFF Iene said, "My student life was always complimented by the circle of college friends I met and the support from all staff. Not only did we spend time studying, but we were also given our own space to enjoy social life and do our own social group fundraising, which was often supported by our college staff."
While a student, Iene volunteered at the World Wide Fund for Nature (WWF South Pacific) as part of the WWF Research team that conducted turtle monitoring at Yadua Island, Vanualevu in 2013 and also served as the President of the Fisheries Students Association in 2015.
As part of his industrial attachment to qualify for graduation, Iene did an attachment with Viti Foods Limited in the Quality Assurance Department for ten weeks.  There he learnt about the tuna canning process, which includes pre-cooking, seaming, retorting and associated HACCP implementation.
He graduated with a Bachelor of Fisheries degree in 2016 and after working for some time at Firus Marina Investment Limited the Ministry of Health and Medical Services and Goodman Fielder, Iene received an opportunity to work in the Solomon Islands.  He took the offer and moved to Solomons Islands to work as the Training Advisor at the Solomon Island Competent Authority (CA) for the Ministry of Health and Medical Services. Iene worked there until March 2018.
Iene took a short break after working in the Solomon Islands, and things came full circle for him when he received the opportunity to join the WWF, an organisation he had volunteered at some years ago.  He joined WWF as the Industry Liaison and Facilitation Officer in October 2018. This is the position he currently serves. 
"I am working with a team on the tuna conservation project funded by the New Zealand Aid (NZAid). My role involves industry liaison and facilitation work with our project partners in the fisheries industries in Fiji with tuna," he said.
As his advice to students, Iene said, "Never be afraid to make mistakes.  Always learn from them."