Contributing to Border Security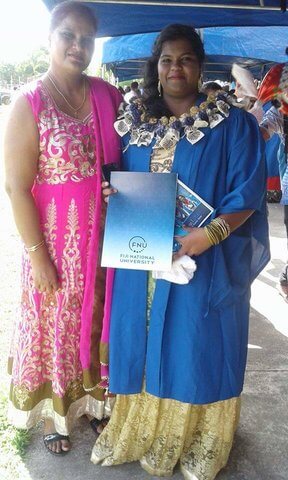 Hailing from a rural settlement of Lomawai in Sigatoka, Shinal Sharma never thought she would grow up to be a Customs personnel overseeing the importation needs for 15 companies in a male dominated field. The soft spoken the 23-year-old is a proud FNU alumnus and one of the three female Customs Clerks employed by Carpenters Shipping Fiji Limited.
She currently resides in Suva with her family where they had moved in 2000.
Sharma, the youngest of three siblings attended Samabula Primary School and Suva Sangam College.
Growing up she had always wanted to pursue a further studies in Accounting, however, her mother had a different dream for her daughter. She had continuously pursued this field for her daughter as she wanted her (Sharma) to be actively involved in border security. Being close to her mum Sharma, did not think twice about fulfilling her mother's dreams.  
Tertiary Life and Career
In 2014 Sharma enrolled in the Trade Diploma in Customs Program at FNU's College of Business, Hospitality and Tourism Studies at the Nasinu Campus. She graduated with the program in 2016.  She says her experience at FNU was amazing.
"FNU continues to provide a competitive student environment, the better facilities and student friendly resources such as the library and campus design makes the university one of the best in the country," she said.
"One of the best memories that I have is getting to meet many students from different races which meant that I got to enjoy culture, and races at the campus. This allowed me to actively take part in my friend's festivals and religious activities and also develop those relationships that I share till now," Sharma shared.
Sharma says that FNU has created a pool of graduates who are unique to FNU and this in itself is valuable to these graduates.
"FNU through the customs course has enabled an environment in the country where you get to visit and liaise with other FNU graduates, this means strengthening working relationships and working better for a good and safe importation structures," said Sharma.
In order to graduate Sharma was required to complete a six months attachment. This was the first step towards her career for Sharma. She was attached to Carpenters Shipping Fiji Limited from November 2015. Due to her exceptional work she was offered a full time position as a Customs Clerk after the completion of the six months program in May 2016.
She enjoys her work. According to Sharma, there is a lot to learn and there is something new happening every day.
"One of the things I enjoy about my job is the day to day clearance and meeting clients which come from different backgrounds and countries. This also means that I have first-hand opportunity to view goods which come in the country and it's exciting to understand the business environment in the country," stated Sharma.
With the perks come the challenges of the job as well.
"One of the challenges is being a female customs clerk in an industry where males dominate. I overcame this through holding onto my word and always verifying things such as customs entries, once one is well versed with a particular field, you cannot be digressed from your focus. This also means standing your ground on work ethics you hold close to heart on your job," said Sharma.
In the next five years, Sharma plans to pursue an undergraduate program in Customs and hopes that FNU would offer it in the near future. She also envisages gradual promotion in her professional career.
Words of Wisdom
For Sharma her parents have always been an inspiration and guiding light in her life.
"My parents have always been the backbone of the family and encouraging a good education for me and my two sisters have been top priority for my parents. They have invested in our education and always believed that education alone defines life to greater levels and provides for opportunities like no other," she shared.
Aiming at current and future students of FNU Sharma says that students should learn to value education.
"Be persistent and consistent with school work as it pays in the long run. The study environment is challenging and so is the work environment. Your education is building a foundation for your work life which is where we will spend most of our lives," she adds.
Sharma has three tips to share with fresh graduates.
"Ensure that your CV is updated and very well written; seek advice from persons who are already employed for details for a good CV," she said.
"We all have to start from the bottom of the ladder but maintain the same momentum, hard work, long hours, odd and the screaming from your manager offers very good results. In the end it is all a learning experience," she added.
"Time management is key. This sounds cliché but it is key and procrastination is never good. What can be done today should be done today," she said.
These tips have helped Sharma and she feels it would do the same for fresh graduates.