Chef Krishna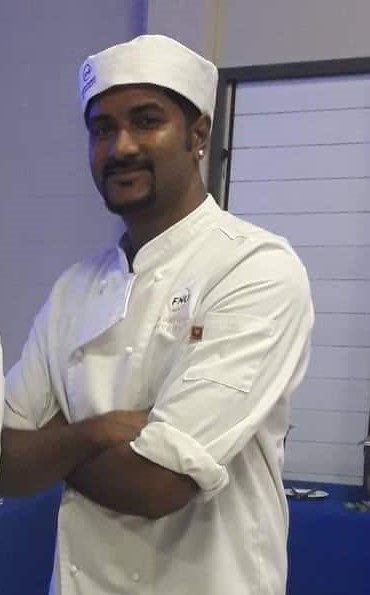 Rahul Krishna has always been passionate about cooking. As a kid, he would be in the kitchen, helping his mum. He clearly remembers cooking his first meal at the age of eight.
"I love cooking. I was so excited when I cooked my first meal; egg and potato curry. I clearly remember every moment of it. Thereafter, I used to cook for my elder brother in the afternoons before he went to work," he said.
Krishna was born and raised in Toorak, Suva. His family later moved to Muanikoso, Nasinu where they currently reside. He attended Marist Primary School from class one to eight and then Bhawani Dayal Primary School from form three to six. He finished high school at Rishikul Sanatan College.
Although he loved cooking and wanted to make a career of it, his brother's advice was against it.
"My brother wanted me to go in the medical field. He advised me to be a paramedic," he said.
In 2010, Krishna joined St John Association of Fiji which is a non-profit organisation that provides products and services related to health and safety for the general public and healthcare providers across Fiji. He worked here as a Paramedic.
"I joined as a Paramedic and was given on the job training. The job was good, however, nothing beats cooking for me," he said.
He worked there for two years before quitting and deciding to pursue a career in the field he loved.
"I just did not feel like this was my thing. My heart was set on something else. One particular incident happened where a baby died in my hands and that was it. I decided to leave for good and do what I love which was to cook," he added.
In 2012, he enrolled in the Certificate lll in Culinary Arts Programme at the Fiji National University's College of Business, Hospitality and Tourism Studies at the Nasese Campus.
This was a one-year programme with six months of theory and six months of practical experience. Krishna attained his practical experience at the FNU cafeteria.
"My student life was short but I enjoyed it. In a short period, I learnt a lot and made many friends. One of my most memorable moments is being on air with one of Fiji's top chefs, Lance Seeto," he said.
After graduation in 2013, he was given a full-time job at FNU as a Cook. After working here for a year, he joined Uprising Beach Resort as a Chef.
He worked there for an additional year before joining Kokomo Island Resort, which is a five-star resort, located on the island of Kadavu. He was employed here as a Demi – Chef.
He undertook many short courses such as Advanced Bakery, Commercial Cookery, and Restaurant Services over the two years working period from 2014 to 2016. All this helped develop his skills, "Cooking makes me feel alive.  This is what I would rather do any day and every day," says Krishna. 
In 2016, he enrolled in the Australia Pacific Training Coalition (APTC) to enhance his skills in Culinary Arts. He studied full time for six months before joining Hungry Honchos as a Head Chef and Shop Manager.
Seeing an opportunity at a place where everything started for Krishna, he joined FNU again in 2017 as a Chef. He currently works here and serves as the Assistant Cafeteria Supervisor at the FNU Nasinu Campus.  
"I love my job. It is something that I always wanted to do," said Krishna.
Krishna's advice to current and future students is to pursue a career in the field they love.
"I believe everyone should do what they love. If you do that, you will enjoy your work and be more productive," he said.