Career progression drives FNU graduate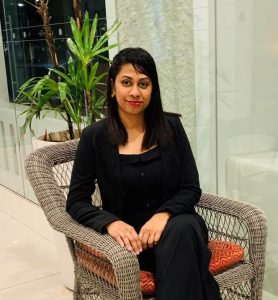 For Farhana Nazneen Hakim, her student life at the Fiji National University (FNU) was the perfect balance of receiving relevant teaching and learning and a fun campus life experience that allowed her to expand her network and self-growth.
Hakim graduated this year from the University's College of Business, Hospitality and Tourism Studies (CBHTS) with a Bachelor of Commerce (Industrial Relations and Human Resources Management and Management) and easily recalled her graduate experience at FNU.
"My student life at FNU is something I will forever cherish, as it nourished my enthusiasm for learning, meeting new people and growing both as a person and academically," she shared.
"I was very eager to begin my tertiary studies at FNU after completing my prior education at Nasinu Muslim Primary School and Nasinu Muslim College."
"I was determined to excel in the course I chose and made my studies, assignments and student responsibilities a priority, as one should when pursuing higher education. However, I did make time for student events and activities."
"After deciding on this study and career path, I was determined to ensure I completed my studies successfully."
Work experience
Hakim said a learning highlight was undergoing the compulsory industrial attachment component of her degree and continuing as an attaché at various organisations whilst studying and until she graduated.
"I was a Human Resource Attaché at Rewa Dairy Limited and Viti Foods Limited in 2018," she shared.
"I was responsible for monitoring employee fields to ensure information was up-to-date, conducted reference checks, analysed employee surveys and prepared reports, attend to staff requests and injuries and assist in retention and recruitment processes."
Hakim also performed payroll duties at Viti Foods Limited.
Since 2019, she has worked as a Human Resource Officer at Ram Sami & Sons (Fiji) Limited. In her current role, Hakim prepares and implements recruitment plans, attend and respond to counter queries, disciplinary and dismissal cases, staff training, payroll and timesheet audits and report submissions.
"I believe that everything that I have achieved so far is because of my choices," she stated.
"I chose my field of study and career pathway, I chose my course, I chose FNU and I chose to excel."
"FNU has definitely helped me realise my dreams and make them a reality."
Hakim said she had planned to enrol in postgraduate studies at FNU earlier this year. However, her plans changed due to the COVID-19 pandemic.
"When the second wave of the pandemic began this year, I had to realign some of my personal and professional ambitions. However, I do plan to resume studies and enrol at FNU in the near future," she said.
"I aim to continuously upskill myself and believe I will be able to juggle work, studies and my social life as I did the same whilst working and completing my degree."
Words of advice
Hakim is of the firm belief that you should "do what you love and love what you do".
She said sound career advice that she has received and occasionally shared with others was that people should reflect on their interests and ambitions and plan a way to achieve them.
"At times we may rush into plans simply because we think it is a race and something we should achieve quickly, but if you are not happy with what you are doing then you are doing it wrong."
"Pick your path carefully and always strive for more, as there are no stop signs to success."
With a younger sister currently studying at FNU, Hakim said she hoped for nothing but a successful tertiary experience for her sibling and other university students.
Study at FNU
As a dual-sector University, FNU offers a wide range of courses in various fields such as medicine, business, education, agriculture, hospitality, engineering, science and more. The University has multiple study pathways, with entry at Certificate and Diploma level through its technical and vocational education and training (TVET) stream and Higher Education options at degree and postgraduate qualifications.
Students completing or have completed Year 12 or 13 have the opportunity to undergo studies in a TVET course at FNU through the 5,000 Tertiary Scholarships and Loans Service (TSLS) placements.
Offered through the University's TVET Pasifika, these courses are Certificate III, Certificate IV and Trade Diploma level qualifications. Students eligible for TSLS-funded studies must have successfully completed Year 12 with a maximum mark of 200/400 or completed Level 1 and II studies from the Technical College of Fiji.
Prospective students can choose from a wide range of TVET courses offered by the University in various fields of study, including Engineering, Medical, Tourism and Hospitality, Entrepreneurship, Fashion and Design, Cooking and Patisserie, Carpentry, Construction, Graphic Arts and Design, Film and Television Production, Hairdressing, Automotive, Electrical and Electronics.