Being the beacon of hope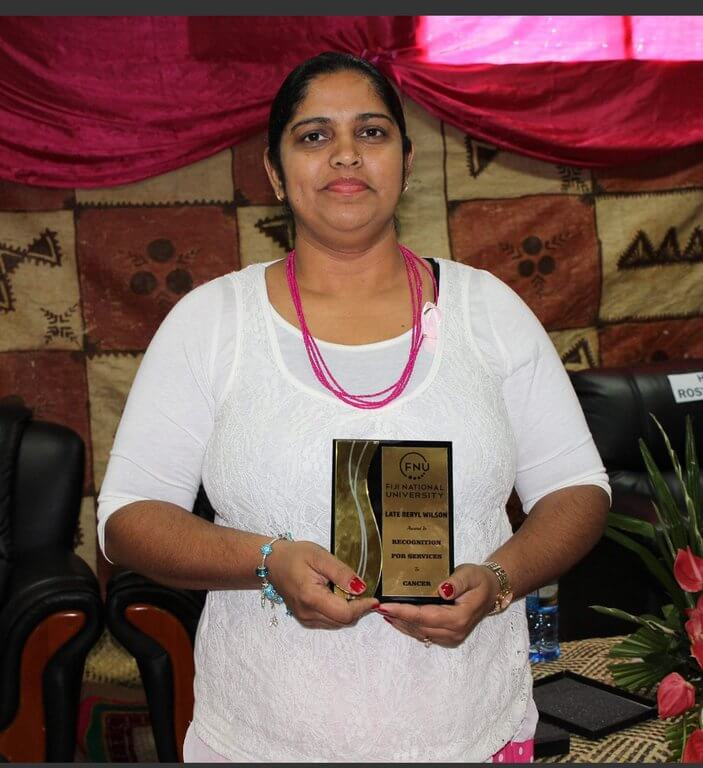 Registered Nurse Rashni Ranjani Lal is a familiar figure at the Colonial War Memorial Hospital (CWMH) Oncology Department. She is the beacon of hope for cancer patients who walk through the Department's door. 
The humble Oncology Nurse says that every day is demanding but a challenge worth taking. "My work is very challenging, but it allows me to meet new people, see new things and of course learn new things. As a result, I enjoy my work a lot," says Staff Nurse Lal.
Tertiary Life and Career
Staff Nurse Lal had wanted to become a nurse ever since she was a little girl. Hailing from Sigatoka, she is the youngest of three sisters.
"I always wanted to be a nurse. When I used to go to the hospitals I used to be awed by the blue and white uniforms of nurses which made me want to be a nurse as well," said Staff Nurse Lal.
She applied to study the Diploma in Nursing programme at the Fiji School of Nursing (FSN), now, College of Medicine, Nursing and Health Sciences in 1997. However, things did not work out as planned for her and she did not get accepted into FSN. She then started studying the Laboratory Technology programme at the Fiji Institute of Technology (FIT) in 2001. At the end of the year she applied for FSN again. This time she was accepted into the programme.
In 2002 she began her journey of becoming a nurse at FSN. It was not a difficult transition for her since Staff Nurse Lal had already been in Suva for a year. She was able to adjust well to the hostel life.
"My entire achievement in my nursing career goes to my mum, sisters and my husband who supported me in every way possible," says Staff Nurse Lal.
She says that her time at FSN was great. She did not face any difficulties and the facilities at FSN were excellent.
Being a Nurse
Graduating in 2005, her first posting was at the Taveuni Hospital. After spending a few months there she was able to get a transfer to the Tamavua Rehabilitation Center and then to the P J Towmey Hospital in Suva.
In 2006 she was transferred to CWMH and has been there ever since. She has worked in the Maternity Ward and the entire West Wing of the Hospital. The West Wing includes medical and surgical wards as well as Oncology.
Staff Nurse Lal had an interest in being an Oncology Nurse, therefore, made a request to be transferred to the Oncology Unit which was granted in 2012. She has been there ever since.
"To be an Oncology Nurse, a staff nurse needs prior nursing experience. Once I had the experience, I made a special request to be in the Oncology Unit. I have a family history of cancers, therefore, I wanted to learn more about it and help those in need," said Staff Nurse Lal.
"Being an Oncology Nurse is challenging. We see critical cases daily. I have seen all sorts of cancers. There are patients who are in great pain and some who are taking their last breath. Seeing that is not easy. However, it all comes down to being there for our fellow human beings," says Staff Nurse Lal.
The daily challenges that the nurses are presented with lead to a lot of mixed emotions and stress. However, there are no counselling services for staff at present.  "There are no counselling services for staff, but we talk amongst each other so that we can let go of the things we see and not stress over it," said Staff Nurse Lal.
To acknowledge her dedication to her work, Registered Nurse Lal was awarded the FNU Late Beryl Wilson Award for Recognition for Services to Cancer during the FNU Pinktober closing ceremony on the 29th of October 2016. 
This award is named after one of the breast cancer patients, Beryl Wilson who had done a lot for the hospital by rising funds to buy things like bed sheets, pillow cases and other things for both children's as well as the adult wards.
Staff Nurse Lal will graduate with a Bachelor of Nursing degree from FNU in December 2018. She looks forward to furthering her education once FNU starts offering the Masters in Nursing Program.
Family life, Interest and Advice
Staff Nurse Lal is married with a ten-year-old son. She loves to spend time with her family when she is not at work. She also loves to watch movies and travel.
In the next five years she sees herself becoming a team leader if opportunity presents itself.
Her advice to nursing students is to love their work, give their hearts to it and to never take it as a job.
"Don't take nursing as a job and don't take up nursing for the pay. You must have the passion to do it. You have to put your heart into it. We are attending to human beings. They trust us with their lives so we must ensure to keep that trust," says Staff Nurse Lal.