Ali enjoys in his Medical Radiation Technologist profession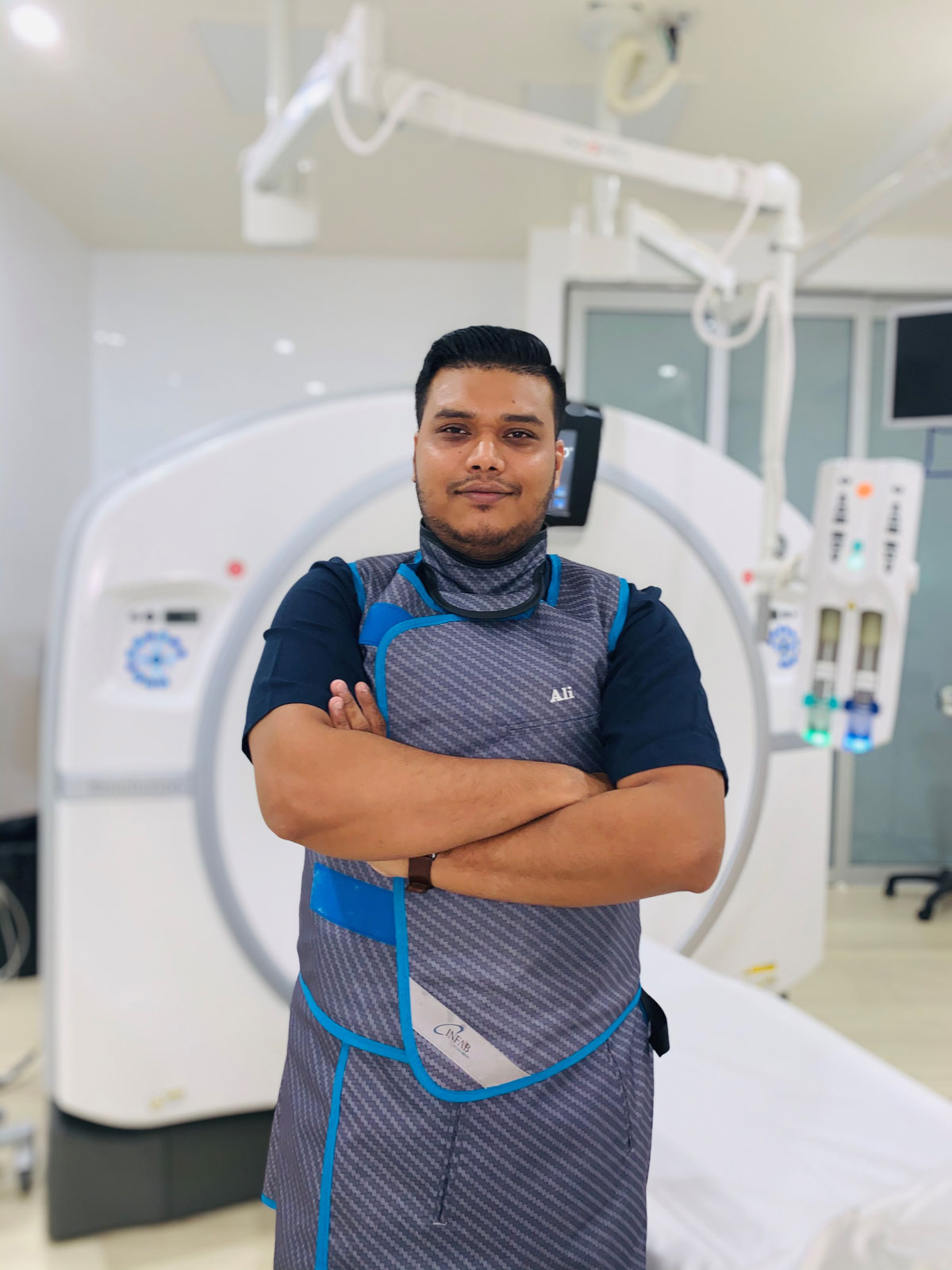 Being in a position to understand how the human anatomy works and use advance technology to screen the inner parts of a patient so specialist doctors can provide required treatment is a blessing believes Fiji National University alumnus, Imran Ali.
According to Ali, serving in the medical field is 'truly satisfying' as it provides a unique opportunity to assist in the healing process of the sick.
"A career in the medical field enables trained individuals to impact human life in a truly unique way. Seeing sick patients recover is truly a blessing," shared Ali.
"To me the job satisfaction is unparalleled. It is a field which requires one to humble yourself and places others before you. I believe medicine is truly a service and not just a profession."
Ali is a Medical Imaging Technologist by profession and is currently based at Heart International Limited in Suva.
"I had been enamored with the medical field ever since I was a child. I chose medical imaging science as it enables you to use advance tools to see inside the human body which is otherwise impossible to do and diagnose a wide range of diseases," said Ali.
"This is a diverse field covering areas such as X-rays, Ultrasound, Computerized Tomography (CT) Scan, Magnetic Resonance Imaging (MRI) and Nuclear Imaging for those interested in pursuing a career to specialize in."
Student Life at FNU
After completing Year 13, Ali enrolled in the Bachelor of Medical Imaging Science programme at the Fiji National University's (FNU) College of Medicine, Nursing and Health Sciences (CMNHS).
Reminiscing his student days, he said, "Some of my fondest memories are from FNU. I had classes from 8 am to 4 pm, five days a week so lunch and dinner were the most fun times with friends and colleagues at the campus cafeteria."
Ali said he found the lecturers to be knowledgeable and helpful.
"My lecturers were great. Their wisdom and experiences assisted me in navigating my career. They have become my mentors."
During his final year at FNU, Ali had the opportunity to attend a two-week elective at Queensland University of Technology (QUT) in Australia.
Ali graduated in 2014 and received an Excellence Award. He also had the opportunity to present his final year research topic during the 2014 Pacific Islands Health Research Symposium.
Ali is a proud graduate of FNU.
"FNU provided me with a solid foundation to grow my career. The programme I took covered fundamentals and took a step beyond that and planted the seeds for future growth."
Ali said it was good to see that FNU continues to develop in Learning and Teaching resources.
"There are more courses being offered and flexible modes of study such as DFL, online, etc." This is great because it provides greater flexibility to students."
Ali's Career
After graduation, Ali joined Zens Medical Centres Ltd in Lautoka and sometimes worked in the Nadi Centre when required.
"I started performing general X-rays while undergoing work-based training under the supervision of the radiologist to perform Ultrasound and CT. I also learnt how to manage the Medical Imaging Department. This was a demanding role as it included handling complaints, liaising with doctors, staff allocation, stock ordering, statistics, advanced trouble-shooting, maintenance and upkeep of equipment."
Ali, then joined Heart International Ltd from 2018 as a Medical Imaging Technologist.
"We have a cardiac screening clinic, specialised CT and ultrasound, and a Cardiac Catheterisation (Cath) Lab."
He performs cardiac CT, specialised ultrasound scans and also works in the Cath Lab during angiograms and stenting.
"My current job and old job are two branches from the same tree. I took this leap because I wanted some change and growth. It's rewarding because I get to learn about advanced procedures from overseas specialists."
Ali undertook clinical attachment and training for Cardiac CT in Auckland, New Zealand.
"It opened my eyes as to how easy it was to diagnose heart disease from a simple CT scan. The fact that you contributed towards saving someone's life by getting them an early diagnosis is the best feeling."
Words of Wisdom
Giving his advice to current and future students, Ali said, "I would say that you need to prioritise. Leaving your home and coming to a new place gives us the freedom and luxury to do what we want but every step needs to be in the right direction. Make use of your resources, create those social connections, utilise your innate gifts and don't be afraid to attempt the impossible."
Ali also shared his top three tips for graduates starting out in their career.
"Research – the job, the workplace, the potential for growth in the field, etc. Don't jump blindly without doing your proper homework. Know yourself – the job might be good but you need to know yourself and understand if you can give that level of commitment that is needed. Criticism – learn to accept it, use it to grow as an individual and only then can you achieve more."