A Woman ON THE GO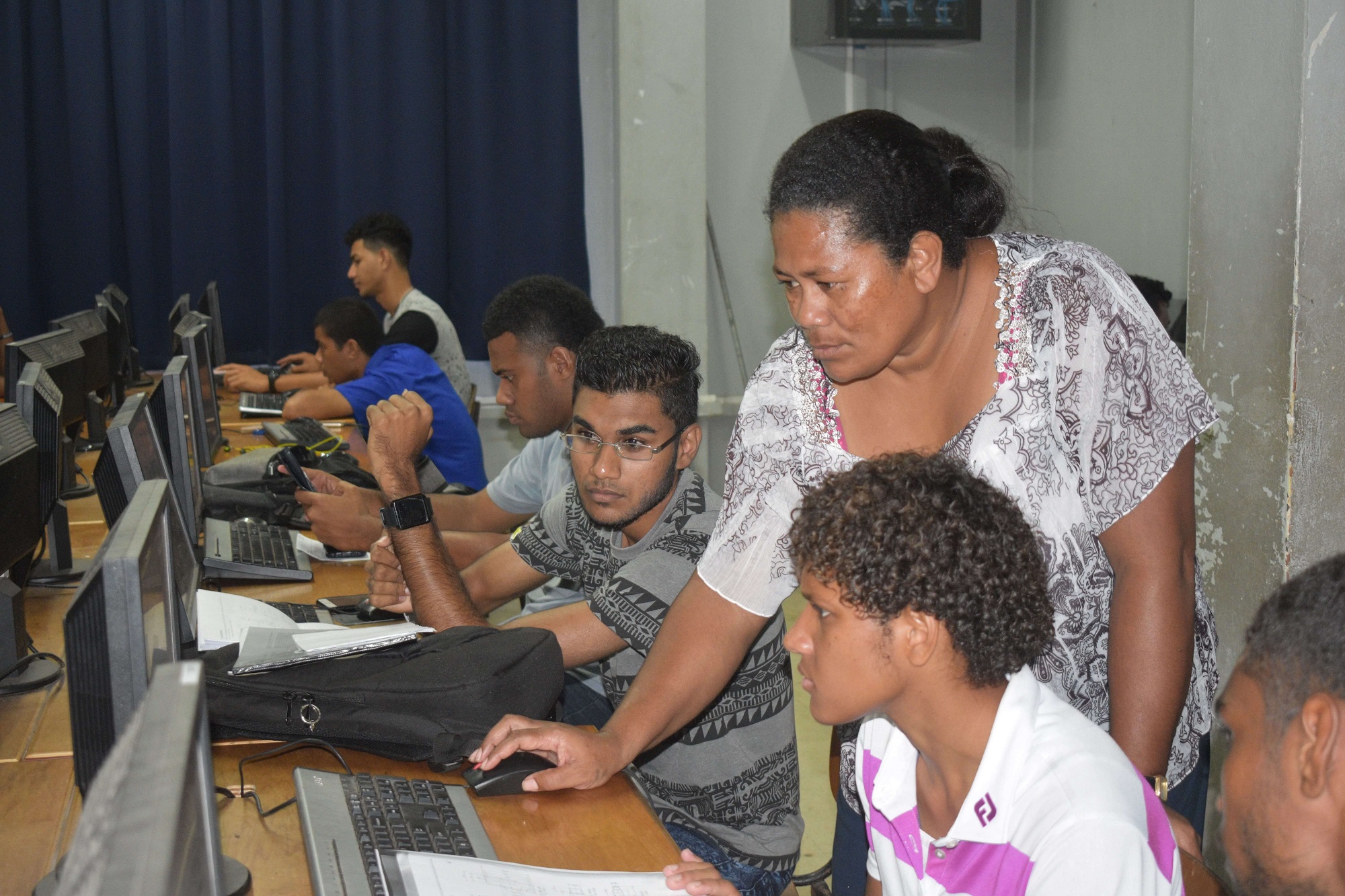 Growing up she had always wanted to be a dentist but destiny had other plans for the soft spoken Vasenai Kereni.
Vasenai now stands infront of 30-odd students in a lecture room daily taking Mechanical Engineering classes at FNU's Derrick campus in Samabula.
After finishing Year 12 at Ratu Latianara Secondary School, she enrolled at Fiji Institute of Technology (FIT), now FNU's College of Engineering, Science and Technology (CEST) to complete foundation science. At this point she was ready to pursue her childhood dream of becoming a dentist.
"In those days only two were selected for the dentistry programme. I was one of ten students interviewed, however, I did not make it through," she recalled.
Though disappointed with the outcome, Vasenai was determined to become a career woman. She turned to her uncle, who was a lecturer at FIT, for advice. It is here she was encouraged to pursue a career in engineering.
Seeing women in overalls and safety boots was new for her. "It felt weird at first", she said. However, it did not take long for Vasenai adjust and she embarked into the journey of the unknown. She was determined to prove that women could flourish in a male dominating field.
After completing Trade Certificate in Fitting and Machining in 1998, Vasenai began her career working as a Fitter Machinist at Patterson Shipping. After three months she joined Lees Trading Company. In 2001 Vasenai moved to the western division to work for the Fiji Sugar Corporation (FSC) in Ba.
"My family has always been very supportive. They believed in me and trusted me to make the right decisions. And with their blessings I always continued my journey in life," she said.
Working in Ba proved high biggest obstacle as the FSC mill was male dominated and she being a youngster at first did feel intimidated. But she knew that she had to prove herself to be counted as part of the team.
"When I first walked in to work, all heads turned to me and I felt as if they were asking themselves will she be able to do what we do?," said Vasenai.
"I was the first female staff in the engineering department there. I was on a temporary contract, working only during the slack period (when the mill closed down for maintenance). It was tough but rewarding experience. Soon the team members noted my dedication and everything went smoothly after that.I always told myself that whatever men can do; women can do it better and that's what kept me motivated," she said.
In 2005 Vasenai joined the Fiji Hardwood Corporation and after a three-year stint she took time-off to complete her studies. She enrolled at FIT in two Diploma's one each Plant Engineering and Mechanical Engineering. Vasenai then attained an Advance Diploma in Mechanical Engineering.
Eager to continue her studies Vasenai departed for Australia to pursue Bachelor of Engineering (Mechanical) at the University of Southern Queensland.
After successfully completing her degree, Vasenai decided to become a teacher.
"Teaching is one of the best avenues that I could share my knowledge and skills with students so in 2014 I joined FNU as a Lecturer in Mechanical Engineering," she said.
Vasenai is a strong believer that women can achieve great things with commitment and dedication. Being in a profession that is dominated by men has taught Vasenai not to expect things to be handed on a Silver platter.
"Nothing is easy in life and I learnt that an early stage in my career. And that's what has kept me going. I love to take on challenges and it makes us stronger as an individual and you can also share your experiences with your family and students to empower them as well. That is something I love doing as well," she said.
Vasenai maintains a balance between her personal and professional life. While she is a mechanical engineering lecturer at FNU, she is also a wife to a Marine Engineer and a mother to two beautiful daughters.
"Family life, professional life and motherhood to me are all similar because I'm involved with youngsters all the time. What I share professionally and in my family I make sure that it has a positive impact on people's lives and their furture," she added.
Learning never stops for Vasenai, as she currently pursues Masters of Engineering Science majoring in Reliability and Maintenance from FNU.
Her message to students and young women is "if you are thinking of choosing your career in engineering, go for it. Hard work has brings great rewards. Give your best attempt in whatever you do, always remember you were born to make a difference in the world."