FNU helps Kumar reach full potential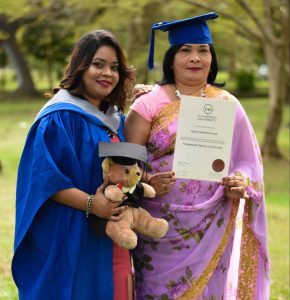 Ryana Rashnita Kumar believes that an enriching student experience during one's tertiary studies is an important ingredient to achieving a successful career.
Without missing a beat, Kumar said her tertiary journey at the Fiji National University (FNU) cemented the notion that a balance between receiving a quality education and being engaged in campus life activities contributed to a memorable phase in her life.
From the Sugar City of Lautoka, Kumar's knack for finances influenced her career ambitions after completing studies at Lautoka Primary School and Pandit Vishnu Deo Memorial College.
Education
In 2012, Kumar enrolled in the Bachelor of Accounting at FNU's Namaka Campus in Nadi.
Offered under the College of Business, Hospitality and Tourism Studies (CBHTS), the three-year programme was designed to prepare graduates with conceptual understanding and practical skills in the operation of commercial activities. Fields of study include economics, commercial law, quantitative analysis and management, with a particular focus on accounting as a tool of financial management and external disclosure of business performance, viability and accountability.
"I cherished my time at FNU because I learnt to grow emotionally, physically, philosophically and socially," Kumar shared.
"They say 'Money makes the world go round', hence there would always be a need for people to manage that money. This was why I decided to undertake this programme with an aim to be a successful accountant."
"I chose FNU because I knew the University would help me reach my full potential and be workforce ready to meet the job market demands. It was a challenge working part-time whilst studying and coping with the loss of my father during my first year of university studies."
"Despite this, I am grateful for the support I had that enabled me to complete the degree with excellent scores."
Three years after receiving her undergraduate certificate in 2015, Kumar decided to upskill her qualifications and enrolled in the Postgraduate Diploma in Accounting programme.
Navigating her way through studies interrupted and influenced by the COVID-19 pandemic and its associated restrictions on learning and teaching, Kumar managed to persevere and graduated in 2020.
She is currently pursuing her Master of Commerce in Accounting at FNU.
"I want to highlight that in addition to the theoretical and practical knowledge I gained, FNU also embedded in me the importance of soft skills such as teamwork, communication and constant and comprehensive learning."
Career
During her degree studies, Kumar also worked as an Assistant Accountant at Vimals Investment Fiji Ltd before taking on a similar role at the Foundation of Rural Integrated Enterprises & Development (FRIEND) Fiji.
In 2017, Kumar became a Team Leader Accounts Payable at Higgins Fiji and lead a team of six in overseeing the operations of the  department and its effective work assignments with staff and vendors.
"In the five years I've been at Higgins, I have managed over 100 vendor accounts, successfully completed numerous special projects, created new and streamlined existing procedures and reviewed and analysed monthly journal entries and various accounts," she explained.
Kumar has progressed in her career and her most recent role was Manager Finance at the Sigatoka Town Council.
"As Manager, I am responsible for planning and executing the financial tasks and projects of the organisation, making estimates of funds
required for short and long-term financial objectives of the Council, achieving a proper mix of equity and debt, managing metrics,  KPI tracking and reports and supervise the preparation of quarterly and annual account."
She is now the Chief Financial Controller at Mal Gov in Marshall Island.
Words of Wisdom
Kumar said the main advice that she banked on throughout her career progression was to keep her goal in mind.
"Sometimes we get so distracted by immediate barriers that we feel like giving up easily, but if we always have a clear idea of want we want to achieve then this serves as a source of motivation," she said.
"Remember also that every moment is an opportunity to learn from everyone around you, no matter their title. Pay attention when things go well, and pay extra attention when they don't, and watch how people react to it."
Alumni Connect
Graduates of FNU and its former institutions can register to be part of the exclusive Alumni Connect portal and remain connected to their
classmates and the University. Registered alumni can receive news and updates on key University activities, read alumni success and feature articles, scholarship and upskilling opportunities, networking events and professional development and training seminars.
Study at FNU
Students interested in studying at FNU can visit our website at www.fnu.ac.fj to learn more about our programmes, minimum entry requirements and the application process.