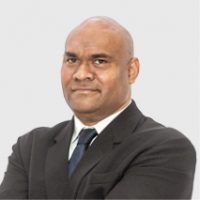 Dr Isimeli Waibuta Tagicakiverata
Message from the Pro Vice Chancellor - TVET
Bula from the Fiji National University!
On behalf of everyone at the Fiji National University, I would like to offer a very warm welcome to you all.
The Fiji National University (FNU) is a modern, dynamic, dual-sector university offering a full range of qualifications from certificate to doctorate levels, from short courses and apprenticeships to full degree programmes. Our primary focus is on education for employability, providing our students with the skills, experience and competencies to enjoy fulfilling careers.
We are proud of our commitment to Technical and Vocational Education and Training (TVET). We recognise that excellent TVET is essential for the economic and social development of Fiji and other Pacific island nations. FNU has unrivalled experience and a proven track-record of delivering TVET aligned to labour market needs. We continue to strengthen our learning and teaching through the international accreditation of programmes, investing in our staff, and enhancing our campuses and facilities.
At FNU, we are committed on ensuring that our students are highly employable and 'work ready' the day after graduation, and that they acquire the outlook and motivation to become life-long learners, re-skilling and up-skilling to meet new challenges and take advantage of new opportunities, throughout their working lives.
TVET Pasifika
FNU is already the leading provider of TVET in Fiji, as befits the national university. We are also very proud of, and deeply committed to, our regional role. Ever since the foundation of the Fiji School of Medicine in 1885, FNU and its forerunner institutions have been training the skilled professionals for the wider Pacific region.
Now, as FNU launches its vision for the next five years, we are delighted to be putting our TVET programmes at the service of stakeholders across the region.
TVET Pasifika brings together the full range of TVET programmes offered by FNU in a single, dedicated space. TVET Pasifika is a one-stop shop where students and employers – local, national and regional – can browse, research and enrol onto programmes to boost their employability and fulfil their personal and professional aspirations.
TVET will play a central role in the post-pandemic recovery. TVET Pasifika is designed to meet that challenge. Thank you for your interest. We look forward to working with you.