Professor Ravi Naidu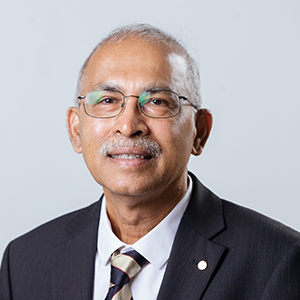 Prof Naidu is CEO and Managing Director of the Cooperative Research Centre for Contamination Assessment and Remediation of the Environment (CRC CARE), and Global Innovation Chair and Director of the Global Centre for Environmental Remediation at the University of Newcastle, Australia. Prof Naidu is a graduate of the University of South Pacific and received his PhD and DSc (via invitation) in soil and environmental science from Massey University, New Zealand.
Prior to his appointment to the CRC CARE in 2005, he was Chief Scientist, CSIRO Land and Water Division. He is an elected Fellow of the Soil Science Societies of America (2000) and New Zealand (2004), and the America Society of Agronomy (2006).  He is the highest cited environmental scientist from Australia.  In 2013, he was elected a Fellow of the American Association for the Advancement of Science.
In 2016, Prof Naidu was elected as a member of the European Academy of Sciences and Arts and in 2017 he was elected as a Fellow of the Royal Australian Chemical Institute, Fellow of the Royal Society of Chemistry, and Fellow of the Australian Academy of Technological Sciences and Engineering. He has authored or co-authored over 700 journal articles and 80 technical publications as well as 11 patents with two commercialised, and co-edited 16 books and 75 book chapters in the field of soil and environmental sciences.
Prof Naidu was ranked amongst the top 30 innovators by Engineers Australia in 2018.  He has also supervised over 50 PhD completions and 50 post docs. In 2013, Prof Naidu received an honorary Doctorate of Science from Tamil Nadu Agricultural University for "outstanding contributions to agriculture", and won the Richard Pratt – Banksia CEO Award at the Banksia Sustainability Awards, recognising his contributions towards environmental sustainability.
He is Chair of the International Committee on Bioavailability and Risk Assessment, former Chair of the International Union of Soil Sciences Commission for Soil Degradation Control, Remediation and Reclamation (2002‑10), and former President of the International Society on Trace Element Biogeochemistry (2005-07). He was the founding director of the University of South Australia's Centre for Environmental Risk Assessment and Remediation and is the founding Director of Global Centre for Environmental Remediation, the University of Newcastle.