Professor Barry McGrath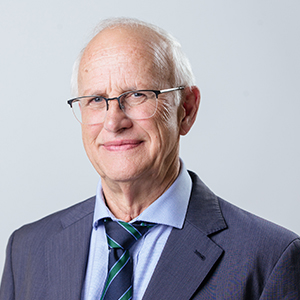 Prof McGrath MB BS (Hons) 1969 University of Sydney, trained as a Physician in nephrology and general medicine (FRACP 1975), and obtained Doctorate of Medicine by thesis ('Hypertension in Haemodialysis Patients' University of Sydney) in 1978 from studies in Sydney and Oxford UK. A full-time clinical academic at Monash University, in 2000 he was appointed the first Chair of Vascular Medicine in Australia.
Research interests include hypertension, vascular disease and heart failure. He has supervised 11 PhD students (5 became Professors in their fields in Australia, 2 overseas Professors), and 10 postdoctoral research fellows (8 internationals from Japan, France, China). Two long-time research assistants have become Professors in Australia. He is author or co-author of 6 books, 11 book chapters, 226 papers in referred journals and more than 250 abstracts. He has been invited plenary speaker in international meetings in UK, France, Japan, China, South Africa.
He chaired the Postgraduate Medical Council of Victoria (1999-2004) and the Confederation of Postgraduate Medical Education Councils of Australia (2005-7); he oversaw the development of National Training and Assessment Guidelines, the Australian National Curriculum Framework for Prevocational Doctors, a National Accreditation Network and, with Jag Singh, a national program of Professional Development for Registrars.
He had a key role in workplace-based assessment programs for IMGs. Education reviews include the Masters of Medicine Program for USP. In 2007 he received the Geoffrey Marel medal for postgraduate medical education in Australia.
He is Deputy Chair of the Australian Medical Council (AMC) Assessment Committee and Chair of the Clinical Assessment Panel (2015-19) overseeing implementation and quality improvements to the AMC examinations at the National Test Centre in Melbourne, a world-class facility which collaborates with equivalent bodies in UK, Canada and USA.