Dr Penuel Emi (aka Emi Mataitoga)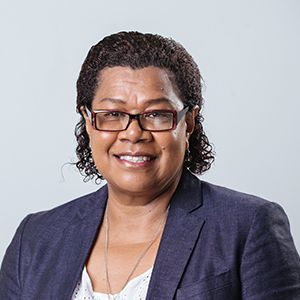 Dr Emi held several senior medical positions, as a Physician with the Ministry of Health and Medical Services' (MOHMS) of Fiji for 8 years prior to joining Suva Private Hospital/Re-branded MIOT Private hospital, to work as a Consultant Specialist Physician to date. She held senior management posts as Medical Director and Ward Manager of the Private Hospital (2015 to 2018).
She was accredited by Global Medical Unit/HOC in Sydney, Australia and New Zealand Immigration Department as a Panel doctor/Specialist to process Immigration Medicals for both Countries. She is a panel doctor for Cook Islands, Tonga, Samoa, PNG and South Africa. In the MOHMS she was involved in clinical bedside teaching, journal presentations and mentoring of Undergraduate/postgraduate students and registrars besides her immediate Clinical responsibilities.
In 2002 whilst based at CWMH, she coordinated and was the Cardiac Taskforce chairman for the Adult Rheumatic Heart/Open Heart Surgery Local/Australian partnership team. She was a member of University of the South Pacific 2010 sanctioned, Reviewer Committee Reviewing the whole Health and Wellness program of all the USP Campuses inclusive of Clinical expertise, infrastructure and set up.
A current member of the Fiji General Practitioners and former FCGP Journal Publication Co- Sensor/Editor (2009)
A current member of The Fiji National Antibiotic Review Committee, 2017 to date
A member Fiji National Antimicrobial Stewardship Committee (2019)
A member of the National Antimicrobial Resistance Sub Committee (2019)
 Dr Emi is a member of Professional Standards Committee (Policy Committee of FIJI MEDICAL COUNCIL)
A Current Director and former treasurer of the Internal Medicine Organization of the South Pacific (iMOP)
A Former FIJI MEDICAL ASSOCIATION (FMA) Executive Committee Member (2009- 2013)
A former Chairman of (CPD) Continuous Professional Development Committee of the Fiji Medical Association (2009 – 2013)
A former Chairman of the Clinical Governance Council of Suva Private Hospital (2015 – 2018).
Dr Emi has done one Research Paper: Diabetes Control in Specialized Tertiary Care in CWMH-Internal Medicine-FSM (November, 2003). And is currently doing a case series research paper. She continues to do Bedside Mentoring and teaching and presentations at the Private Hospital.