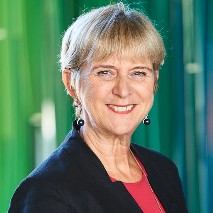 Name: Lyn Karstadt
Email: lyn.karstadt@fnu.ac.fj
Position: Vice Chancellor

Professor Lyn Karstadt has more than 20 years' experience in executive and leadership roles in higher education in Australia and the United Kingdom (UK). Prof Karstadt boasts a strong national and international profile bringing with her an innovative and entrepreneurial management style that takes a strategic and solutions focused approach resulting in fiscal and reputational gain.
Between 2016 and 2020, Professor Karstadt was Deputy Vice-Chancellor (International and Advancement) at Murdoch University in Western Australia. Through this role she gained the requisite skills and experience relating to research, governance, budget control, and change management. She also established new collaborations and business opportunities and facilitated institutional expansion in Dubai and Myanmar in partnership with third party providers. More recently she has focused on organisational facilitation and the preparation and support of both executive leaders and mid-career professionals in Healthcare and Higher Education.
From 2013 to 2016, she was Executive Dean Health, Engineering, and Sciences at the University of Southern Queensland, where she was responsible for initiating a number of innovative new programmes for the home and overseas markets. Mentoring and coaching her senior executive, she facilitated growth in the number of domestic and international students undertaking higher degrees, including both PhDs and professional doctorates. She also managed the process of university and professional accreditation and established and strengthened collaborations and engagement with industry and other external stakeholders.
In the 12 years preceding her Executive Deanship, Professor Karstadt was at the University of Hertfordshire in the UK, where she progressed from Head of Department to Head of School, to Deputy Dean and then to Associate Director. Throughout, she strived for a nurturing culture, and clarity of direction to maximise productivity and the achievement of strategic objectives.
Professor Karstadt holds a Professional Doctorate in Education from the University of Hertfordshire, a Masters degree in Education and a Bachelors degree in Mathematics from The Open University (UK), and has experience as a Registered Nurse and a licensed teacher.