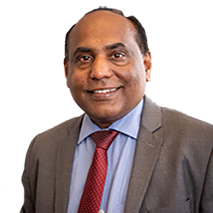 Name: Arun Elias
Email: arun.elias@fnu.ac.fj
Position: Dean College of Business, Hospitality and Tourism Studies
Section: College of Business, Hospitality & Tourism Studies

Professor Arun Elias took office as Dean College of Business, Hospitality and Tourism Studies of Fiji National University in November 2021.

Professor Elias joins FNU from the Wellington School of Business and Government, Victoria University of Wellington, New Zealand, where he held the post of Associate Dean since 2017. He is also an Associate Professor in Management, a former Director of MBA and Post Experience Programmes, International MBA and Post Graduate Programmes at Victoria University of Wellington's Business School. In addition to his wide experience in higher education, Professor Elias has worked in industry and the TVET sector, in India and New Zealand. He brings extensive experience of international accreditation of business schools, being both a mentor for the Association to Advance Collegiate Schools of Business (AACSB) and a Panel Member of the Association of MBAs (AMBA) Accreditation Panel.