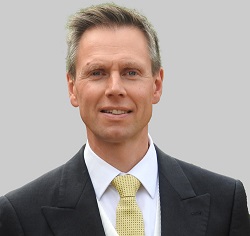 Name: Toby Alexander Howard Wilkinson
Email:
Position: Vice-Chancellor

Professor Toby Wilkinson took office as Vice-Chancellor of Fiji National University in January 2021.
Prior to joining FNU, he was Deputy Vice-Chancellor at the University of Lincoln, UK, with an extensive portfolio of responsibilities including the College of Science (incorporating Science, Engineering and Medicine) and the College of Business; regional partnerships between technical and vocational education and higher education; portfolio development, online programmes and micro-credentials; civic engagement, external relations and internationalisation; advancement, marketing and communications; and a group of five primary and secondary schools sponsored by the university.
Earlier professional appointments, at the University of Cambridge, UK, focussed on advancement, external relations and global engagement. Professor Wilkinson served as the university's first Director of International Strategy, building mutually beneficial partnerships with universities, governments and third-sector organisations around the world.
Before moving into university leadership, Professor Wilkinson held research and teaching posts at the universities of Cambridge and Durham, UK.
Professor Wilkinson has a worldwide academic reputation as a historian of Egypt (ancient and modern). He is a member of the international editorial board of the Journal of Egyptian History, a Fellow of the Society of Antiquaries of London, and a Fellow of the Royal Historical Society (UK). He is the prize-winning author of twelve books, which have been translated into twelve languages.
Qualifications
MA, University of Cambridge, UK
PhD, University of Cambridge, UK
Toby Wilkinson, A World Beneath the Sands. London/New York: Picador/Norton, 2020
Toby Wilkinson and Julian Platt, Aristocrats and Archaeologists. Cairo: AUC Press, 2017
Toby Wilkinson, Writings from Ancient Egypt. Harmondsworth: Penguin Classics, 2016
Toby Wilkinson, The Nile. London/New York: Bloomsbury/Knopf, 2014
Toby Wilkinson, The Rise and Fall of Ancient Egypt. London/New York: Bloomsbury/Random House, 2010. Winner of the Hessell-Tiltman Prize for History
Toby Wilkinson (ed.), The Egyptian World. Abingdon: Routledge, 2007
Toby Wilkinson, Lives of the Ancient Egyptians. London and New York: Thames and Hudson, 2007
Toby Wilkinson, The Thames and Hudson Dictionary of Ancient Egypt. London and New York: Thames and Hudson 2005.
Toby Wilkinson, Genesis of the Pharaohs. London and New York: Thames and Hudson, 2003
Toby Wilkinson, Royal Annals of Ancient Egypt. London: Kegan Paul, 2000
Toby Wilkinson, Early Dynastic Egypt. London: Routledge, 1999
Professor Wilkinson is also the author of numerous contributions to edited volumes and articles in international peer-reviewed journals.
Research interests:
The history of Egypt (ancient and modern); the history of Egyptology; ancient Egyptian language, literature and culture
Teaching interests:
The internationalisation of higher education, higher education leadership