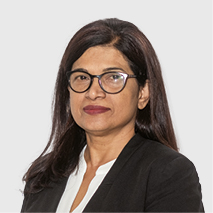 Name: Sarita Devi
Email: sarita.harish@fnu.ac.fj
Position: Registrar
Section: Department of Academic Services

Ms Devi has been serving as University Registrar since 2015 and has also served in other capacities such as Deputy Registrar and Assistant Registrar at the University. The Office of the Registrar serves all the students and staff through the Student Academic Office based at all major campuses and is the first and last point of contact for all students in FNU from admission to graduation. She oversees the functions of Student Academic Services which looks after Admissions (Local and International), Student Grievances, Examination Office, Student Financial Aid, All Sponsored Students, Certification Office; Student Support Services which include Campus Life; and the University Secretariat. Ms. Devi has experience in teaching in Primary and tertiary, curriculum development and project management especially in the area of numeracy and teacher development.