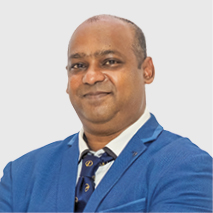 Name: Nilesh Prasad
Email: nilesh.prasad@fnu.ac.fj
Position: Director Finance
Section: Administration

Mr Nilesh Prasad joined FNU as Director Finance in January 2018. Before this, Mr Prasad held several senior finance positions at The University of the South Pacific and Coca-Cola Amatil Fiji Limited.
He holds professional membership from the Fiji Institute of Accountants and CPA Australia and has over 20 years of experience in the field of finance.
Mr Prasad is responsible for operational, strategic and leadership management of University finances (both revenue and capital), developing financial systems to meet the strategic objectives of the University, providing professional advice and guidance for all decisions with financial implications, and for maintaining a high degree of financial accountability and transparency.