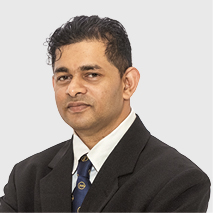 Name: Shalendra Mani Gounden
Email: shalendra.gounden@fnu.ac.fj
Position: Director Estates and Facilities
Section: Administration

Prior to joining FNU in 2017, Mr. Gounden had served as an Operations Manager and A/Director with the Division of Estates and Infrastructure, USP. He has also worked in various engineering, construction and infrastructure related projects in Fiji and around the pacific region. Mr. Gounden is a registered project manager and member of AIPM; has worked with consultants in world bank projects. The key research interest area is in infrastructure asset management and life cycle analysis of building systems maintainability and serviceability.
Qualifications:
Dip. Electrical Engineering, FIT
Dip. Project Management, Project Performance Grou, Australia
BSc. Engineering, University of the South Pacific
PGC. Project Management, University of Liverpool, UK
PGC. Human Resource Management, University of the South Pacific
PGD. General Managers, University of the South Pacific
Master of Business Administration (MBA), University of the South Pacific