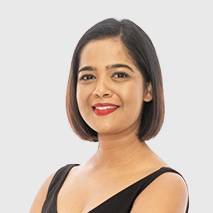 Name: Jenies Mudiliar
Email: jenies.mudiliar@fnu.ac.fj
Position: Director Marketing and Communications
Section: Department of Marketing and Communications

Ms Jenies is a creative Branding, PR and Communications professional with over 9 years of experience in International Trade and Higher Education sectors.
During this time, she has successfully managed and coordinated marketing campaigns and events for the respective companies that she has worked for which included advertising, design, media liaison, public relations, brand building, fund control as well as market research.
Ms Jenies joined FNU with 6 years of Marketing and PR experience in Higher Education across the Pacific.
Qualifications:
Diploma in Digital Marketing, Australian College of Marketing
Postgraduate Diploma in Development Studies, The University of the South Pacific
BA in Management and Public Administration/Banking and Finance, The University of the South Pacific
Professional Membership:
Chartered Institute of Marketing